Autumn Harvest Crossbody Bag
The Autumn Harvest crossbody bag is handmade of beautiful full-grain leather, with a solid brass zipper. Autumn Harvest leather is smooth and structured with no pull-up. Autumn Harvest crossbody bags come standard with a brown strap, or you can choose a custom color with the KMM & Co. Secret Menu.


Regular price

Sale price

$247.50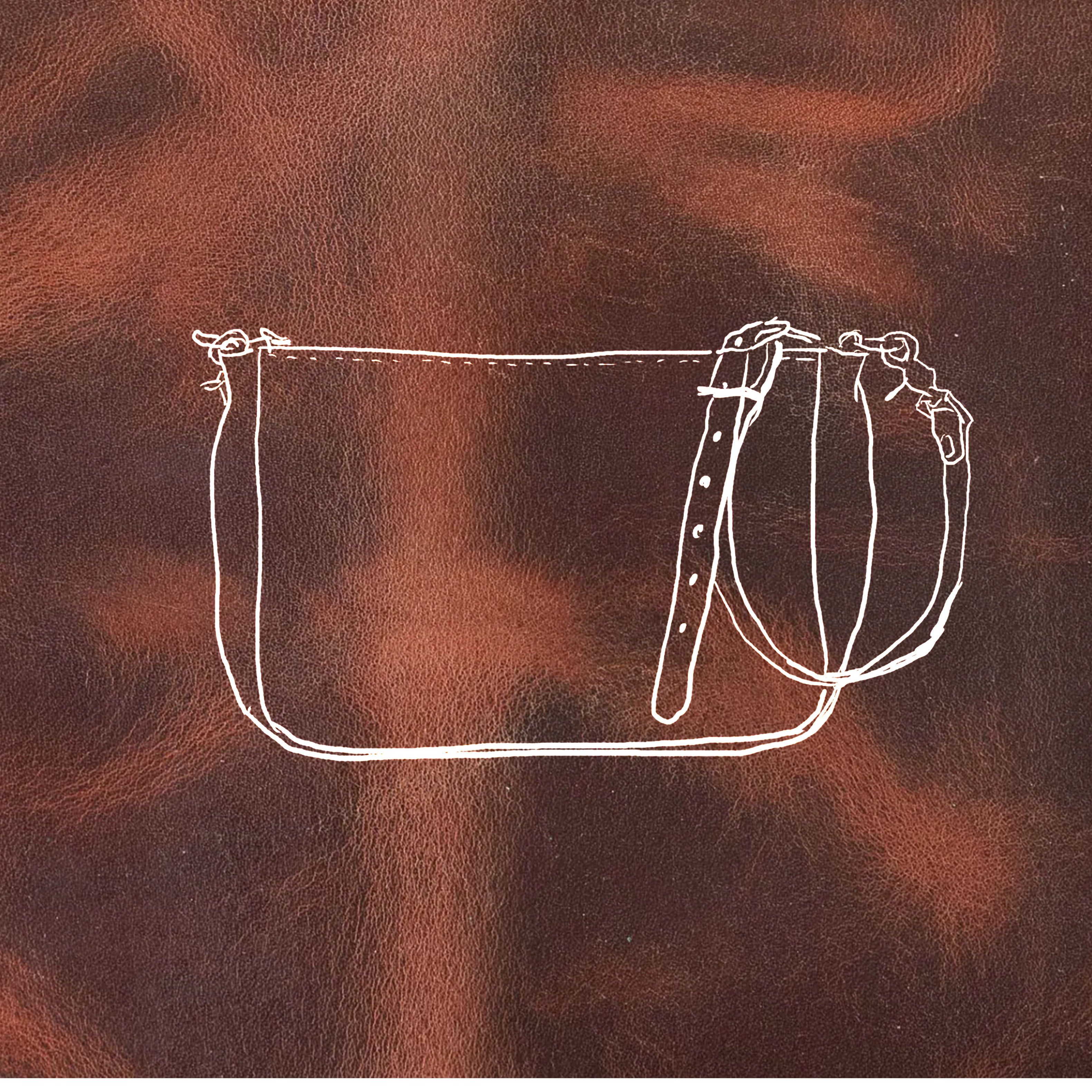 What makes KMM & Co. special?
Handmade in the USA

Leather goods made by skilled hands in our Atlanta, Georgia studio.

Heirloom quality

Full-grain leather and traditional craftsmanship to last a lifetime.

Free shipping & returns

Free shipping on U.S. orders of $50 or more (and free returns, too)!

Responsibly sourced

Full-grain leather that's sourced as a byproduct of the meat industry.
Things customers love about the KMM & Co. crossbody bag:
1. Gorgeous full-grain leather

Like every KMM & Co. bag, the crossbody bag is handmade of amazing full-grain leather. That's the highest quality leather made, and we stock more (and brighter!) colors than just about anyone else.
2. Simple, thoughtful design

With one compartment and a solid brass YKK zipper built to last, this bag doesn't overcomplicate things. A great handbag should make your life simpler, and it shouldn't weigh you down.
3. Versatile and adjustable strap

Our belting-weight crossbody strap adjusts to the perfect length, and its edges are beveled for comfortable wear. Plus, the D-rings are carefully placed on the bag for balance with any strap.
Your handbag is a small part of your day, but one we're always honored to be a part of. Each crossbody bag is laboriously and lovingly handmade. This is a truly classic handbag, one that's built to become an heirloom you'll love to carry everyday.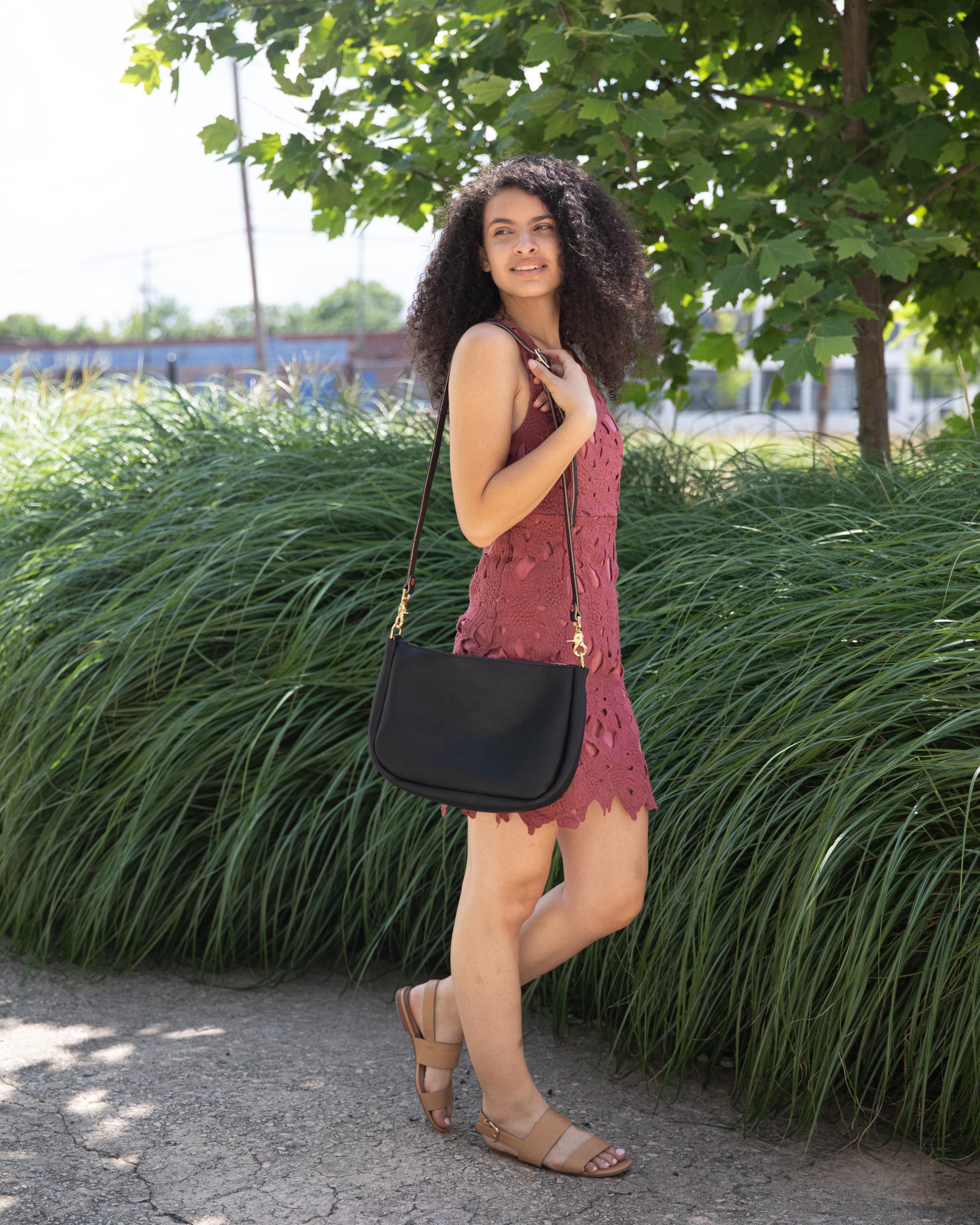 Black Cypress Crossbody Bag
Regular price

Sale price

$247.50
How the crossbody bag measures up:
There's nothing more versatile than a well-designed crossbody bag that can go with everything in your closet – and go with you everywhere. This design is perfectly proportioned for everyday use.
• 9 inches in height
• 14 inches in width
• 3 inches in depth
• Zippered opening: 11 inches
• Detachable crossbody strap adjusts between 44 and 51 inches
• 1 to 2 pounds in weight, depending on leather
"The color is phenomenal! The crossbody size is much larger than I thought which is perfect for me! The crossbody strap being adjustable is a life saver so at certain events I can wear my bag closer to me or a little lower. The quality of the design is amazing! I would highly recommend this bag style and color!"
– WHITNEY W., VERIFIED BUYER
Handmade and made to order
Made to order, just for you

Like every KMM & Co. accessory, the crossbody bag is handmade and made to order. (No warehouses, no factories, just a small studio in downtown Atlanta!) Each bag takes up to 3 weeks for us to make and ship – but it's worth the wait, we promise!
Free shpping on U.S. orders $50+

All orders totaling $50 or more ship free within the United States! We also ship overseas, and to APO/ FPO addresses, too. All packages ship via USPS and go to our local Atlanta post office within 24 hours of your shipping confirmation email.
Easy returns within 30 days

If you aren't happy with your order, you can return or exchange it for free within 30 days of receipt. The only items ineligible for return or exchange are items customized for you and final-sale items. Check out our full returns policy for more details.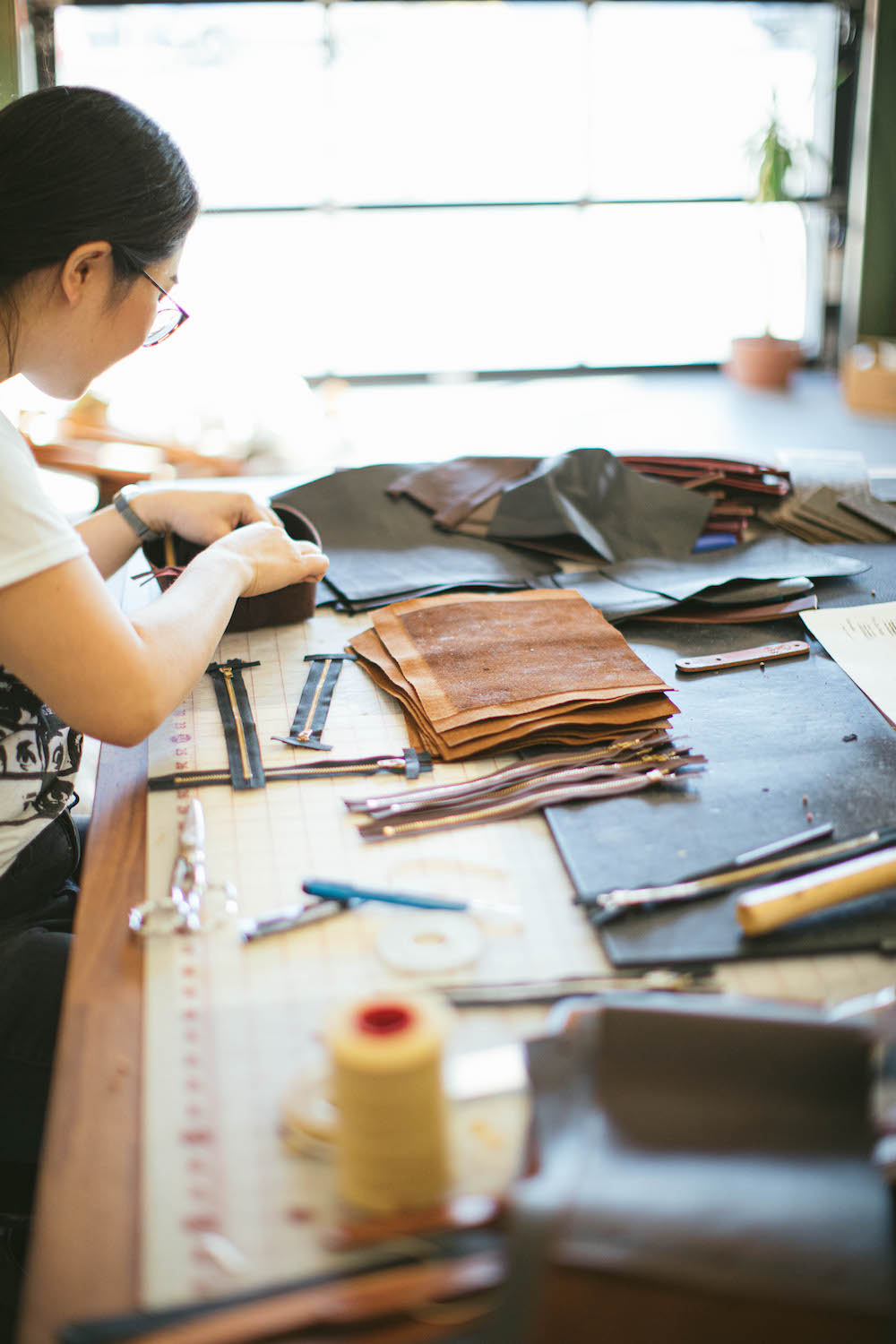 How the crossbody bag gets made
Each bag is handmade in the USA (in our Atlanta studio)! It all begins on the cutting table, where we select the perfect side of full-grain leather for your crossbody bag. There's a front, a back, and a gusset, and we consider the color and grain of each piece.
Next, we carefully prepare a solid brass zipper and set it into the bag. (Our new YKK zippers feature a big "donut pull" for ease of use!) After the zipper is tested, we assemble the body of the bag with strong backstitched seams and traditional copper rivets.
Finally, we cut and assemble the belting-weight crossbody strap, which is beveled for comfort. All of the hardware – solid brass D-rings and trigger snaps, plus copper rivets – will patina with use. We never use antiqued brass, which is painted or plated.
Made (and customized) just for you!
Everybody's dream bag looks a little different. We offer a range of custom options so you can design the crossbody bag you've always wanted.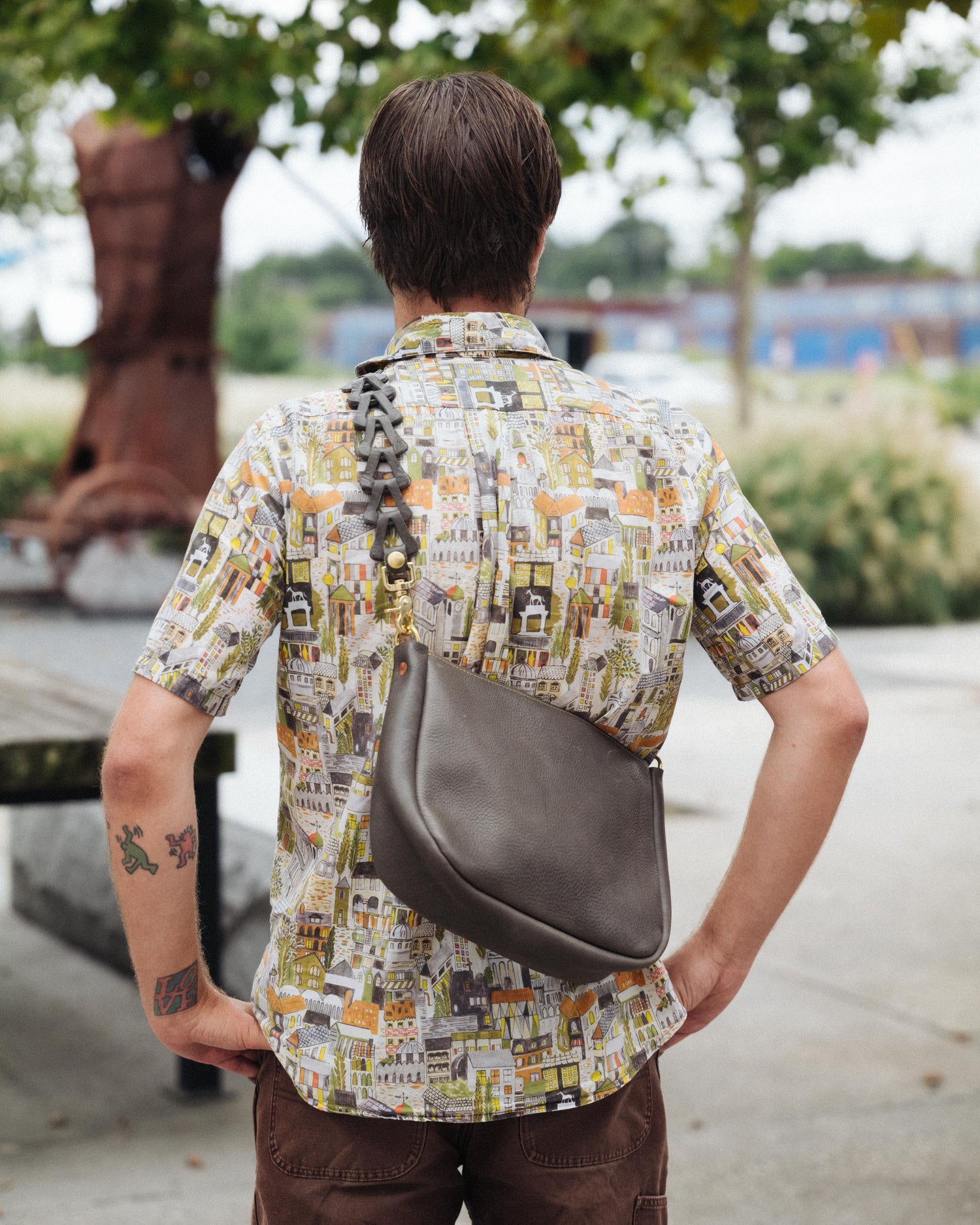 1. Add a chain link strap
The crossbody bag comes standard with one of our signature belting-weight crossbody straps. But that strap is detachable, so the options don't end there. You can always add a chain link strap to add a splash of color (and vintage style!) to your bag.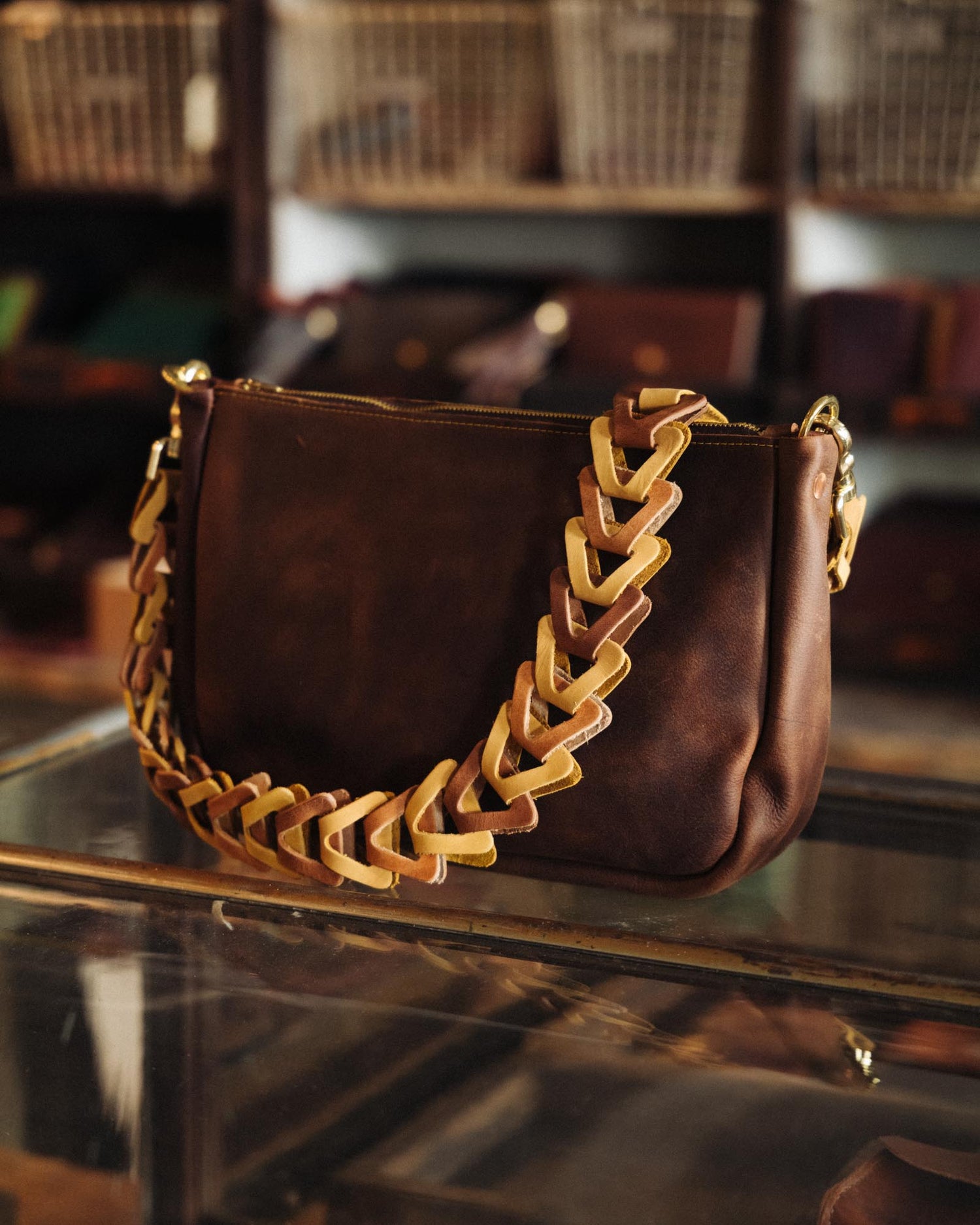 2. DIY your perfect strap
Since the chain link strap is made of individual leather links, it's endlessly customizable. If you want to DIY your chain link strap with packs of links, you can combine as many colors as you'd like so that your bag matches all of your favorite outfits.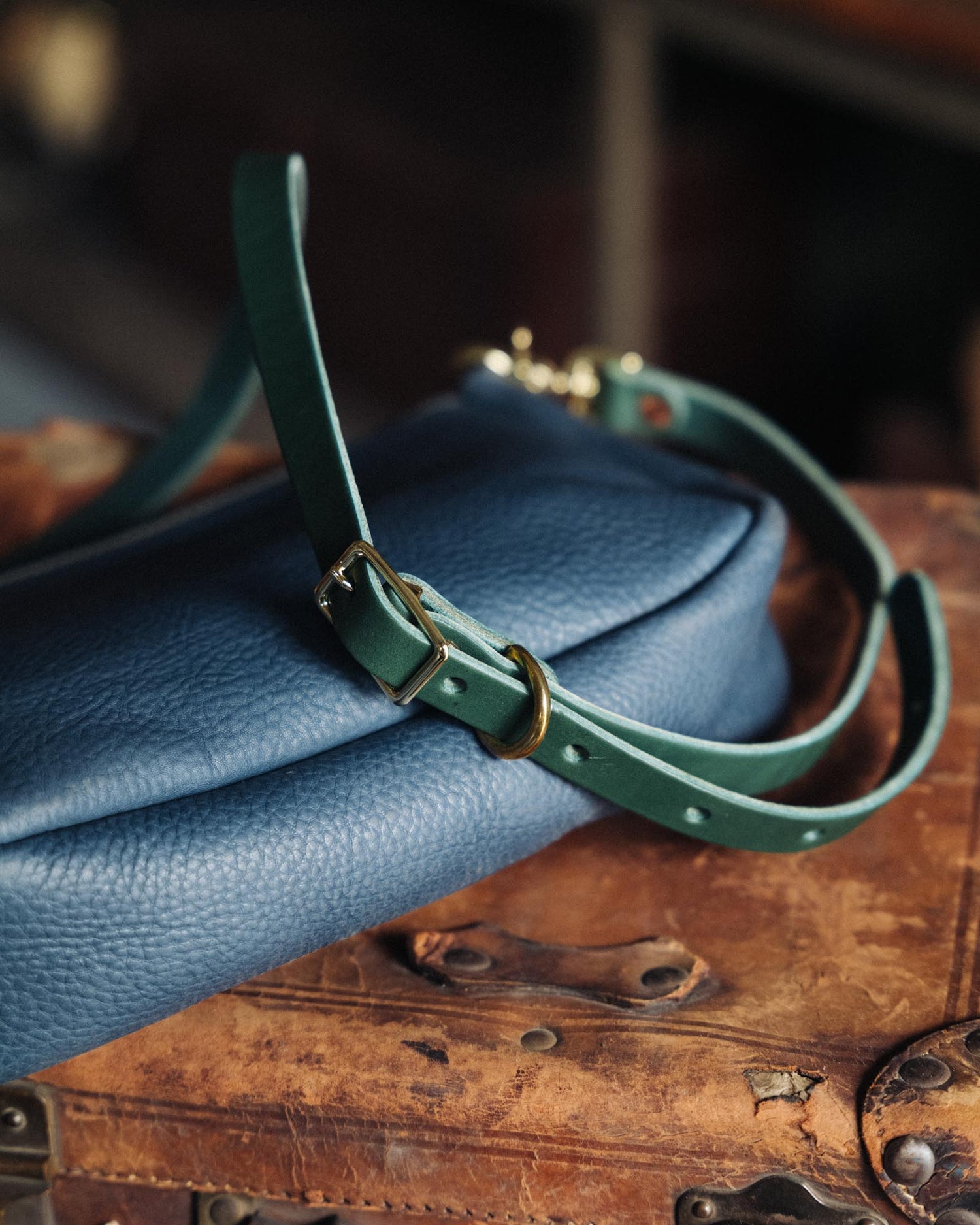 3. Or pick a custom strap color
If the classic crossbody strap is more your style, make sure that it's the perfect color! You can choose any of our colorful belting-weight leathers for your strap. Visit the Secret Menu to see all of the gorgeous options and find your favorite.
See more in Autumn Harvest, a thick, structured leather with a waxed finish and dramatic pull-up, made by an American tannery.
Ask away! FAQs about the crossbody bag
What does a KMM & Co. crossbody bag hold?

The crossbody bag holds more than you think! With its single compartment, you can fit items like a book, a small tablet, or a bag of snacks. (That's in addition to your wallet, phone, and keys, of course.)
How easy are the zipper (and zipper pull) to use?

We love a good solid brass zipper! After 2+ years of disrupted supply chains, we've sourced zippers with big and beautiful "donut pulls" and zipper tape dyed to match our leathers. They are a joy to open and close – and easier to use than our old zippers.
What if I need a longer or shorter crossbody strap?

We're happy to customize the length of the strap so it's perfect for you, whatever your height or body type. Great leather bags are for everybody! Just send us a message and we'll get to work.
Which color or leather should I choose?

We love every color in our collection, but after making thousands of bags, we're partial to Kodiak and Cypress leathers. For each color we introduce, we reject hundreds of other colors and tannages: KMM & Co. leathers are truly the best of the best.
What variations and markings can I expect from full-grain leather?

Full-grain leather retains all of its original grain and character, including any imperfections. You might see range marks, grain variations, small spots or scratches, folds, or color variation. They're all a beautiful part of the leather's natural character.
More questions? Send us a message and we'll get back to you ASAP!
Want to see this style in more colors?