Sold Out
Scratch-and-Dent Vegetable Tanned Tote
$250.00
This item is so popular that it's sold out.
Height: 13 inches
Width: 14 inches
Depth: 6 inches
Handle Drop Length: Standard 7-inch drop length (our most popular!) or custom 9, 10, or 11 inches
Vegetable Tanned leather is:
Smooth-grained and un-dyed

Structured and substantial

Uniform in color, and ready to develop a deep patina 
Made in America (in our Atlanta studio!)
Interior pocket
Interior strap for your keys or sunglasses
100% full-grain leather, unlined
Includes a leather tag that can be monogrammed!
The iconic KMM & Co. tote just got a little more affordable! This one-of-a-kind Vegetable Tanned tote -- a leather tote made of natural, un-dyed leather -- is the newest bag in our one-of-a-kind collection. Scratch-and-dent totes Vegetable Tanned totes have scratches, scars, range marks, wrinkles, grain irregularities, variations in color, insect bites, and other imperfections from the life of the cow or the tanning process. These can be quite prominent due to the light color that this leather begins with.
This beautiful Italian leather is a Vachetta: a full-grain vegetable-tanned leather made with no dyes, no harsh chemicals, no added waxes, just natural vegetable oils. The Vegetable Tanned tote is structured enough to stand up on its own, even when empty. One of the most beloved characteristics of un-dyed vegetable tanned leather is the way it ages. With wear and use, a Vachetta tote darkens and acquires a patina unique to the way you carry your bag.
We have a number of Vegetable Tanned seconds in stock, so your tote may have different markings than the one pictured. Seconds didn't quite make the cut as full-priced totes, but their imperfections are just cosmetic. In other words, they'll last just as many years as our full-priced totes! Due to the unique nature of each hide, your bag may be a slightly different color than the one pictured. Please note that all one-of-a-kind totes are final sale, and ineligible for return, exchange, or alterations.
It takes a lot of steps to make a leather tote by hand, whether that tote is a first-quality tote or a scratch-and-dent bag. When we receive a shipment of leather, we inspect each side and designate it a first or second. When you order a scratch-and-dent bag, we pull a few seconds sides and choose the perfect one for your bag.
Next, we cut the handles and crossbody strap out of belting-weight leather, which will break in beautifully (and stand up to years and years of use). Like the body of the bag, the handles may have cosmetic imperfections. 
Next, we sew the side seams of the tote on an industrial machine, backstitching carefully for extra reinforcement. (We always avoid a seam along the bottom of the tote for structural integrity.) Then, we add the interior pocket, handles, and interior strap with copper rivets, hand-set to withstand decades of use. 
Your KMM & Co. leather tote bag will become what you make it. If you want a bag that will look exactly the same after a year of heavy use, then this isn't the tote for you. But if you want a tote that looks and feels (and is!) heirloom-quality, and will acquire a patina unique to you, this may be the one.
KMM & Co.'s leather tote bags are made by hand and made to order, and they can take up to three weeks to ship. Need yours faster? Email hello@kmmco.com and we'll see what we can do!
All orders over $50 ship free within the continental United States. We can ship to other locations, too! Just let us know what you have in mind!
One-of-a-kind totes are final sale and ineligible for returns or exchanges, so please make your selection carefully! We are able to offer scratch-and-dent totes at a discount because they are final sale and ineligible for return or exchange. (Please be sure that you want a scratch-and-dent tote with visible imperfections when you place your order!) Check out our return policy for more details, or email us at hello@kmmco.com if you have questions!
We want your tote to be perfect for you, so we offer a variety of ways to customize your bag. We can emboss the leather tag that's included with your tote with up to 27 characters, including letters, numbers, and even a few emojis. (Just type what you'd like in the monogram field when you add a tote to your cart!) Other options include:
Longer handles, which we'll custom-cut just for you
A detachable crossbody strap, which features brass hardware and is adjustable between the lengths of 44 inches and 51 inches
A snap closure (exactly like the

 

the brass snap closure on our

 

mini totes)
Or, you can keep things simple and order your tote exactly as-is. It's up to you! Please note that longer-than-standard handles, a crossbody strap, and other modifications are a custom order and make your tote final-sale and ineligible for return or exchange. Select your drop length carefully, as we are unable to make alterations to final-sale items, as per our alterations policy. Reach out to hello@kmmco.com if you have any questions!
Customer Reviews
Write a Review
Ask a Question
07/22/2021
Angie C.

United States
07/15/2021
Cynthia D.

United States
Love ❤️ my tote!
This is my third tote from KMM; my second favorite of this size. I like the structure of the bag. It is so pretty and functional.
06/18/2021
Catherine C.

United States
Gorgeous and Timeless
I adore this tote! Just like my other KMM&Co totes, it's incredibly well made, and this veg tan leather is so stunning. I've used this exclusively over the last 30 weeks or so, and it's developing such a gorgeous patina. This is definitely an heirloom piece and I look forward to watching it patina for years to come. Thanks KMM& Co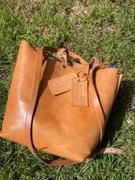 05/11/2021
Kathryn P.

United States
Scratch and Dent Vegetable Tote
Love it! Color is beautiful and imperfections are perfect and give it character!
05/08/2021
Kathy R.

United States
Veggie-tanned tote
I recently bought a scratch-and-dent paprika tote, which I love. The size is perfect for daily use. I decided I "needed" a vegetable tanned tote as well because of the natural leather color. I look forward to seeing it age over time as I use it. KMM totes are well made, beautiful and are made to last. You can't go wrong.