Smooth Tan Mini Tote
The Smooth Tan mini tote is an everyday bag that's handmade of full-grain leather. Smooth Tan leather is smooth-grained, thick and structured, and uniform in color, with a matte finish. Tan mini totes come standard with tan handles, or you can choose a custom color with the KMM & Co. Secret Menu.
*These bags may have small imperfections such as bug bites or scratches. 
Regular price

$220.00

Sale price

$125.00
What makes KMM & Co. special?
Handmade in the USA

Leather goods made by skilled hands in our Atlanta, Georgia studio.

Heirloom quality

Full-grain leather and traditional craftsmanship to last a lifetime.

Free shipping & returns

Free shipping on U.S. orders of $50 or more (and free returns, too)!

Responsibly sourced

Full-grain leather that's sourced as a byproduct of the meat industry.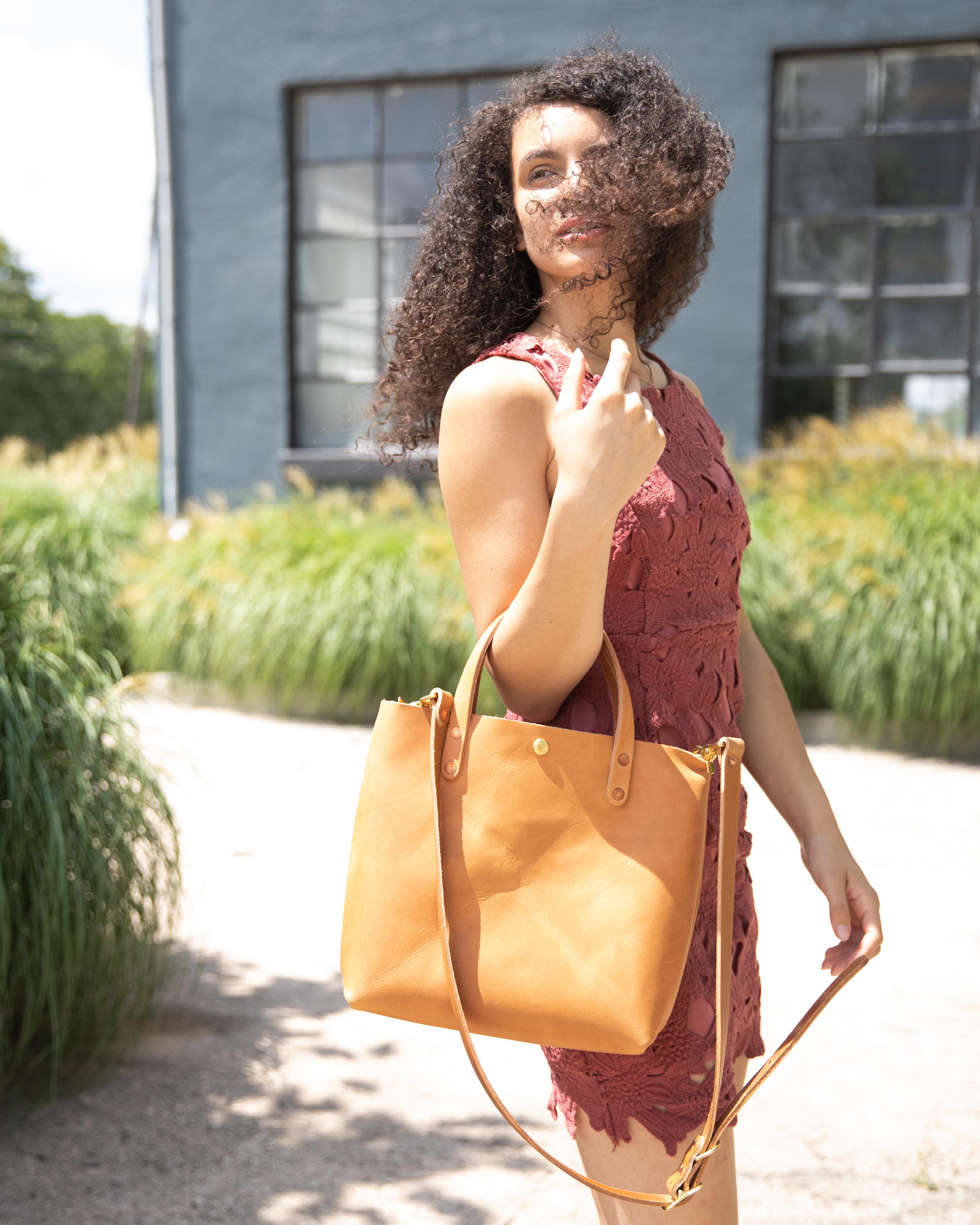 Things customers love about the KMM & Co. mini tote:
1. Gorgeous full-grain leather

One of a very few heirloom-quality mini totes on the market, KMM & Co.'s mini tote is handmade of full-grain leather. That's the highest quality leather made, and we stock more (and brighter!) colors than just about anyone else.
2. Comfortable top handles

You asked, and we listened: A few years ago, we designed the mini tote for customers who were looking for the perfect top handle bag. Each handle is cut of belting-weight leather, and has its edges beveled, for decades of comfortable carrying.
3. Indestructible one-piece design

KMM & Co. mini totes are cut from a single piece of leather, then stitched and riveted the traditional way so they can't come apart. Inferior totes have a seam across the bottom – beware of imitations!
4. Hidden brass grommets

Every mini tote is fitted with solid brass grommets for attaching a crossbody strap. The grommets are lightweight and are skillfully set on the seam inside the bag. That means that they stay out of sight (and out of your way) when you don't need them.
5. Traditional, solid copper rivets

Once the handles go on with traditional copper rivets, they're not budging! We take the extra time to set our rivets smooth side out, so they won't snag even the most delicate cardigan. No shortcuts!
Small in size but big on style, the mini tote is handcrafted with the very best in full-grain leather. Heirloom-quality bags that last a lifetime (and never go out of style!) don't have to be a thing of the past.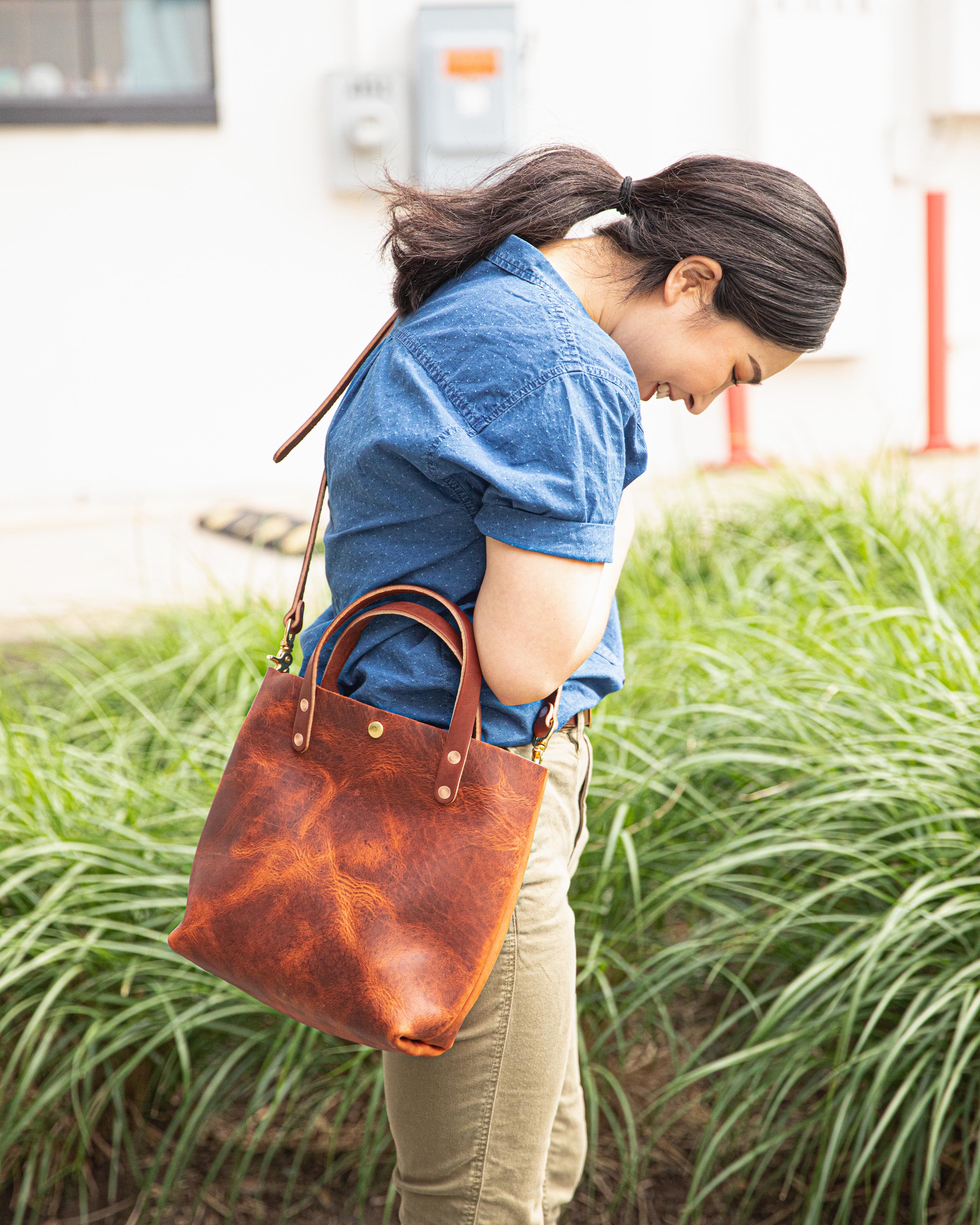 How the mini tote measures up:
The mini tote makes a great everyday bag: Small and light enough that it's comfortable to carry, but roomy enough that all your essentials will fit inside.
• 10 inches in height
• 12 inches in width
• 4 inches in depth
• Handle drop length: 5 inches
• Optional crossbody strap adjusts from 44 to 51 inches
• 1.5 to 2.5 pounds in weight, depending on leather
"This mini tote is a timeless style that can be dressed up or down. The workmanship is unparalleled and the leather is amazing! Pillowy soft and pliable with some structure. This bag has quickly been thrown into heavy rotation!"
– RHONDA M., VERIFIED BUYER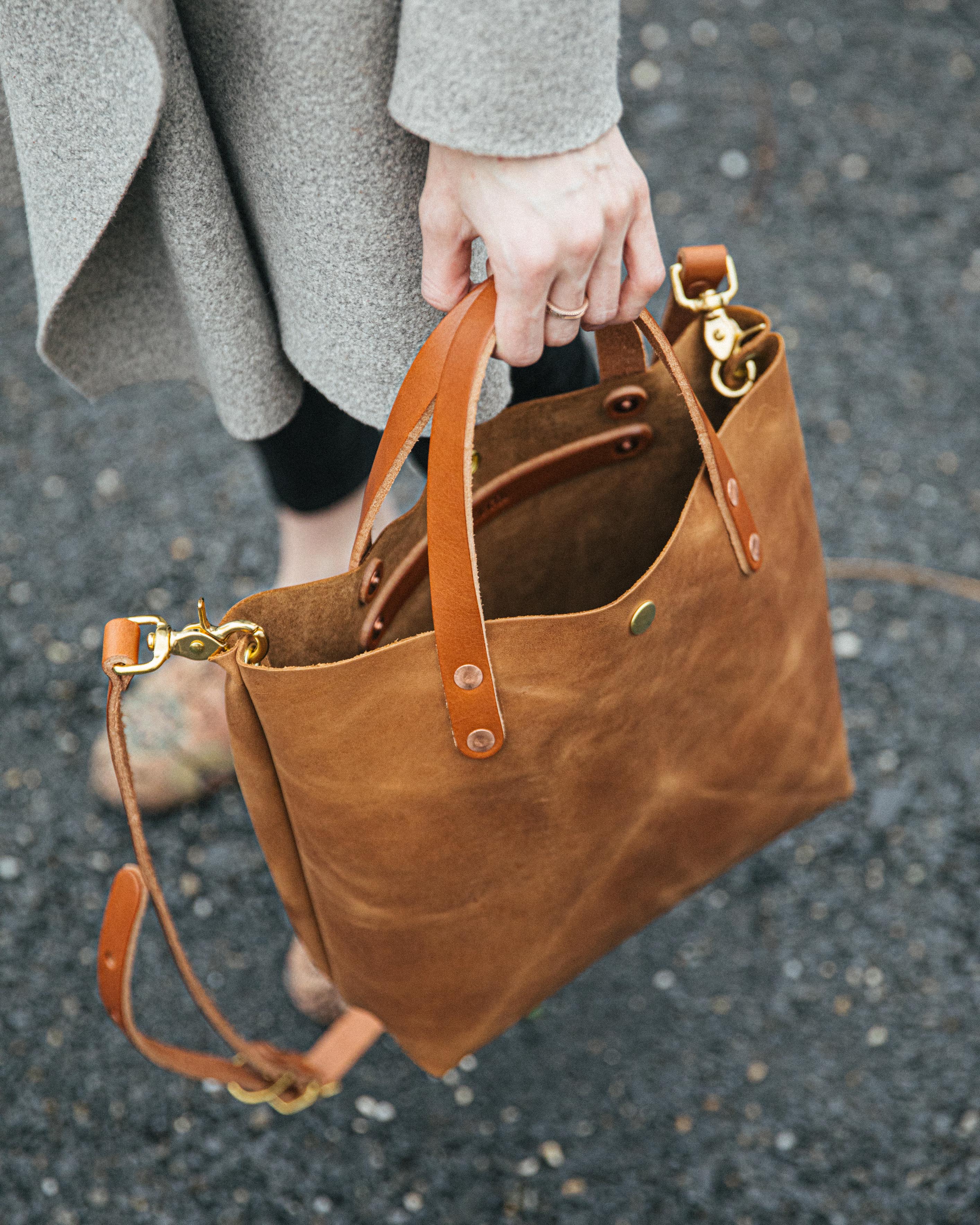 Handmade and made to order
Made to order, just for you

Like every KMM & Co. accessory, the mini tote is handmade and made to order. (No warehouses, no factories, just a small studio in downtown Atlanta!) Each mini tote takes up to 3 weeks for us to make and ship – but it's worth the wait, we promise!
Free shpping on U.S. orders $50+

All orders totaling $50 or more ship free within the United States! We also ship overseas, and to APO/ FPO addresses, too. All packages ship via USPS and go to our local Atlanta post office within 24 hours of your shipping confirmation email.
Easy returns within 30 days

If you aren't happy with your order, you can return or exchange it for free within 30 days of receipt. The only items ineligible for return or exchange are final-sale items and items customized for you. Check out our returns policy for more details.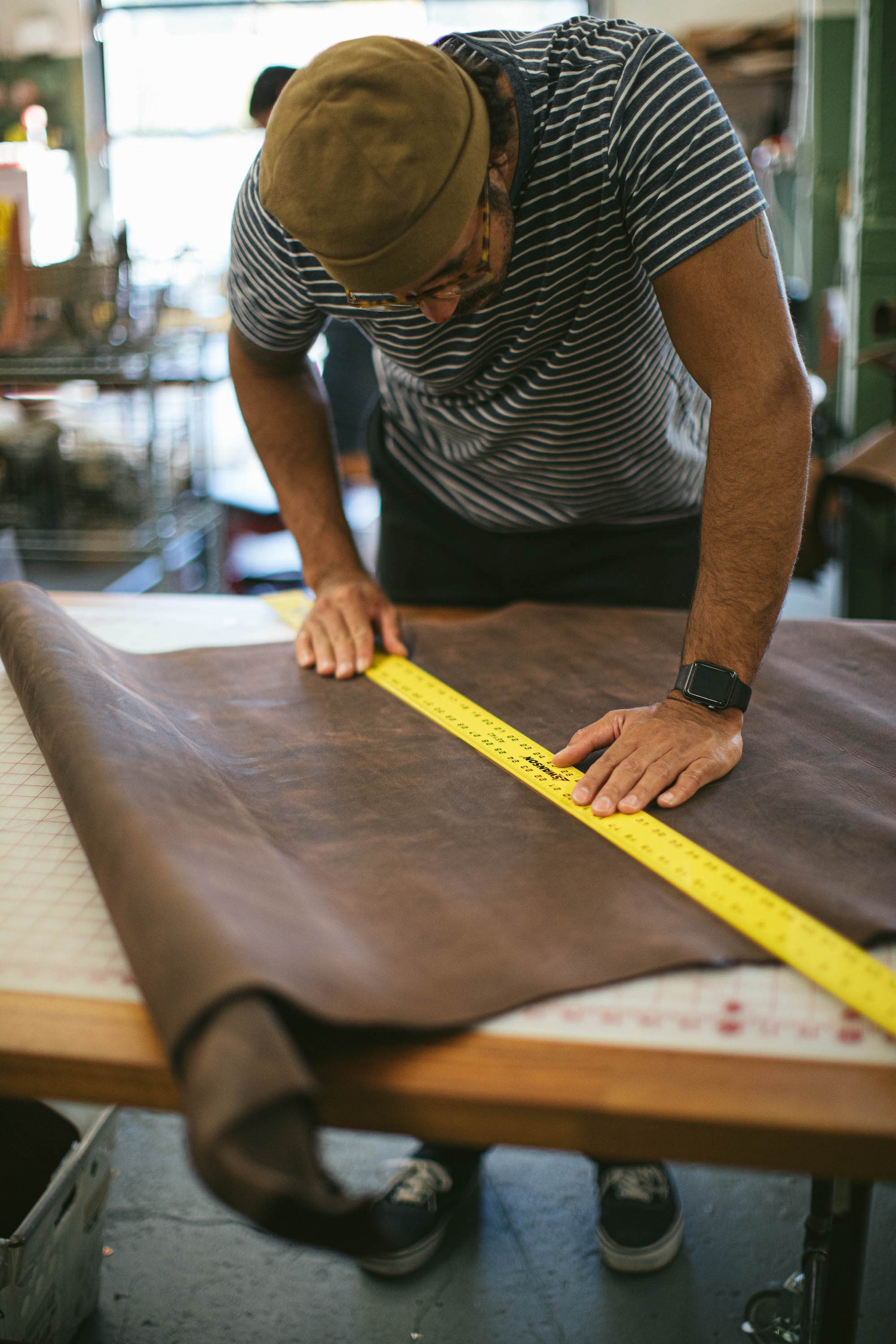 How the mini tote gets made
Each bag is handmade in the USA (in our Atlanta studio)! We get started on your mini tote at the cutting table. That's where we hand-pick a hide of full-grain leather, carefully considering its grain, color, character, markings, and structural integrity.
Next, we stitch the side seams of the bag inside-out, backstitching precisely. We hand-set four copper rivets inside the tote to form the gusset, and turn it right-side out. Then, we cut the handles from belting-weight leather and affix the handles, the pocket, and the interior strap with rivets, too.
Finally, we hand-set the snap and grommets. We use solid brass hardware that starts shiny and bright and acquires a patina with time. (Run the other way if you see antiqued brass, which starts off a dull brown color and is painted or plate iron or steel!)
Made (and customized) just for you!
Everybody's dream mini tote looks a little different. We offer a range of custom options so you can design the bag you've always wanted.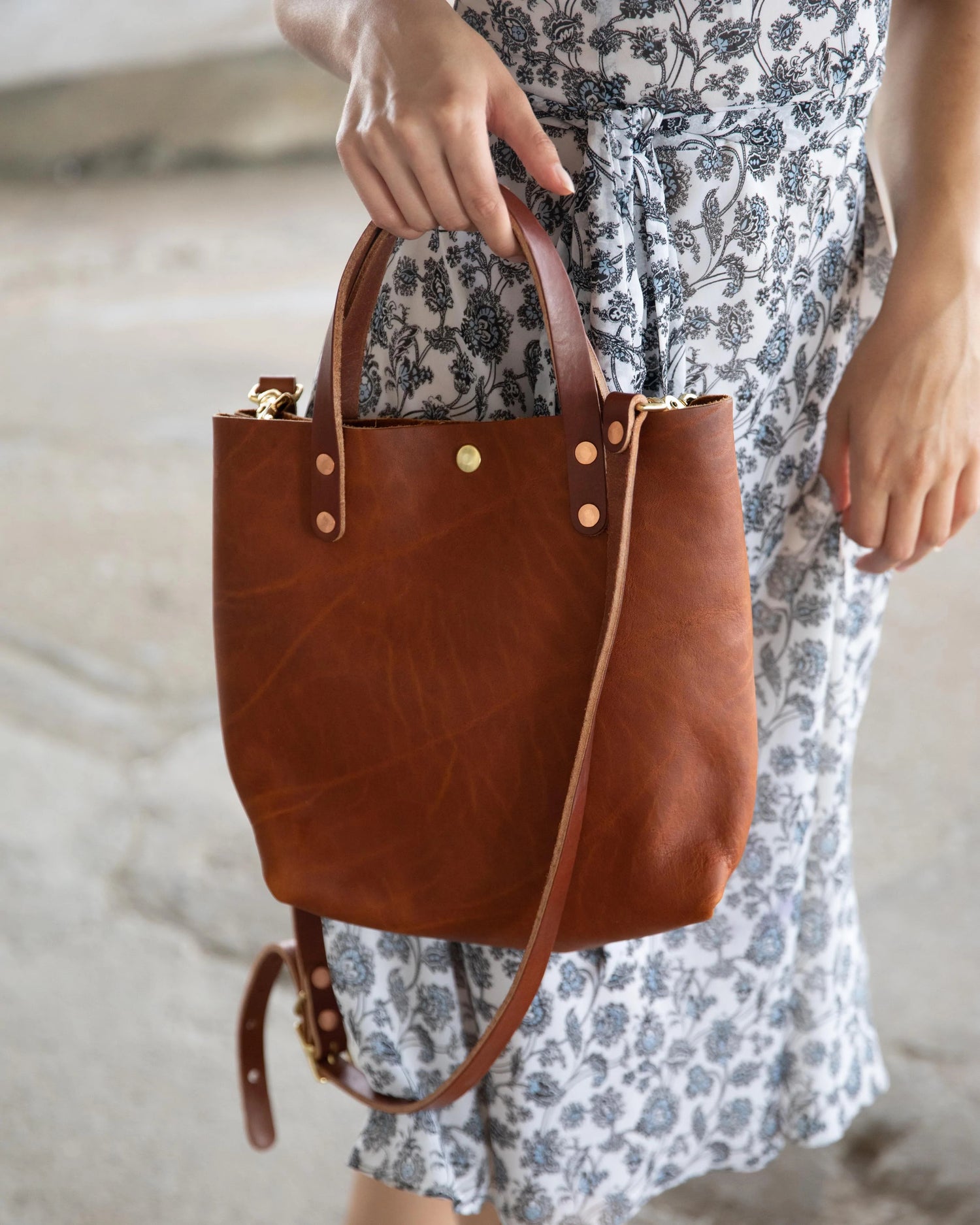 1. Add a crossbody strap
The crossbody strap is the mini tote's most popular accessory. It's cut out of belting-weight bridle leather, then beveled for a lifetime of comfortable carrying. The strap is adjustable, with lustrous solid brass hardware.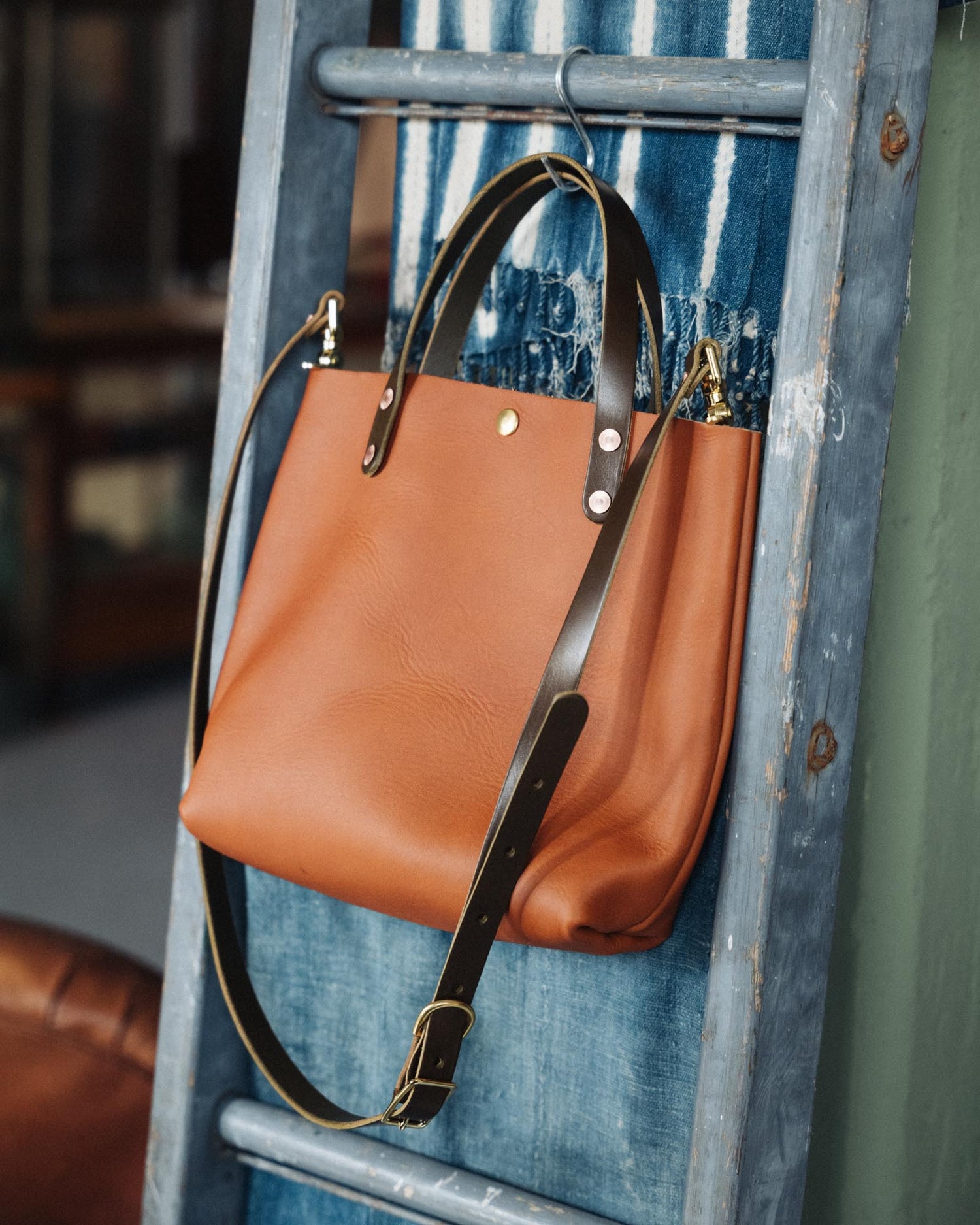 2. Pick your strap color
Every mini tote is made to order, so why not customize it? With KMM & Co.'s Secret Menu, you can choose a color for the handles (and optional crossbody strap). Pick a color that's classic and understated or go bold and bright – your call!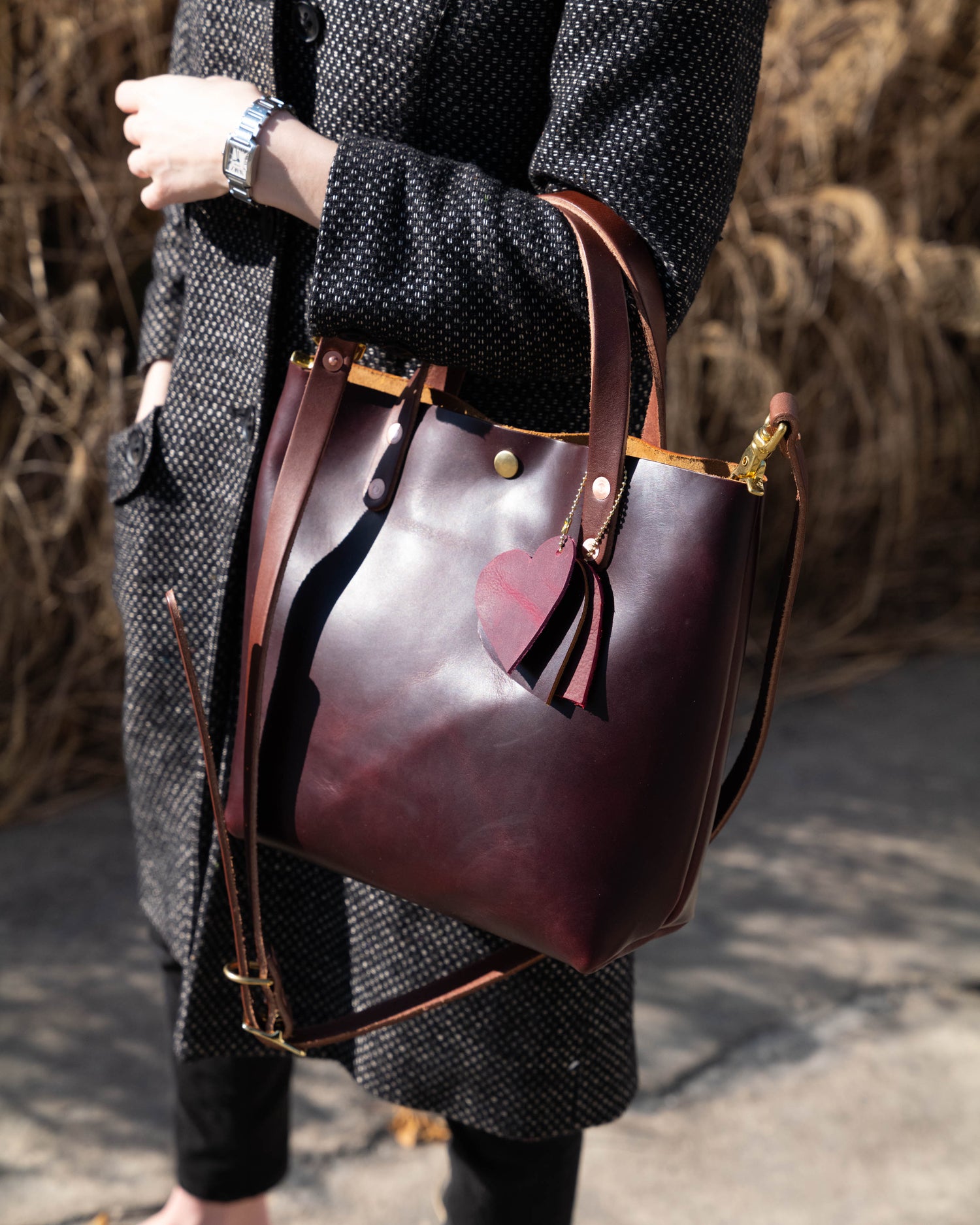 3. Spruce it up with a bag charm
The mini tote is gorgeous on its own. But you can give it even more personality with a leather tag, a tassel, or a set of bag charms. We particularly love a set of heart charms on a mini tote.
See more in Oak, an American-made leather with a smooth grain, structured temper, and uniform color .
Ask away! FAQs about the mini tote
How much does a KMM & Co. mini tote hold?

The mini tote is small but capable. It's sized to fit a book, a small tablet, your wallet, a pair of glasses, and the other assorted items that need to go with you each day. It's small, but surprisingly roomy.
How "mini" is the KMM & Co. mini tote?

We took months to field-test and fine-tune our mini tote, seeking to balance small size and practical capacity. And that slow, traditional design process works: Unlike some imitations that pop up, our mini tote is just the right amount of "mini" for real life.
Can I customize the length of my mini tote's handles?

The handles of the mini tote are designed for carrying the bag by hand, and their length can't be customized. But if you'd like a mini tote with longer handle length options, the Mini Travel Tote might be just the ticket!
Which color or leather should I choose?

We love every color in our collection, but after making thousands of totes, we're partial to Kodiak and Cypress leathers. For each color we introduce, we reject hundreds of other colors and tannages: KMM & Co. leathers are truly the best of the best.
What kind of markings can I expect with full-grain leather?

Full-grain leather retains all of its original grain and character, including any imperfections. You might see range marks, grain variations, small spots or scratches, folds, or color variation. They're all a beautiful part of the leather's natural character.
More questions? Send us a message and we'll get back to you ASAP!
Want to see this style in more colors?