Cognac Cypress Carryall Tote
The carryall is our biggest and most beautiful leather tote bag. Cognac Cypress leather is thick and soft, with a pillowy texture, even in color with little to no pull-up, and pebbled, with a light sheen. Cognac Cypress carryalls come standard with tan handles, or you can choose a custom color with the KMM & Co. Secret Menu. 
Regular price

Sale price

$500.00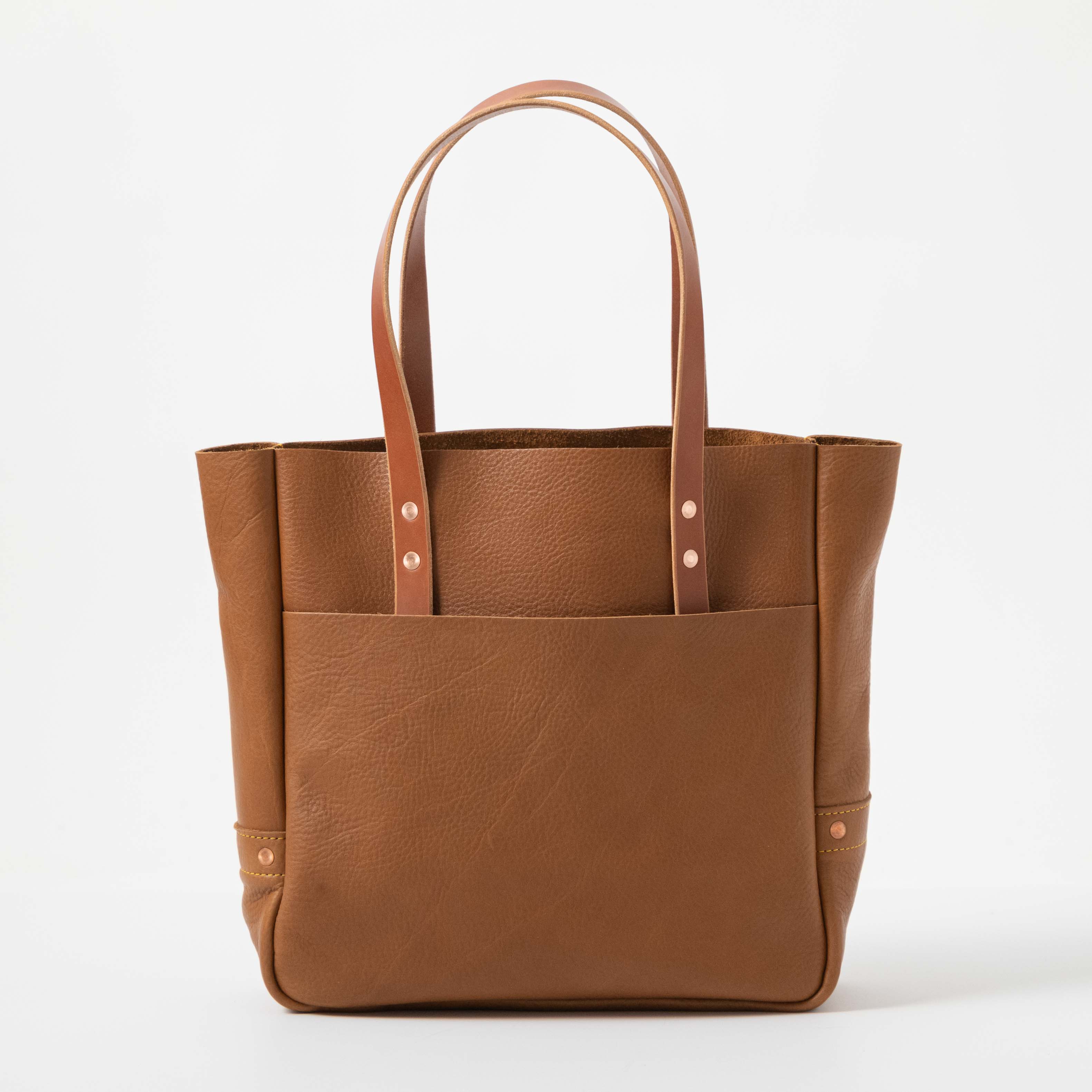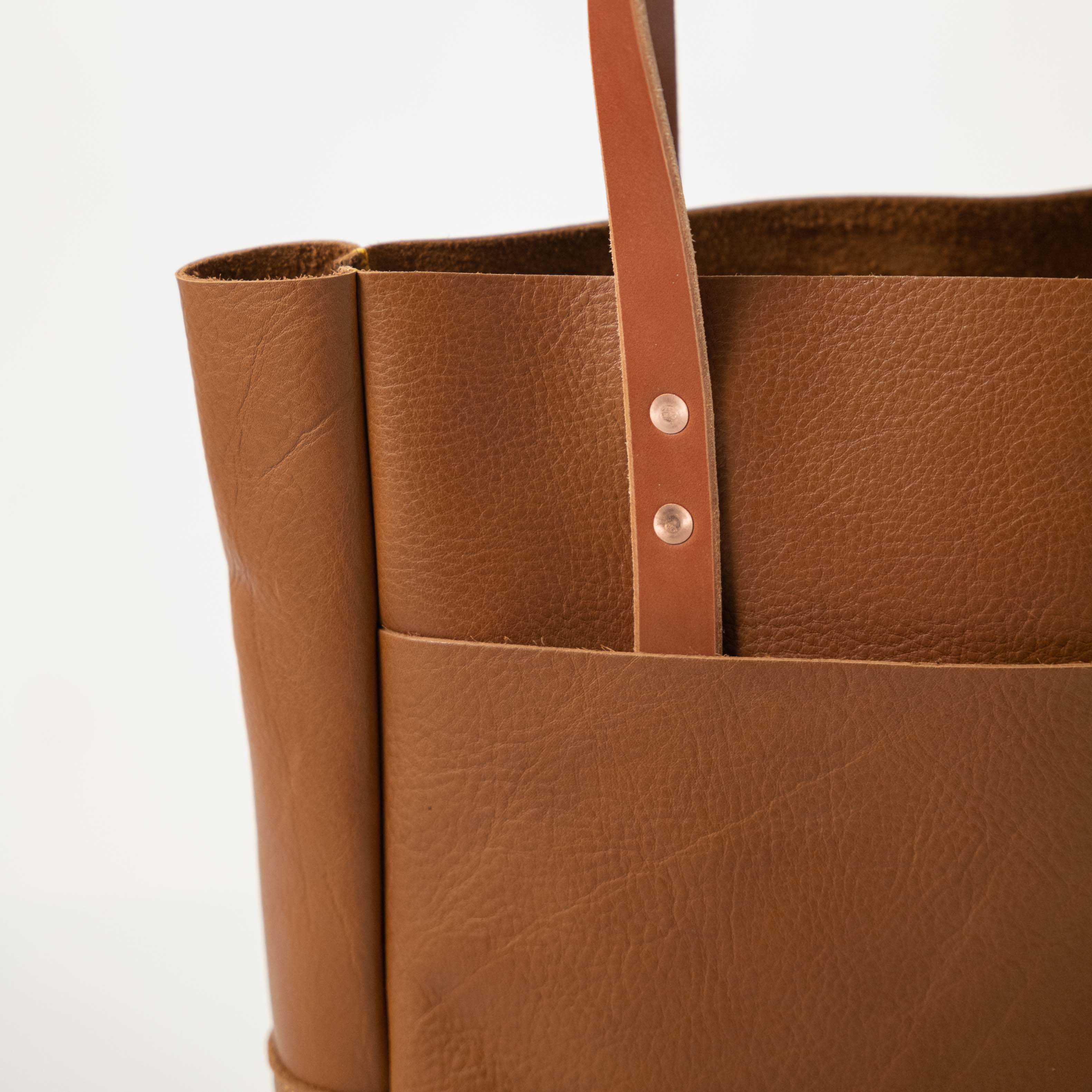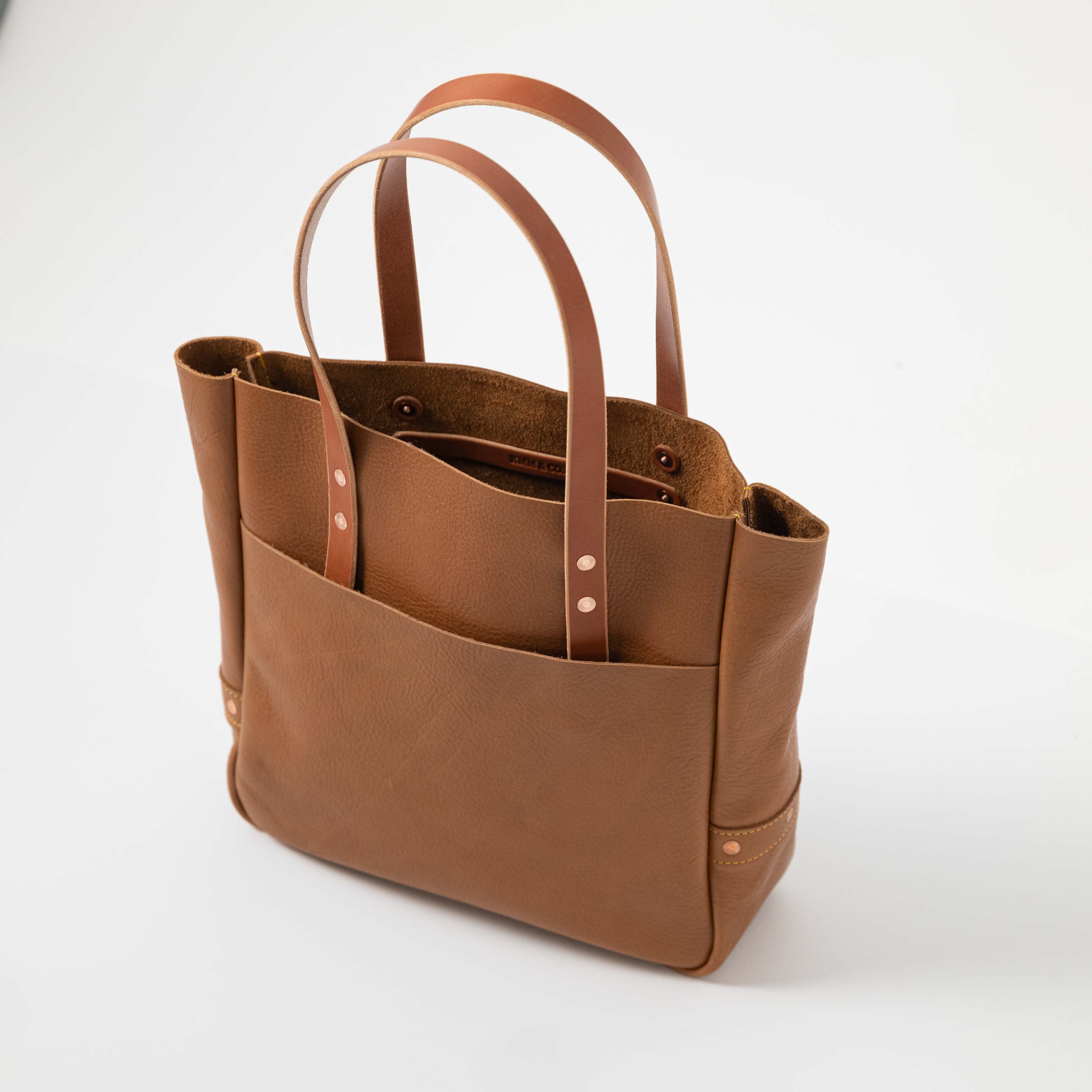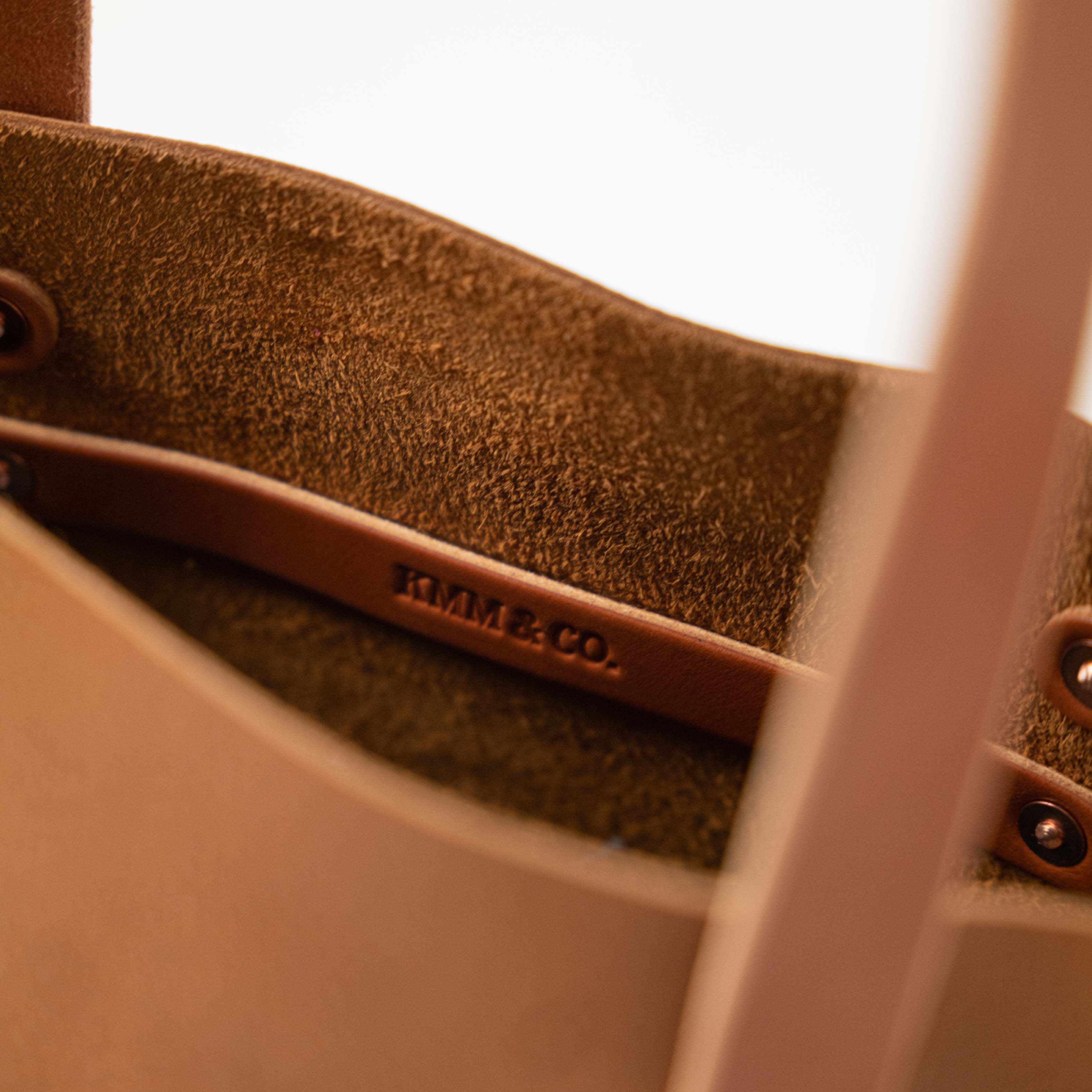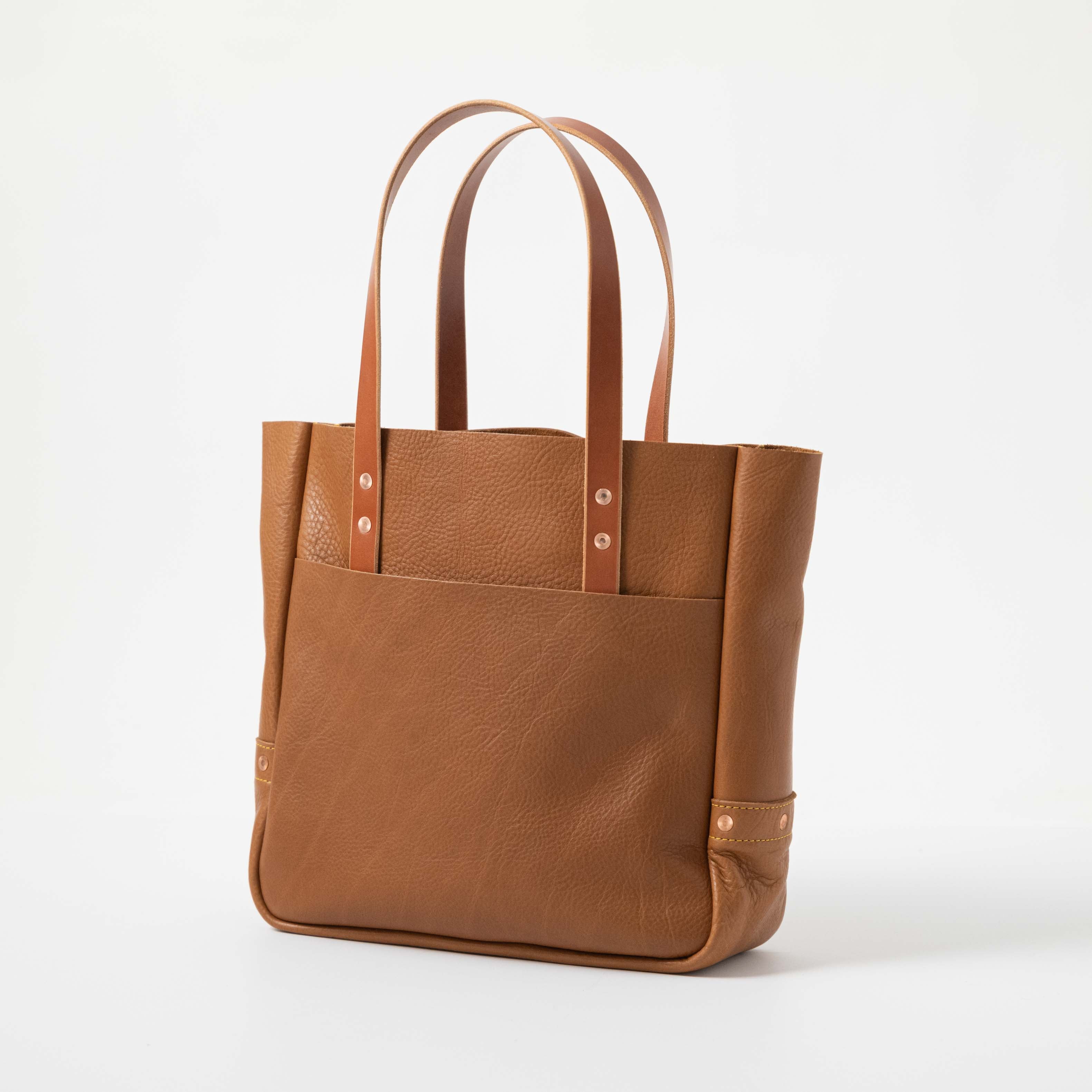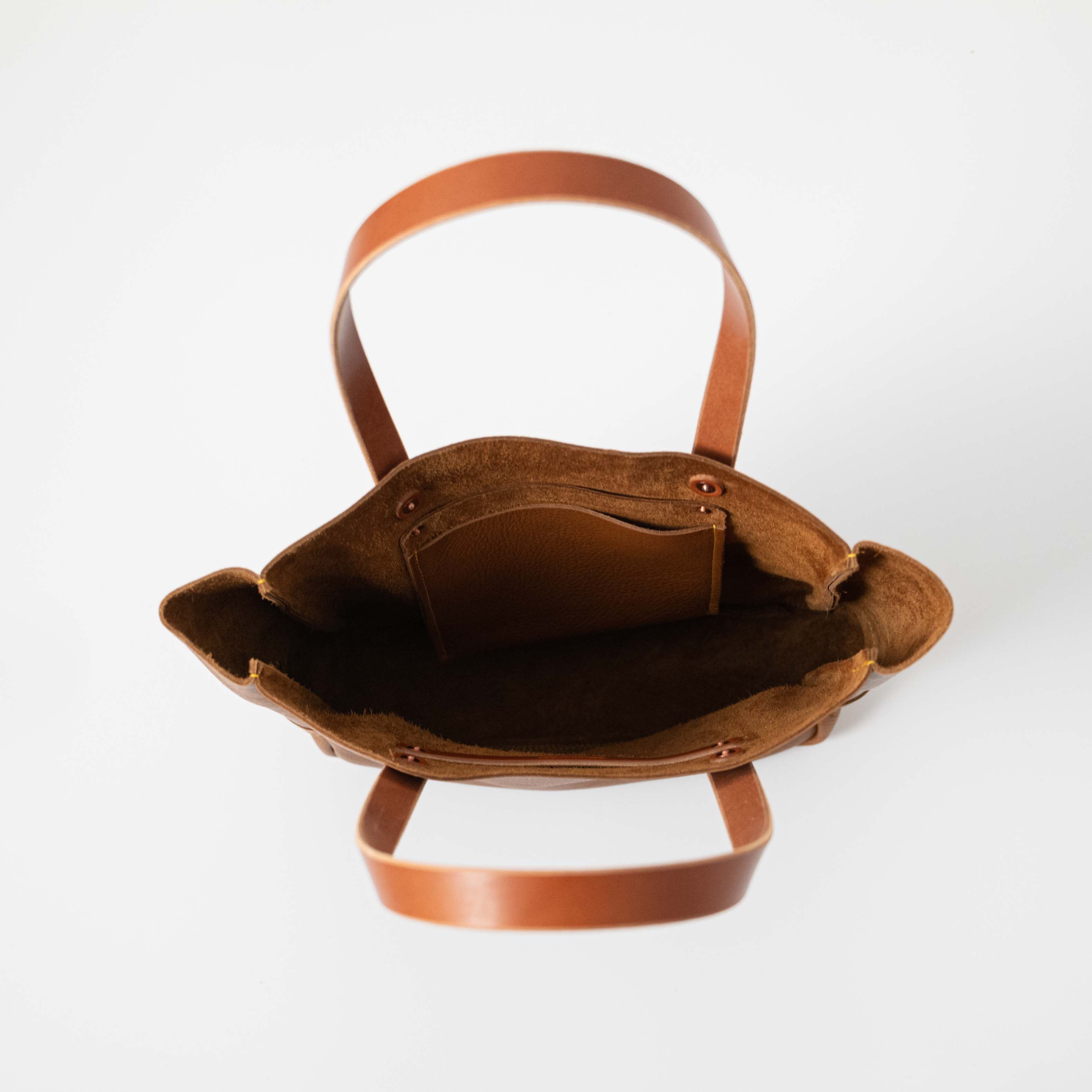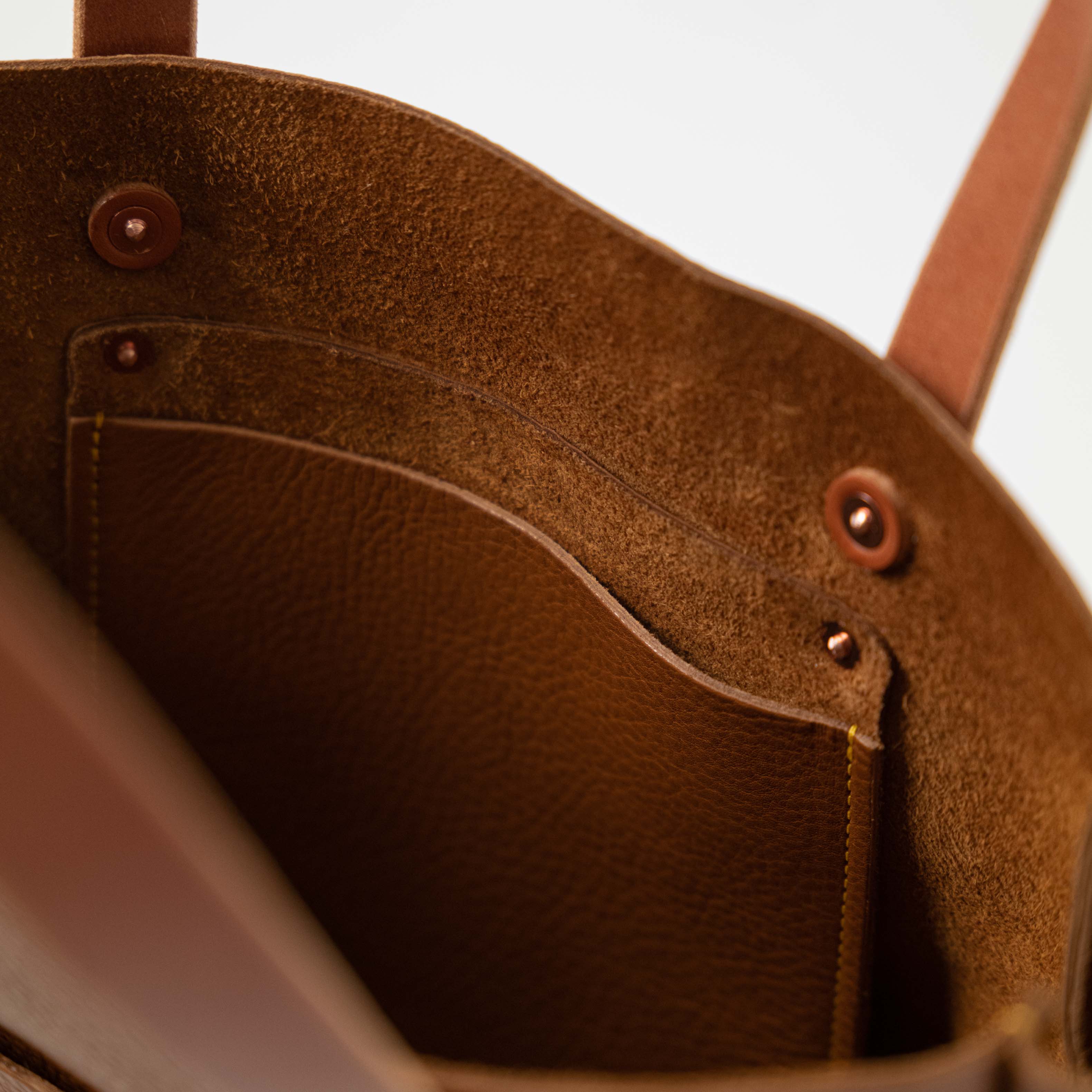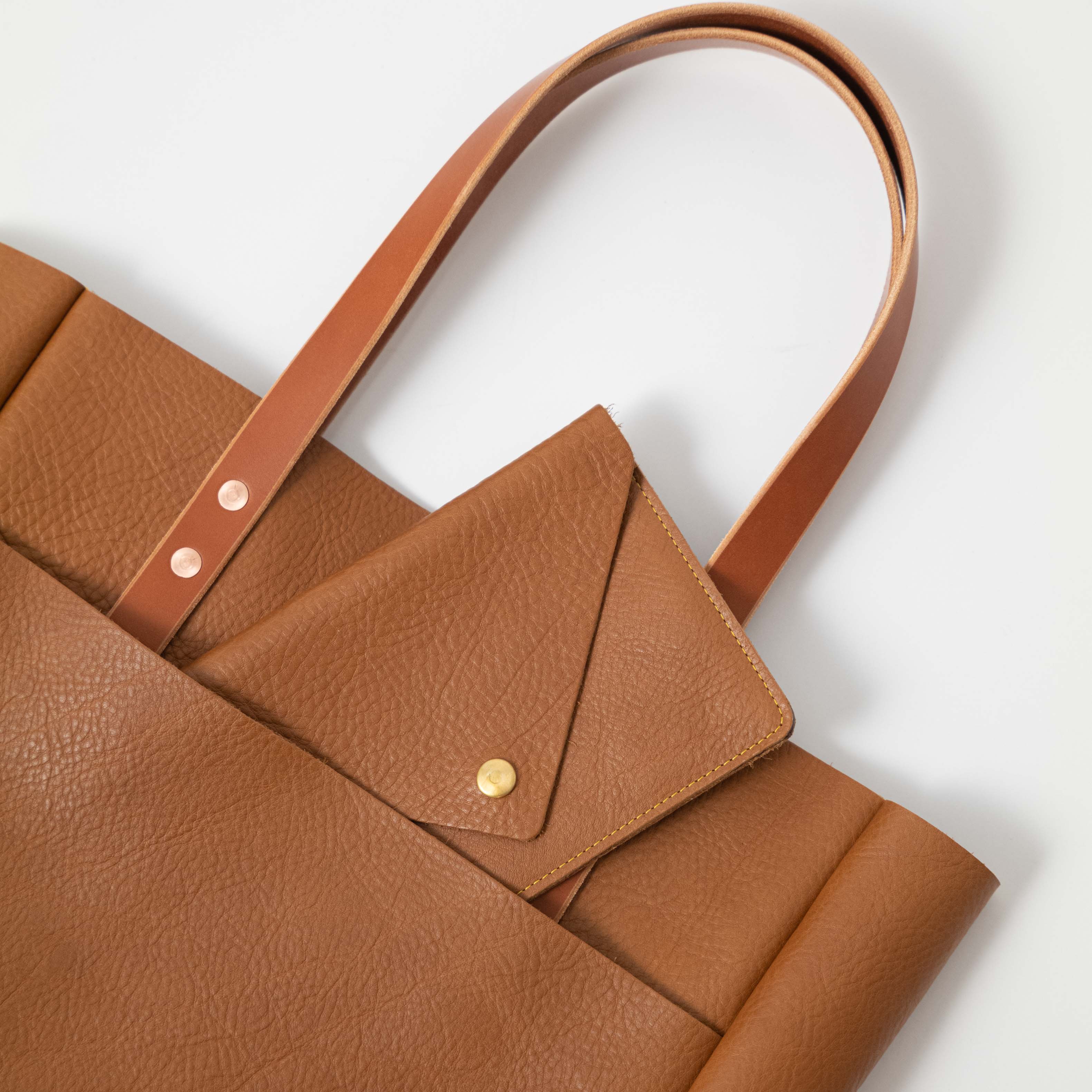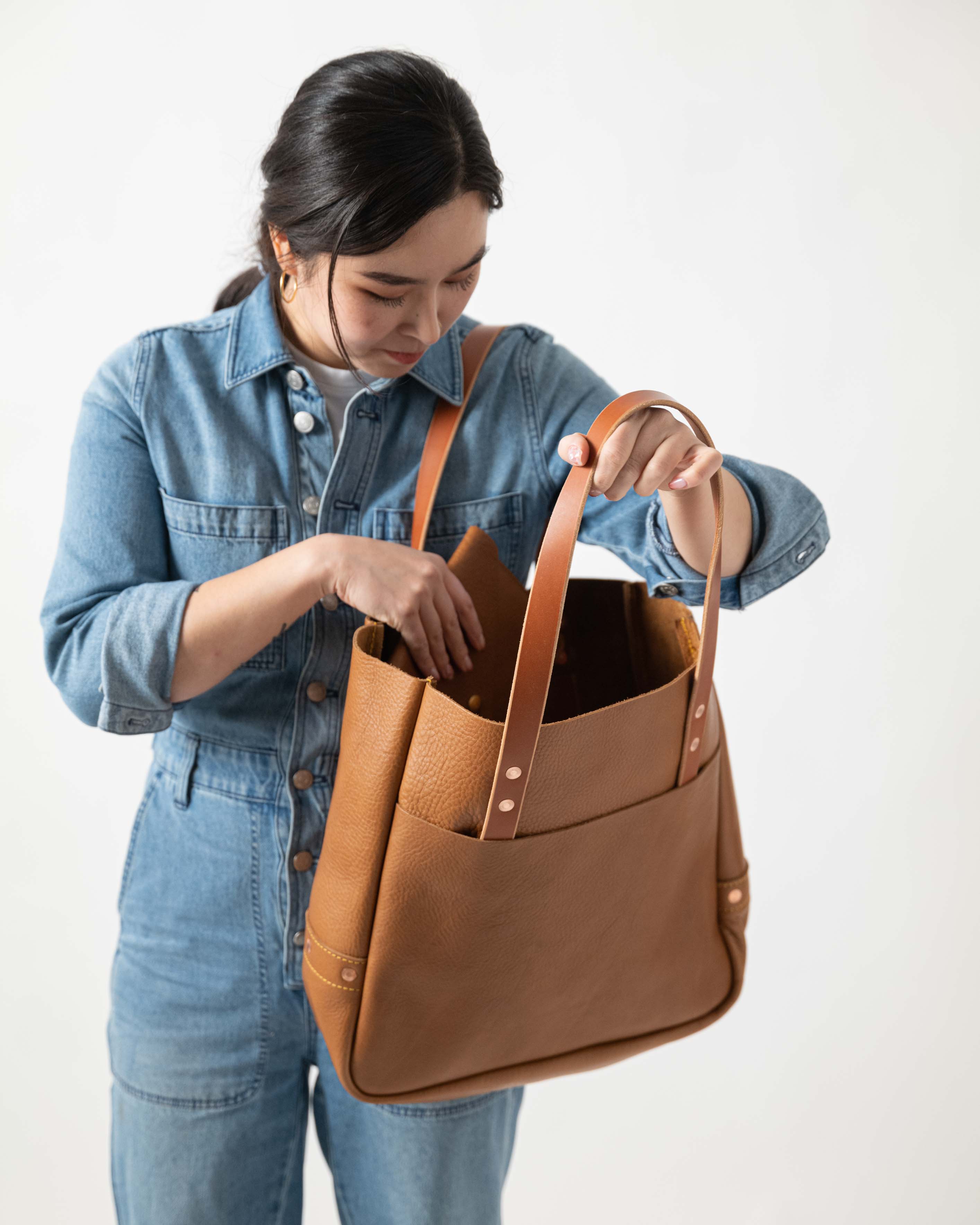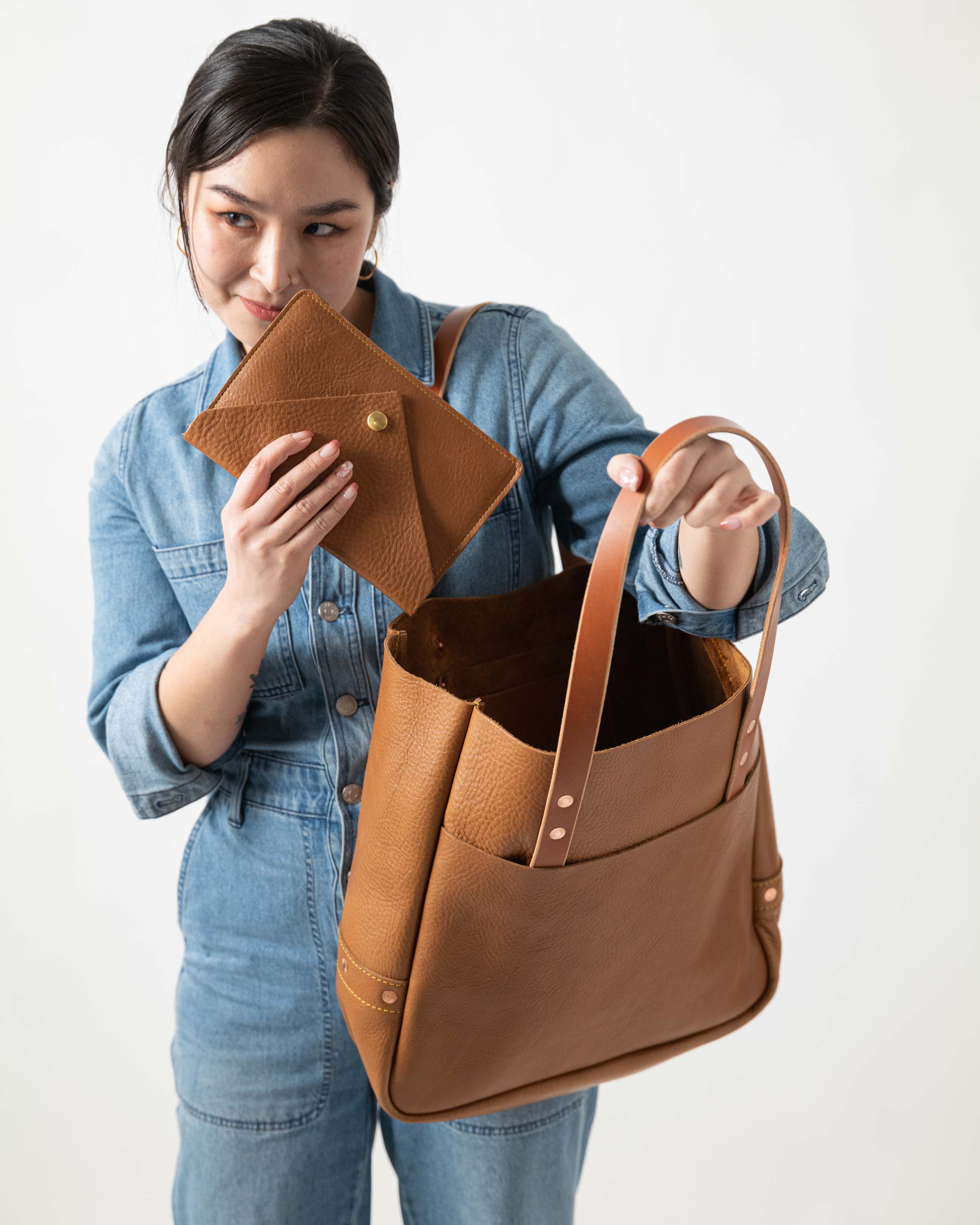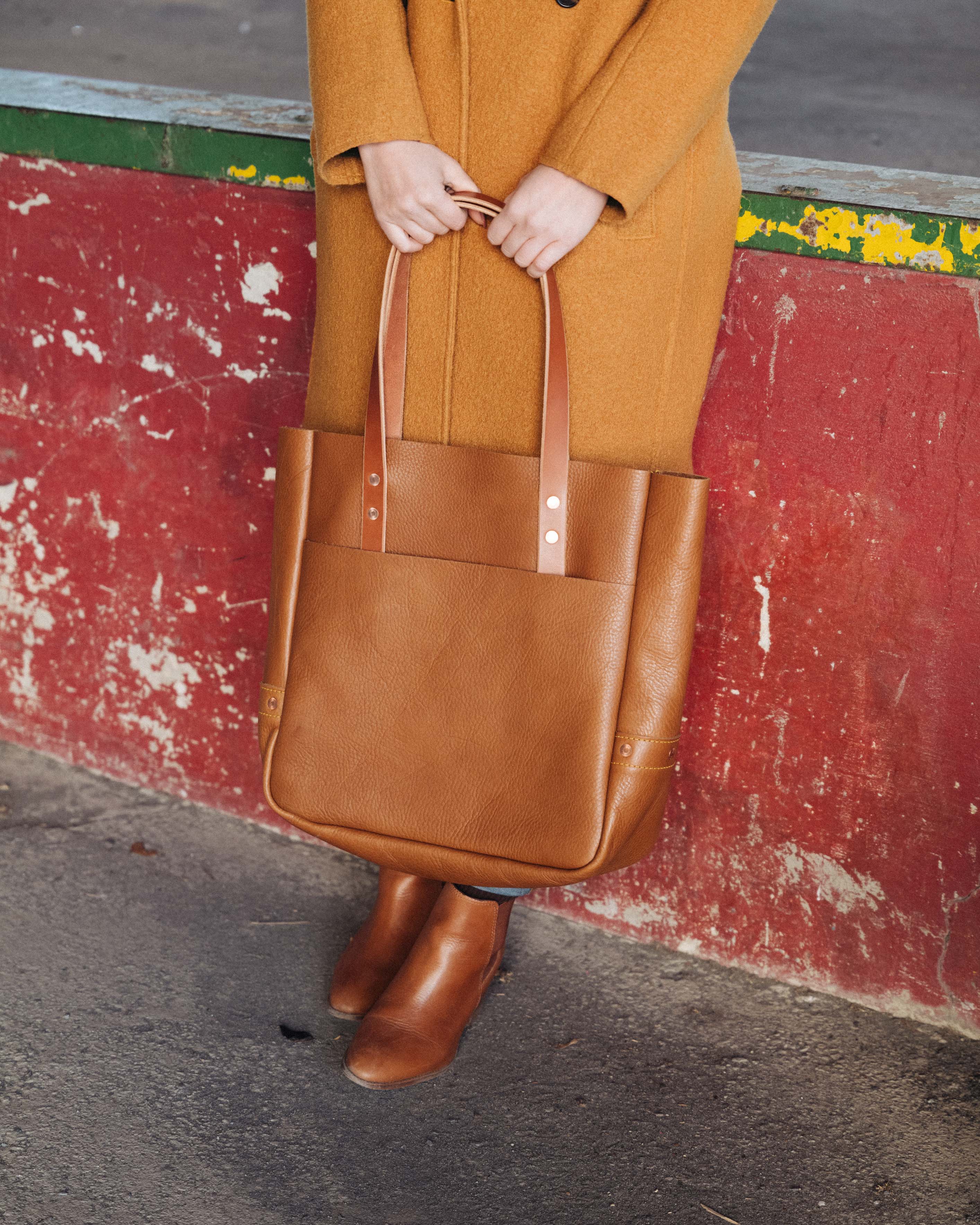 What makes KMM & Co. special?
Handmade in the USA

Leather goods made by skilled hands in our Atlanta, Georgia studio.

Heirloom quality

Full-grain leather and traditional craftsmanship to last a lifetime.

Free shipping & returns

Free shipping on U.S. orders of $50 or more (and free returns, too)!

Responsibly sourced

Full-grain leather that's sourced as a byproduct of the meat industry.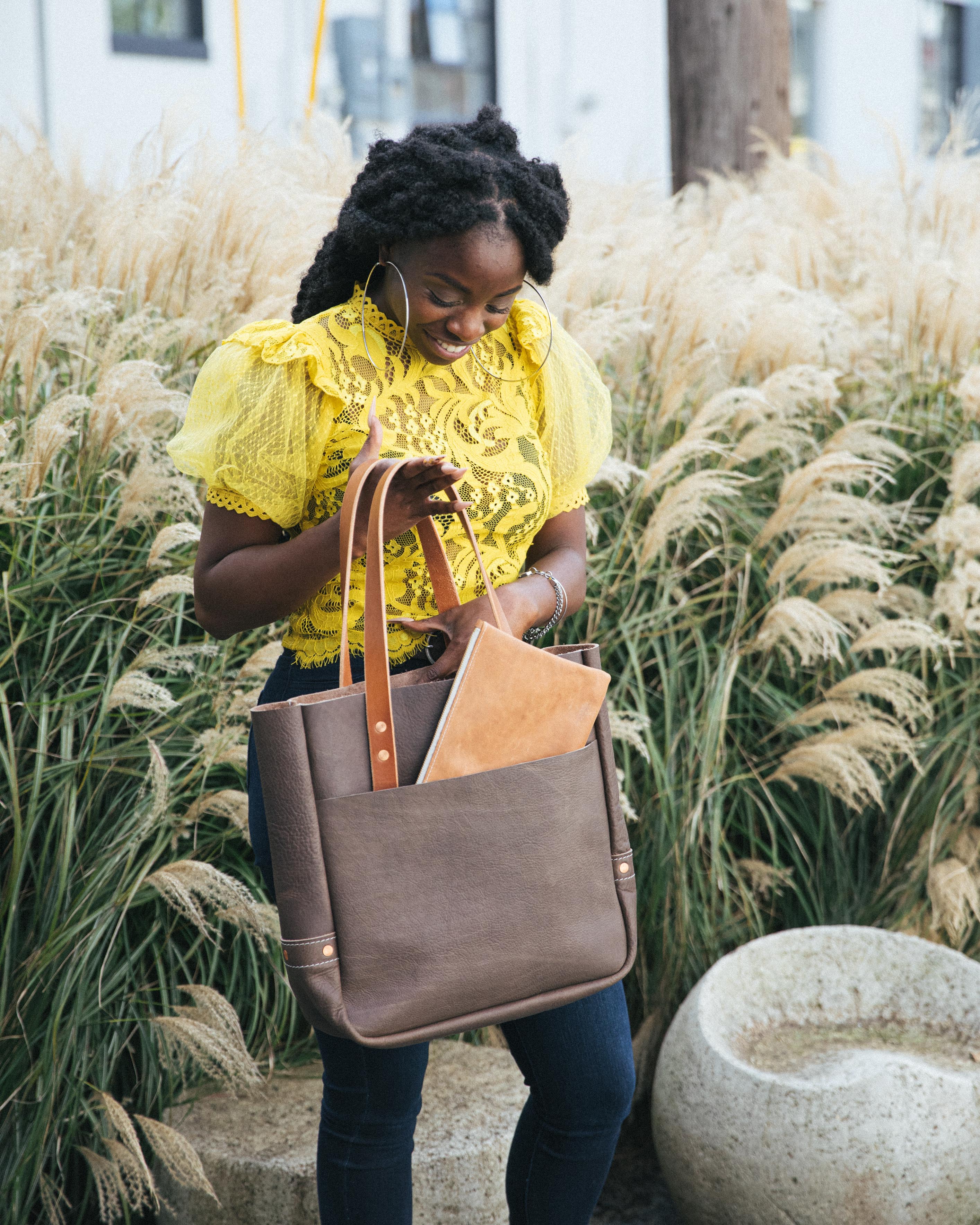 Things customers love about the KMM & Co. carryall tote:
1. Gorgeous full-grain leather

The carryall, KMM & Co.'s largest leather tote, is handmade of full-grain leather. That's the highest quality leather made, and we stock more (and more vibrant!) colors than just about anyone else.
2. Wide, custom-length handles

A big and beautiful tote bag needs handles to match. The carryall's comfy, wide handles are made of belting-weight leather. We offer a range of drop lengths: You can pick the one that's perfect for you.
3. Spacious exterior pockets

If you think bigger is better when it comes to pockets, you're going to love the carryall! This tote has two exterior pockets, each 14 inches by 10.5 inches, to keep your bag neat and organized.
4. Traditional, solid copper rivets

Once the handles go on with traditional copper rivets, they're not budging! We take the extra time to set our rivets smooth side out, so they won't snag even the most delicate cardigan. No shortcuts!
5. Hand-pieced panels and gusset

Full-grain leather varies in grain and color across each hide. The carryall is cut and pieced by hand – and with a trained eye – to make sure that all of the pieces look absolutely perfect together.
How the carryall tote measures up:
The carryall is KMM & Co.'s biggest (and, some would say, most beautiful) leather tote. It's the bag you'll reach for on days you have a lot to pack for work, school, the park, or even a weekend trip.
• 15 inches in height
• 16.5 inches in width
• 6 inches in depth
• Handle drop length: traditional 9 inches or custom 7 or 11 inches
• 3 to 3.5 pounds in weight, depending on leather
"I LOVE my carryall. I chose the 11in strap length and it's perfect. I love how it molds to my side just perfectly and the leather has all the beautiful markings of full grain leather. I can't wait to break it in and have it develop its own marks of wear."
– CHRISTINA V., VERIFIED BUYER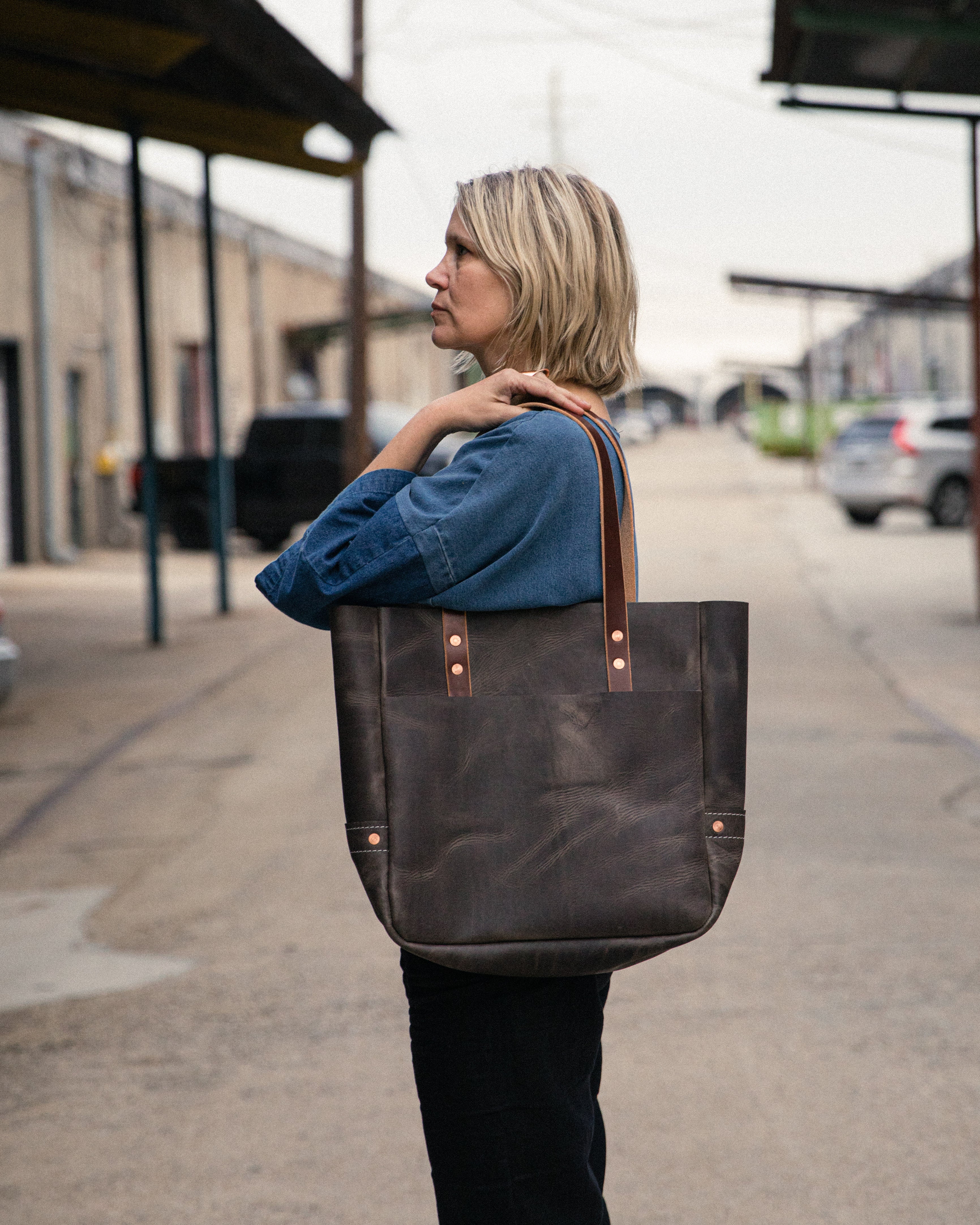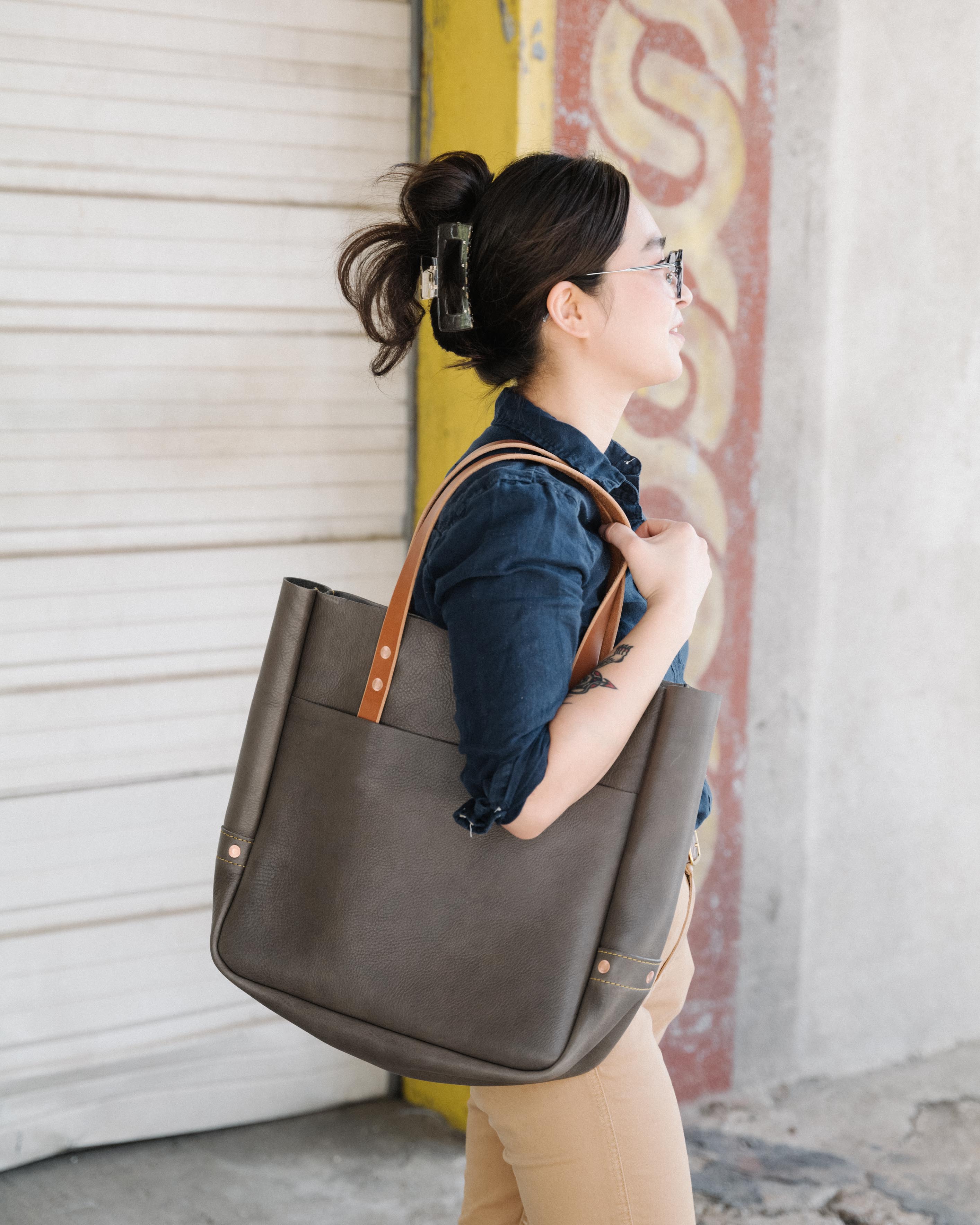 Handmade and made to order
Made to order, just for you

Like every KMM & Co. accessory, the carryall is handmade and made to order. (No warehouses, no factories, just a small studio in downtown Atlanta!) Each carryall takes up to 6 weeks for us to make and ship – but it's worth the wait, we promise!
Free shpping on U.S. orders $50+

All orders totaling $50 or more ship free within the United States! We also ship overseas, and to APO/ FPO addresses, too. All packages ship via USPS and go to our local Atlanta post office within 24 hours of your shipping confirmation email.
Easy returns within 30 days

If you aren't happy with your order, you can return or exchange it for free within 30 days of receipt. The only items ineligible for return or exchange are items customized for you and final-sale items. Check out our returns policy for more details.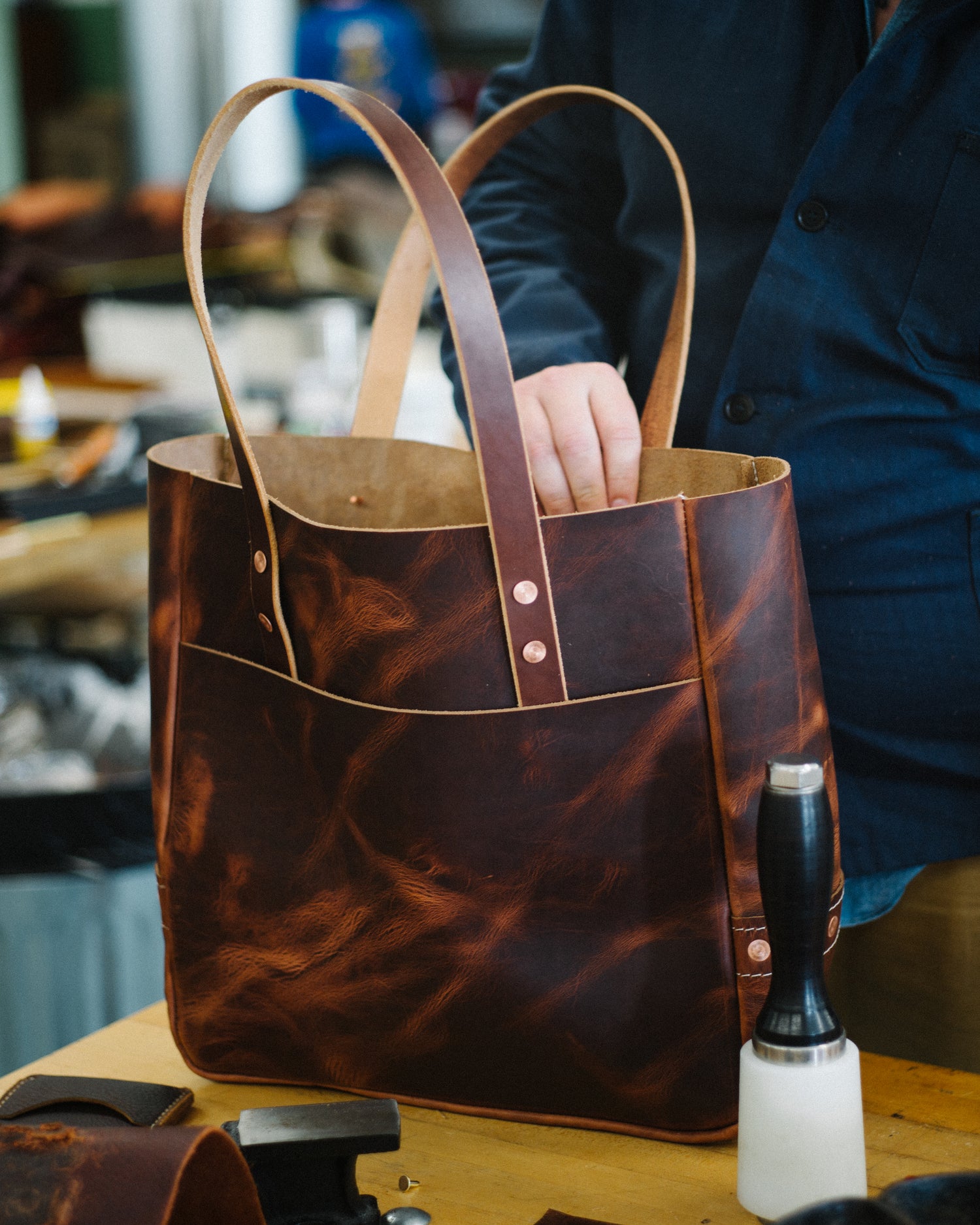 How the carryall tote gets made
Each bag is handmade in the USA (in our Atlanta studio)! A carryall begins on the cutting table, where each of the many pieces is carefully cut. Then, the gusset is riveted together so it never falls apart.
Next, we stitch and backstitch each seam to assemble the carryall body. Then, we make the handles out of belting-weight leather, cutting them to your chosen drop length and beveling the edges.
Finally, we affix the handles to the bag with more copper rivets. A KMM & Co. tote bag is made to be indestructible, and we'll always repair it in the unlikely event that materials or craftsmanship fail.
Made (and customized) just for you!
Everybody's dream bag looks a little different. We offer a range of custom options so you can design your perfect carryall.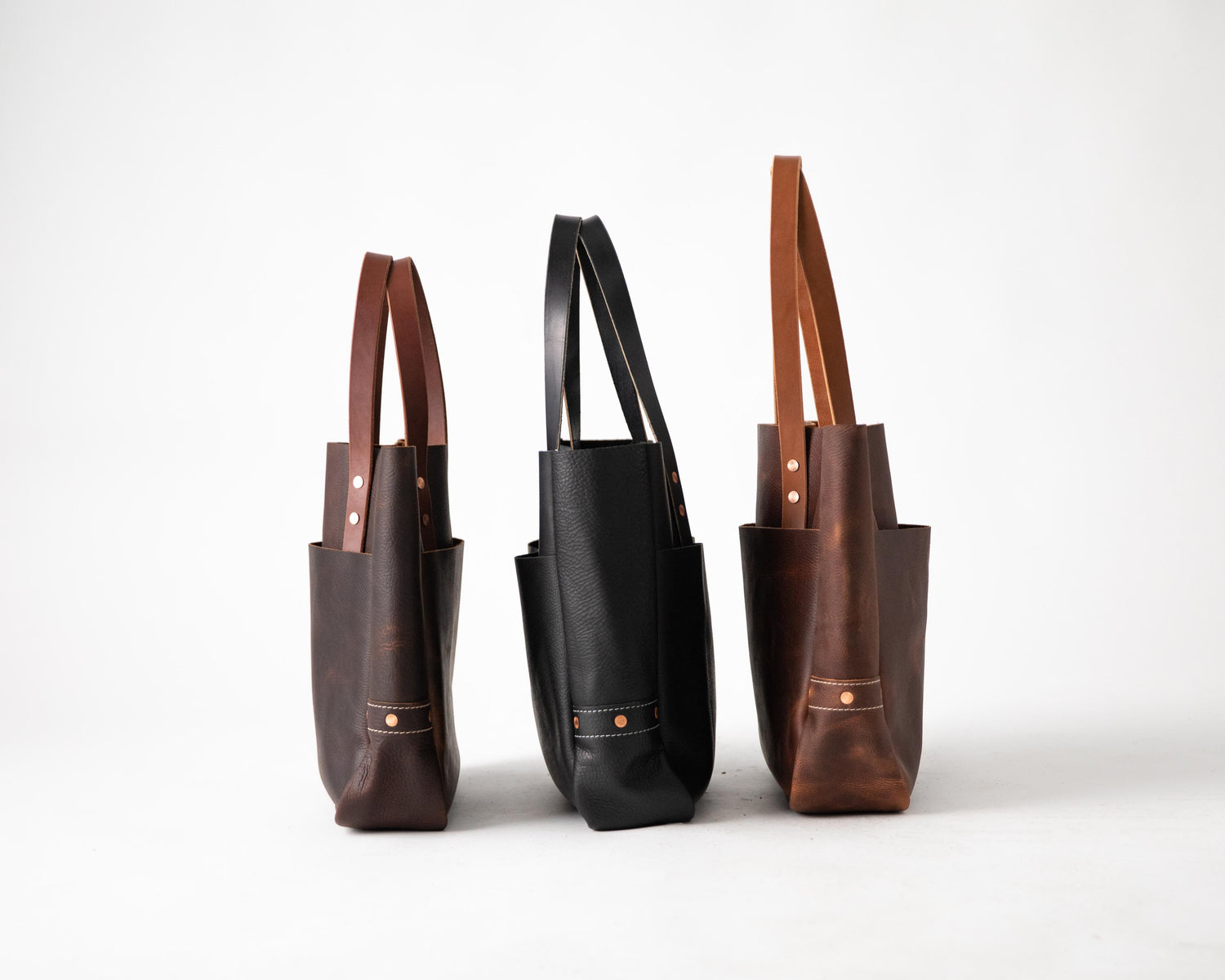 1. Choose your handle length
Anyone who tells you that there's one perfect drop length is kidding themselves! Everybody is unique, and your tote's handles should be, too. So you can choose the handle length that's right for you.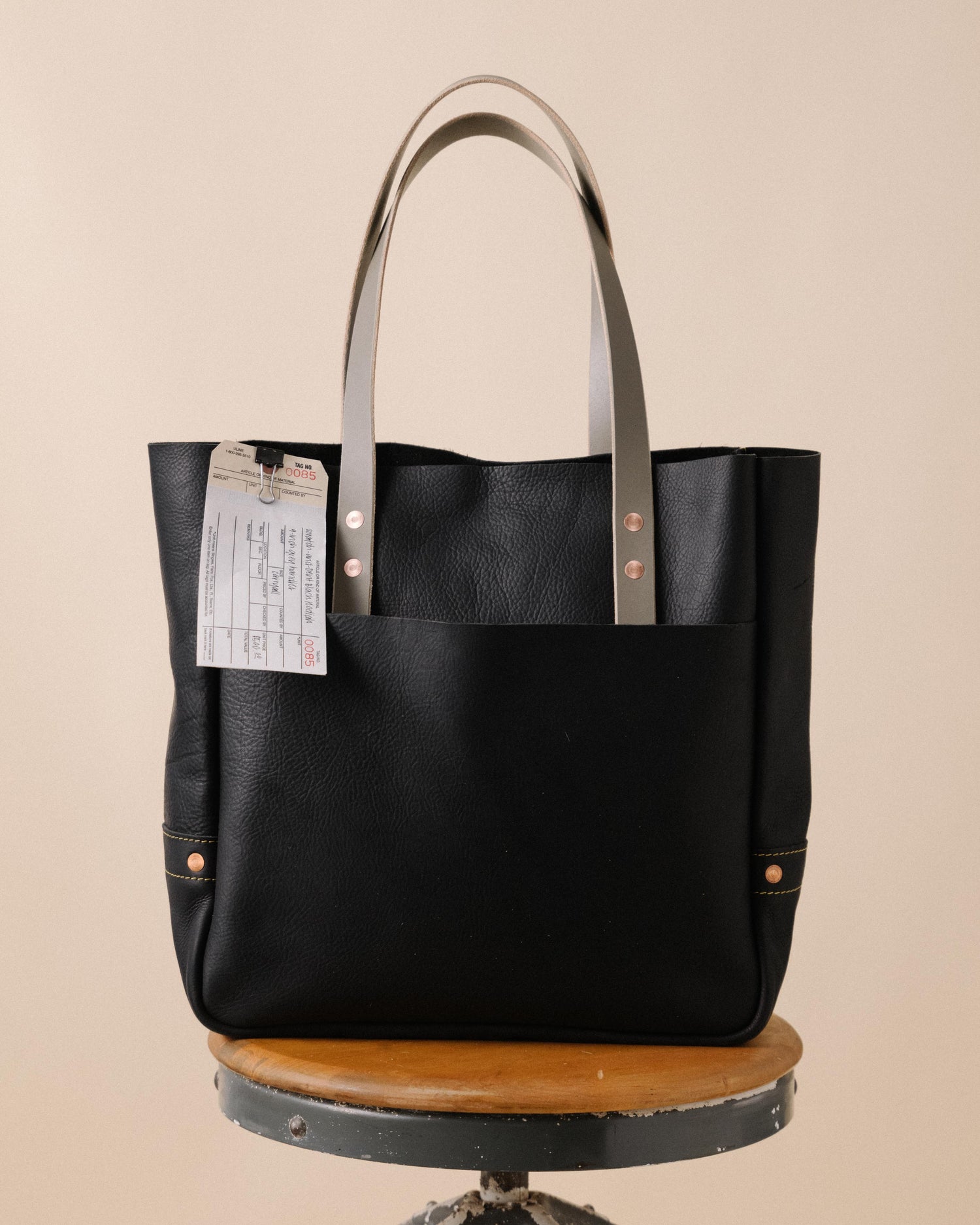 2. Consider a custom handle color
If you want to make your carryall even more unique, you can customize the color of your tote's handles. Just head to the KMM & Co. Secret Menu to check out all the options and find your favorite color.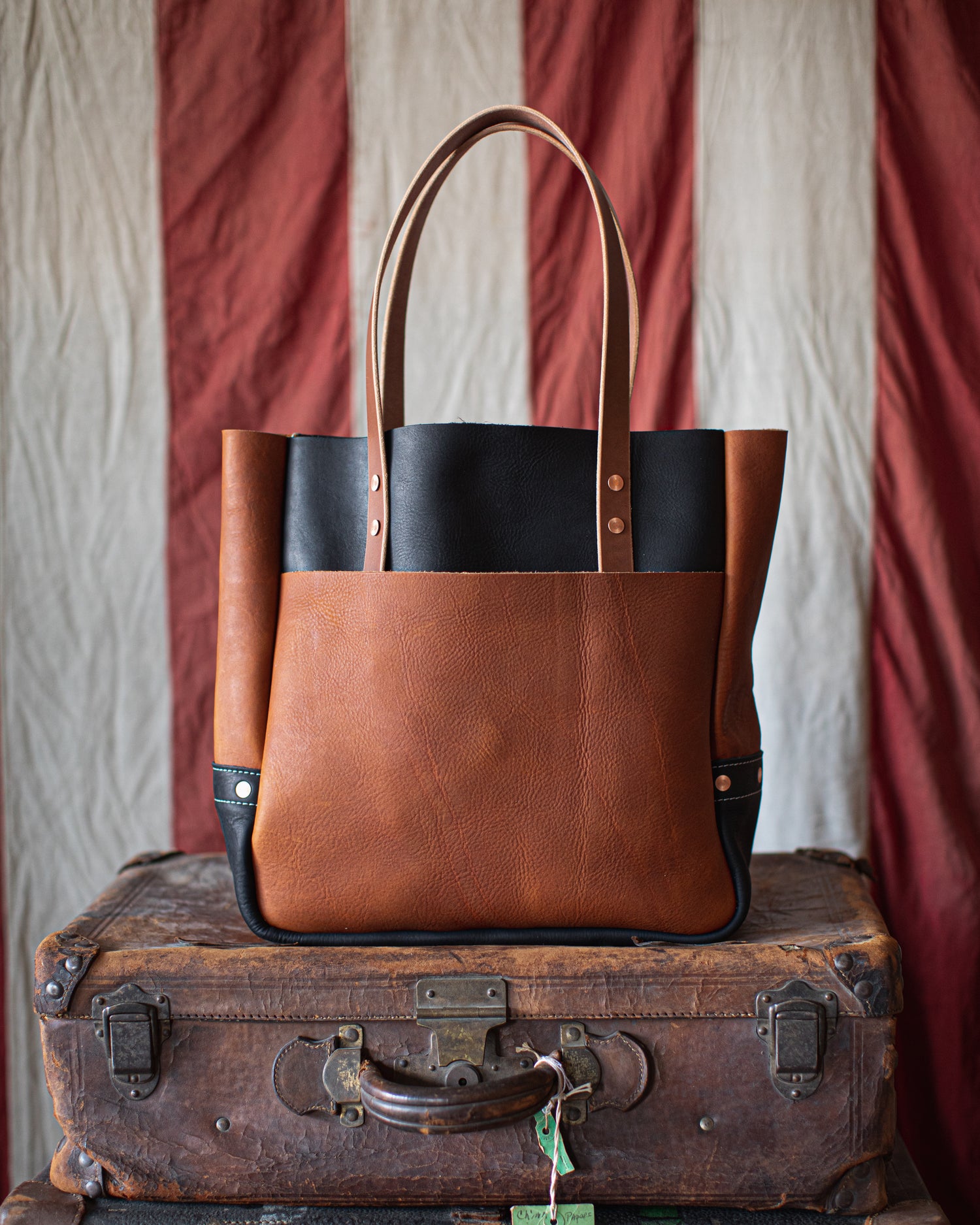 3. Design the bag of your dreams
The carryall is made of several pieces and panels – perfect for custom color-blocking! Send us a message to design your dream bag, whether you're thinking pockets in one color and body another, each piece a different color, or a contrasting gusset.
See more in Cognac Cypress, a thick and soft leather, with a beautiful pebbled grain.
Ask away! FAQs about the carryall
How much does a KMM & Co. carryall tote hold?

The carryall is a large tote and can hold just about anything you want to carry with you: a large laptop, a stack of files, an extra pair of shoes, all the snacks you (or your children) can possibly eat – this tote can handle it!
What handle length will be most comfortable for me?

The drop length that's best for you depends on personal preference and body type. We recommend measuring a bag you already own (and emailing us!) if you're unsure. 9-inch handles are the most popular for the carryall, followed by 7-inch handles.
How wide are the handles on a carryall?

The handles of the carryall are made of belting-weight bridle leather (like all of our totes). Because of the size of the bag, the carryall's handles are a little wider than on our other bags, at 1 inch wide.
Which color or leather should I choose?

We love every color in our collection, but after making thousands of totes, we're partial to Kodiak and Cypress leathers. For each color we introduce, we reject hundreds of other colors and tannages: KMM & Co. leathers are truly the best of the best.
What markings can I expect with full-grain leather?

Full-grain leather retains all of its original grain and character, including any imperfections. You might see range marks, grain variations, small spots or scratches, folds, or color variation. They're all a beautiful part of the leather's natural character.
More questions? Send us a message and we'll get back to you ASAP!
Want to see this style in more colors?