English Tan Dublin Market Tote
The English Tan Dublin market tote is a large bag made of full-grain leather. English Tan Dublin is a vegetable tanned leather is smooth-grained that has a substantial amount of pull-up, structured and substantial ready to develop a deep patina. English Tan Dublin market totes come standard with tan handles, or you can choose a custom color with the KMM & Co. Secret Menu. 
Regular price

Sale price

$435.00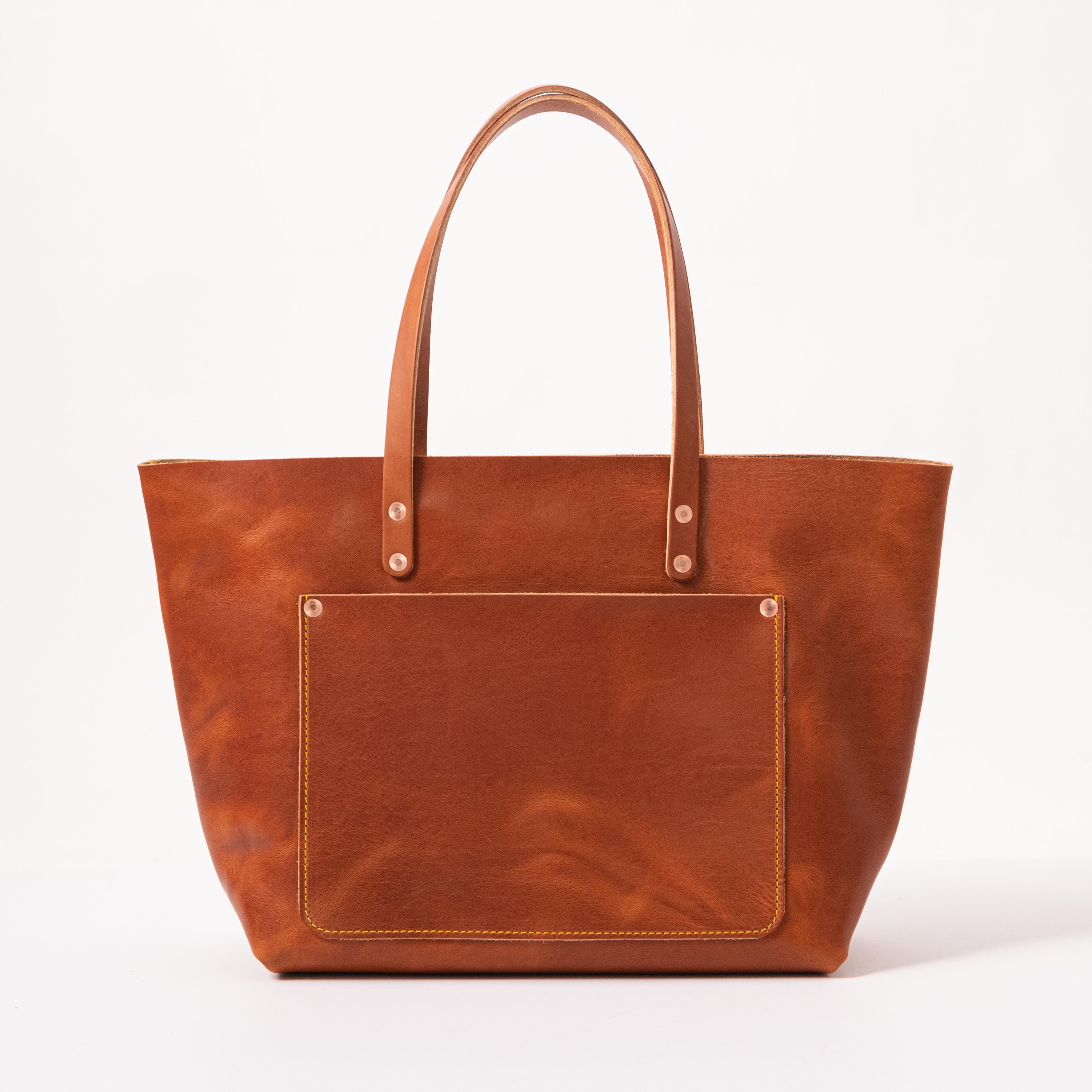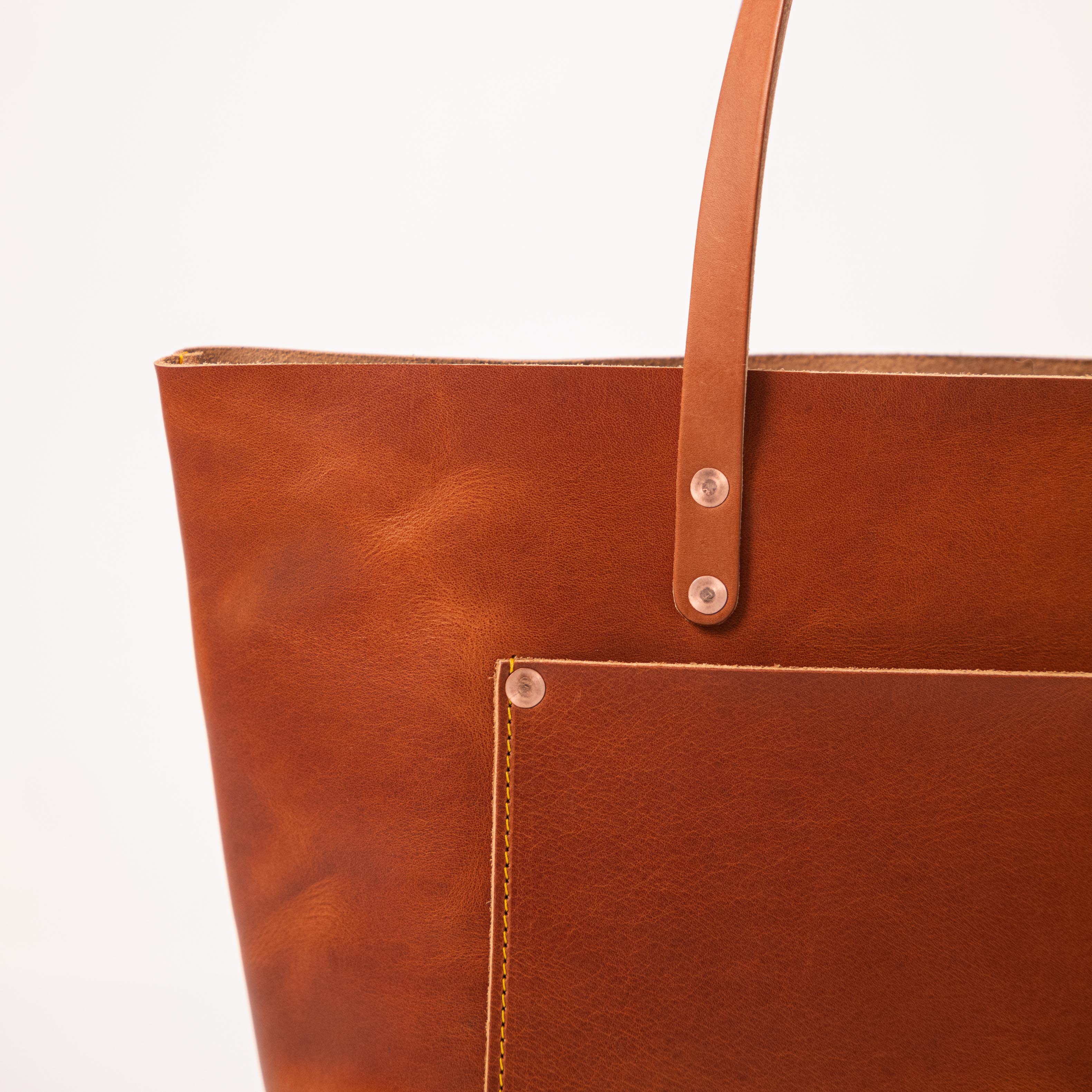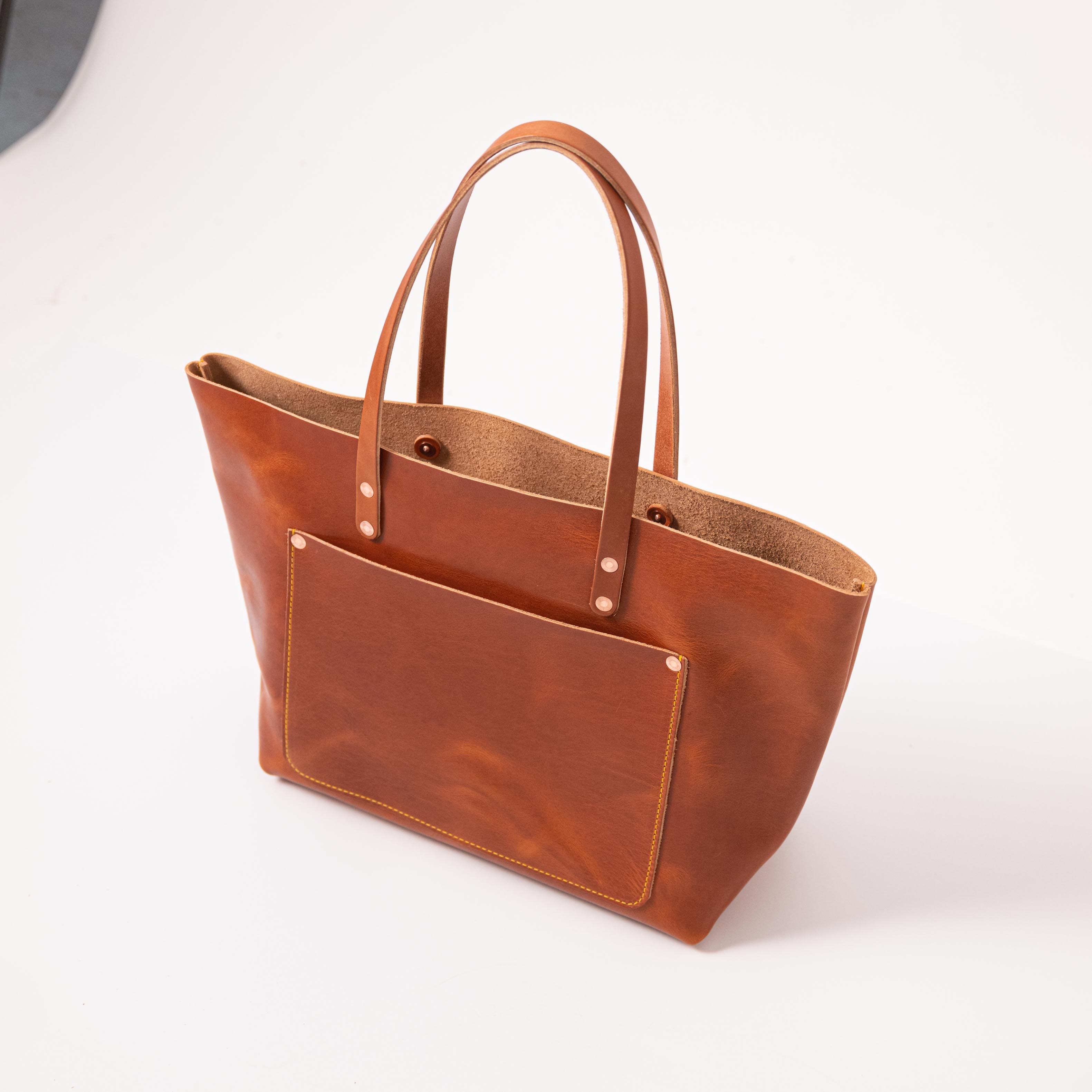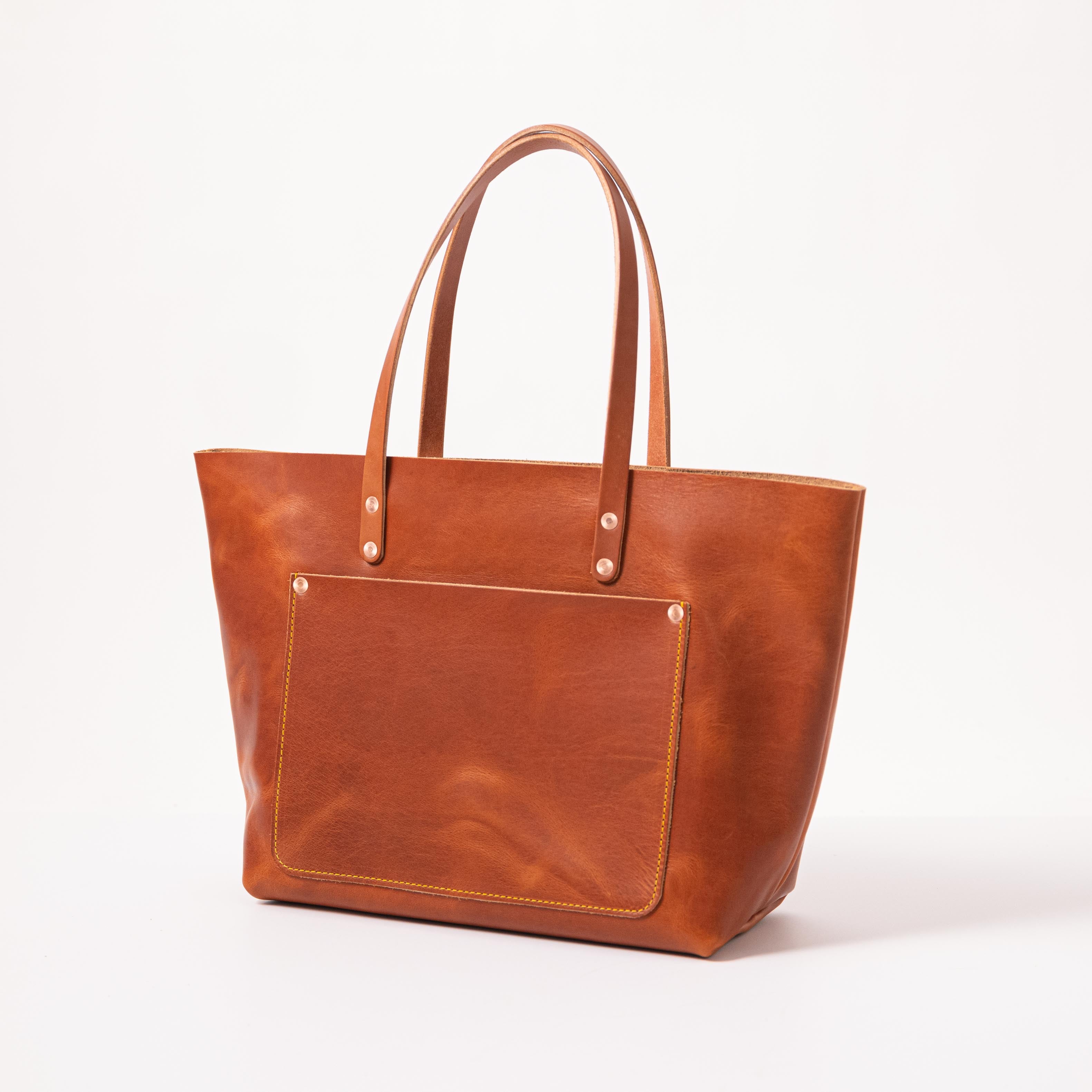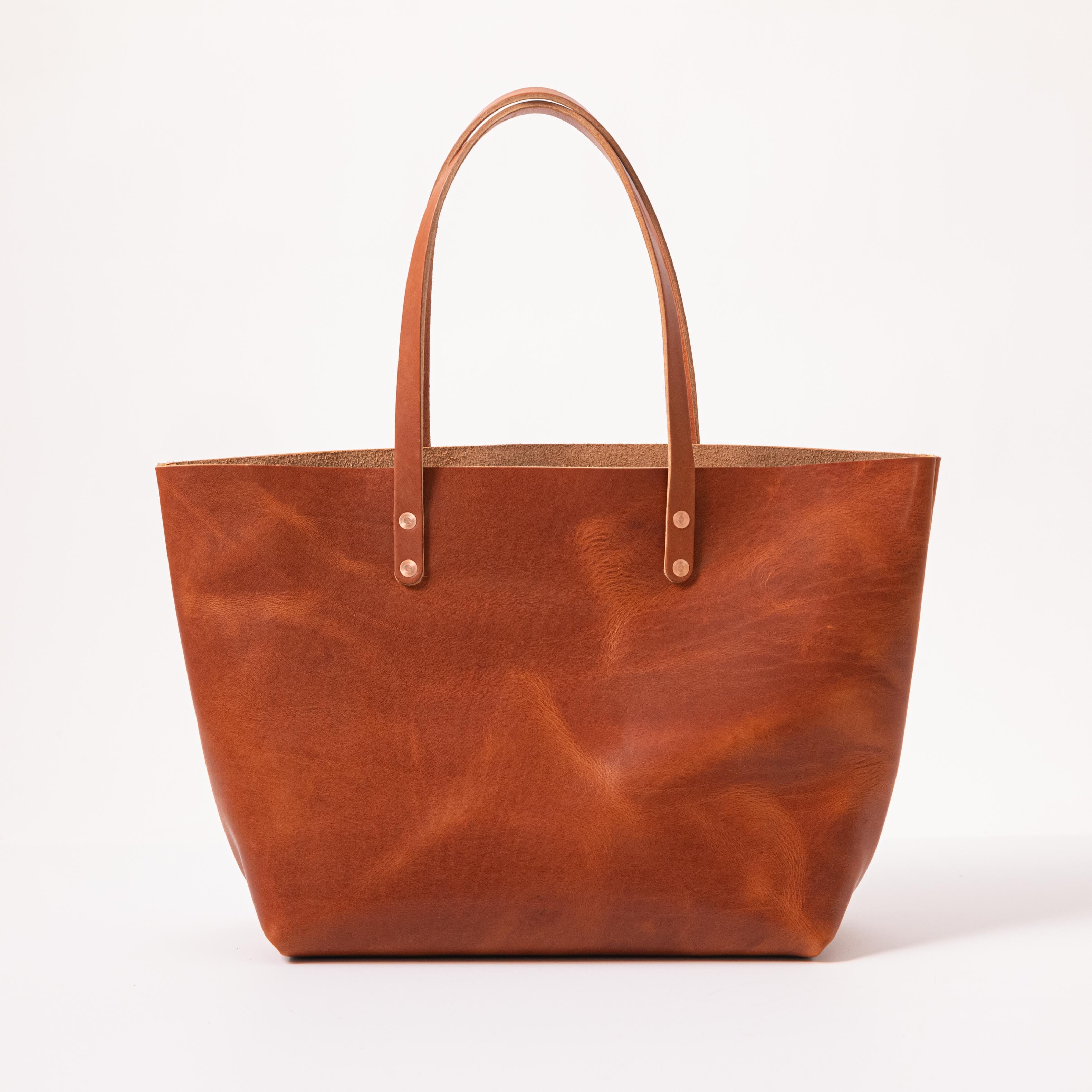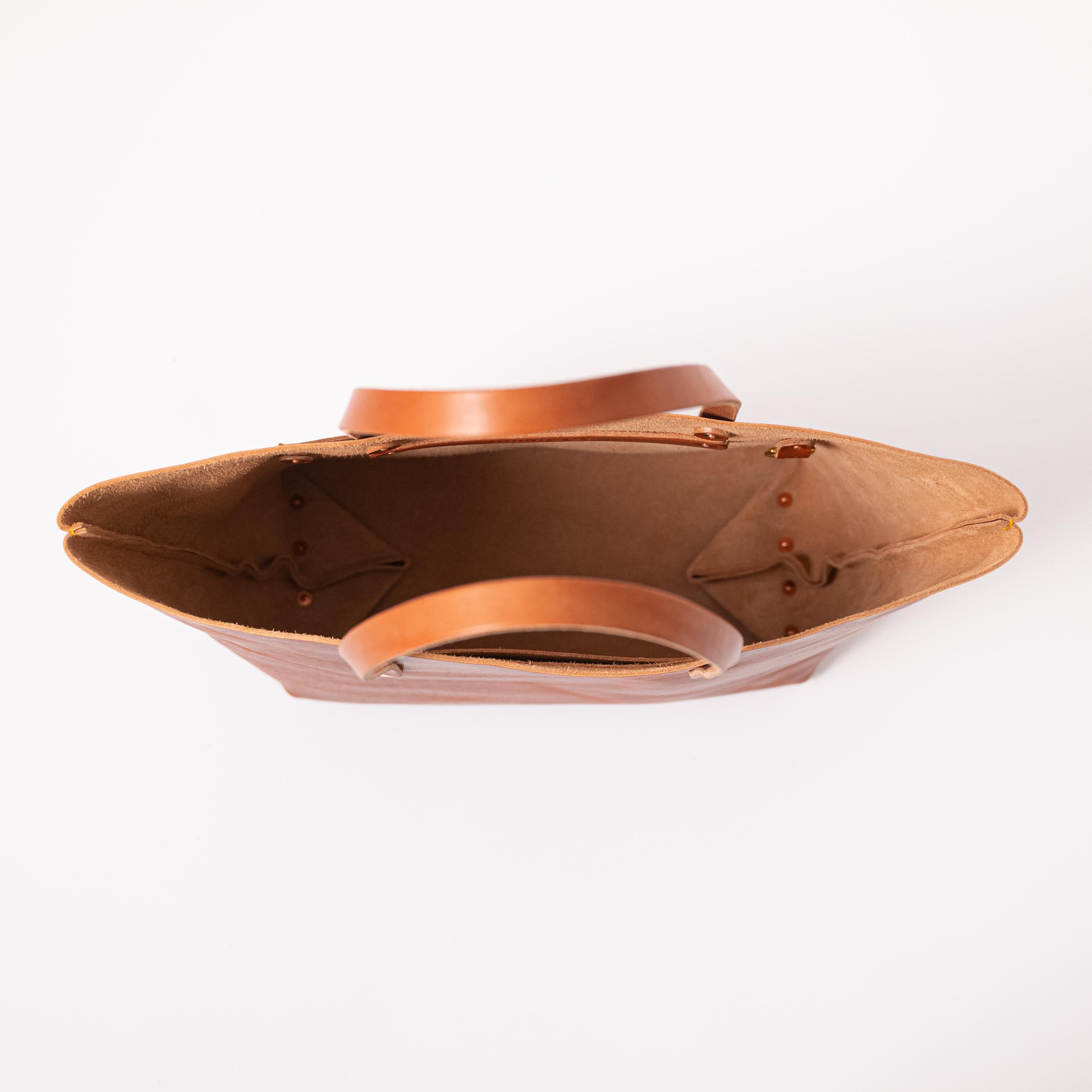 What makes KMM & Co. special?
Handmade in the USA

Leather goods made by skilled hands in our Atlanta, Georgia studio.

Heirloom quality

Full-grain leather and traditional craftsmanship to last a lifetime.

Free shipping & returns

Free shipping on U.S. orders of $50 or more (and free returns, too)!

Responsibly sourced

Full-grain leather that's sourced as a byproduct of the meat industry.
Things customers love about the KMM & Co. market tote:
1. Gorgeous full-grain leather

Like every KMM & Co. bag, the market tote is handmade of full-grain leather. That's the highest quality leather made, and we stock more (and brighter!) colors than just about anyone else.
2. Custom-length handles

There's no single handle length that's right for everybody (or every tote). We make a range of drop lengths so you can get a perfect fit. Each tote handle is cut of belting-weight leather, and has its edges beveled, for decades of comfortable carrying.
3. Indestructible one-piece design

KMM & Co. totes are cut from a single piece of leather, then stitched and riveted the traditional way so they can't come apart. Inferior totes have a seam across the bottom – beware of imitations!
4. Practical ways to stay organized

The market tote is a big tote with lots of features to stay organized. In addition to a generously sized exterior pocket, the bag features an interior pocket, an interior strap for your sunglasses, and an interior D-ring where you can clip your keys.
5. Traditional, solid copper rivets

Once the handles go on with traditional copper rivets, they're not budging! We take the extra time to set our rivets smooth side out, so they won't snag even the most delicate cardigan. No shortcuts!
How the market tote measures up:
The market tote is a large East West bag that's designed to go everywhere with you: work, school, the playground, the beach, and beyond. It has lots of space to organize your belongings, including a convenient exterior pocket.
• 12.5 inches in height
• 20.5 inches in width at the top of the tote
• 13 inches in width at the bottom of the tote
• 7.5 inches in depth
• Handle drop length: standard 7 inches (our most popular!), or custom 9, 10, or 11 inches
• 2.5 to 3 pounds in weight, depending on leather
"This leather tote is great! I'm in love with the east west style. I've been using mine for about 6 months at the time of this review. Your random items don't get lost in the bottom because this tote is not as deep as others. This is my first market tote and by far my most used KMM & Co bag. The outside pocket is great for items needed regularly. No issues with anything falling out. I have 6 or 7 bags from you guys and love each one!"
– DARCY L., VERIFIED BUYER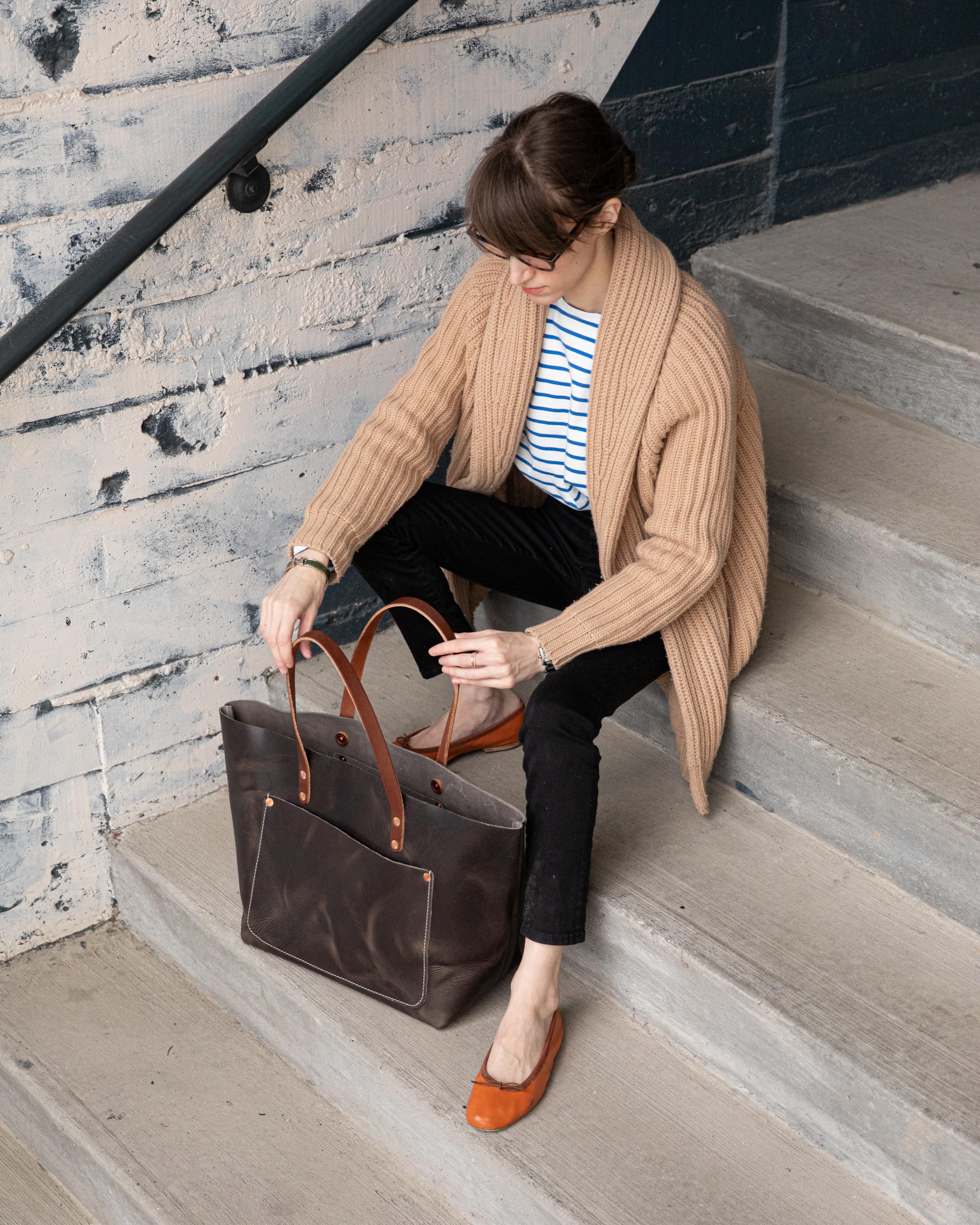 Handmade and made to order
Made to order, just for you

Like every KMM & Co. accessory, the market tote is handmade and made to order. (No warehouses, no factories, just a small studio in downtown Atlanta!) Each market tote takes up to 3 weeks for us to make and ship – but it's worth the wait, we promise!
Free shpping on U.S. orders $50+

All orders totaling $50 or more ship free within the United States! We also ship overseas, and to APO/ FPO addresses, too. All packages ship via USPS and go to our local Atlanta post office within 24 hours of your shipping confirmation email.
Easy returns within 30 days

If you aren't happy with your order, you can return or exchange it for free within 30 days of receipt. The only items ineligible for return or exchange are final-sale items and items customized for you. Check out our returns policy for more details.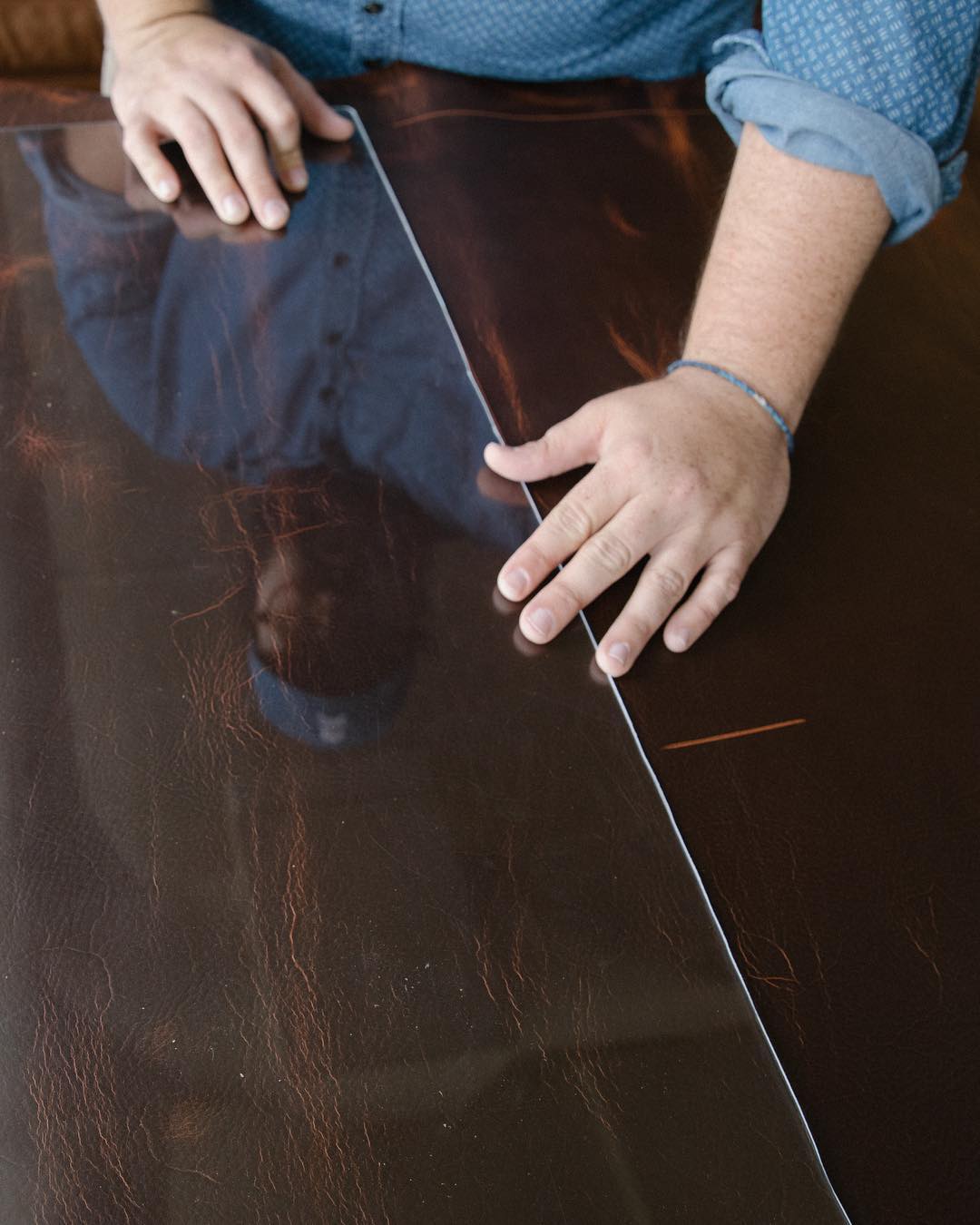 How the market tote gets made
Each bag is handmade in the USA (in our Atlanta studio)! A market tote starts on the cutting table, where we cut the bag from a beautiful side of full-grain leather with lots of natural character.
Next, we cut the large exterior pocket from the same side of leather so it's a good match in color and grain. We stitch the pocket onto the bag, and hand-set rivets for reinforcement.
Then, we stitch the sides of the bag, backstitching for reinforcement. We hand-set eight copper rivets inside to form the gusset, and cut the handles of belting-weight leather.
Finally, we attach the handles and interior pocket, strap, and D-ring with copper rivets. A KMM & Co. tote is made to be indestructible, and we'll always repair it any point in its (very long) life in the unlikely event that materials or craftsmanship fail.
Made (and customized) just for you!
Everybody's dream tote looks a little different. We offer many custom options so you can design your ideal market tote.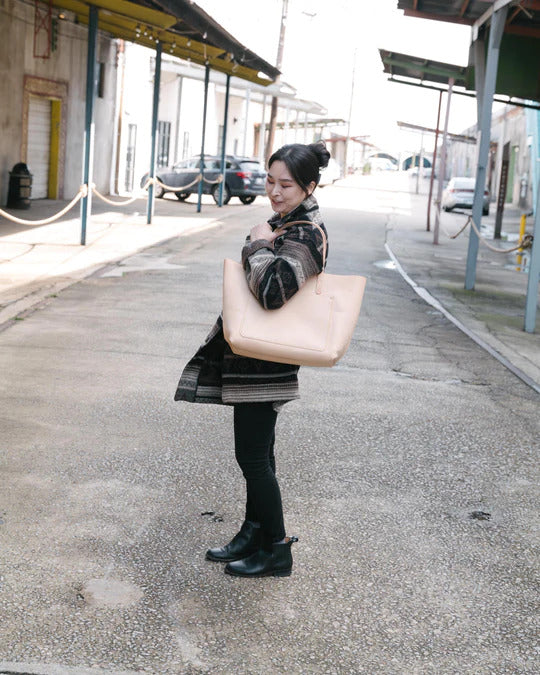 1. Choose a handle length
Even the perfect tote isn't perfect if the handle length is wrong. Everyone's ideal handle length is different, so we make a range of different drop lengths you can choose among.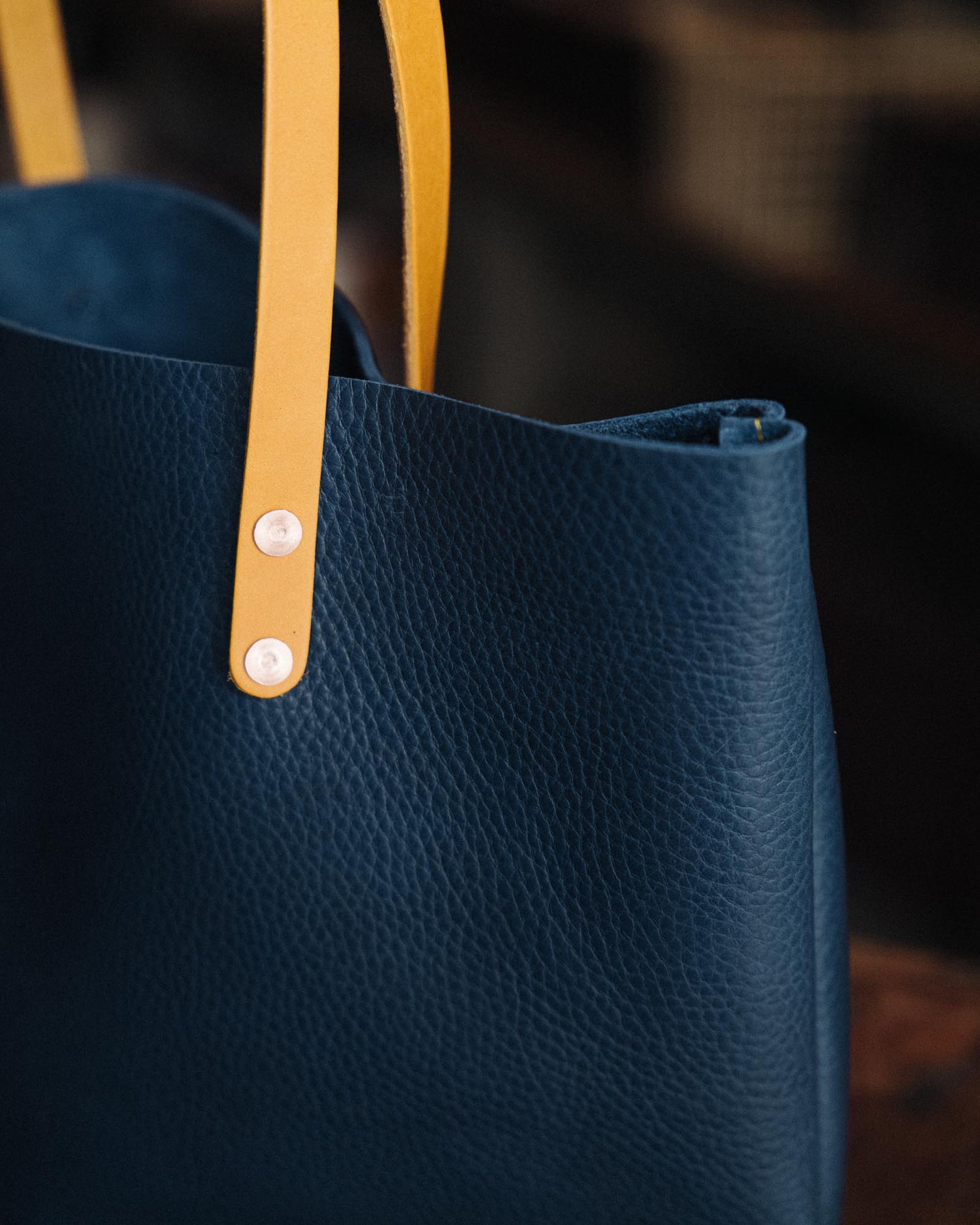 2. Customize your handle color
Just as you can choose your handle length, you can also choose your handle color! Consider picking a custom color – including bright colors like pink, red, and yellow – with the KMM & Co. Secret Menu.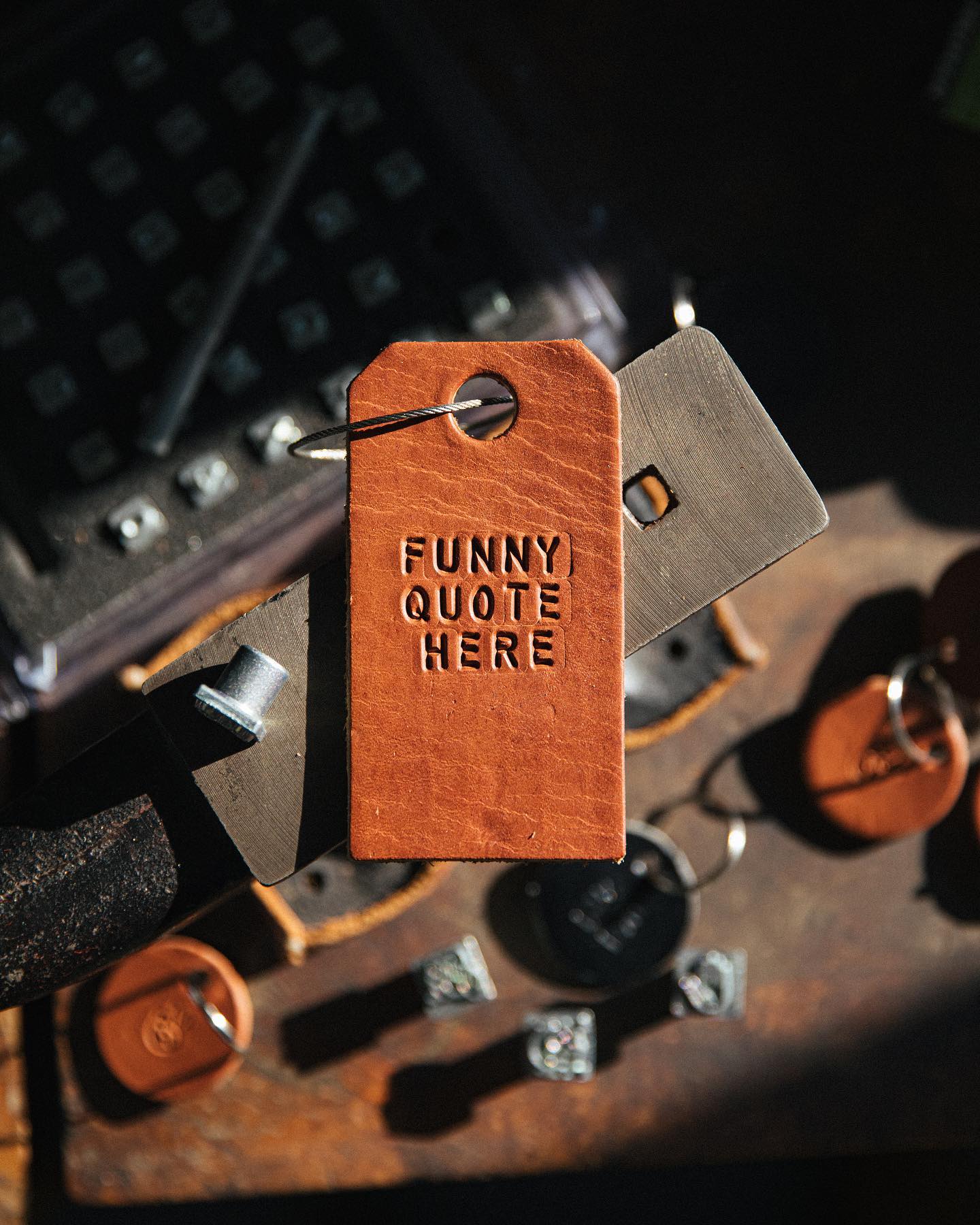 3. Add a hand-embossed tag
A large bag like the market tote has plenty of room for accessorizing. Tassels, tags, and bag charms are all options. But we're pretty partial to a leather tag, which you can have embossed with your name or favorite quote.
See more in English Tan Dublin, a thick, waxed leather with a smooth grain and dramatic pull-up, made by Horween.
Ask away! FAQs about the market tote
How much does a KMM & Co. market tote hold?

The market tote is a practical bag for work, school, the gym, the weekend, and beyond. It has plenty of space for a large laptop, files, notebooks or books, your lunch, a water bottle, your children's toys – all the essentials for your real (and busy!) life.
What handle length will be most comfortable for me?

The drop length that's best for you depends on personal preference and body type. We recommend measuring the handles on a bag you already own (and emailing us!) if you're unsure. 7-inch handles are the most popular, followed by 10-inch handles.
How do I choose between the tote and market tote?

The classic tote has been our best-selling silhouette since the beginning. For many people, a tote has enough space for everyday use. But if you tend to carry more or larger items – like a big laptop, an extra pair of shoes, or a bagged lunch – you might appreciate the extra space in a market tote.
Which color or leather should I choose?

We love every color in our collection, but after making thousands of totes, we're partial to Kodiak and Cypress leathers. For each color we introduce, we reject hundreds of other colors and tannages: KMM & Co. leathers are truly the best of the best.
What markings should I expect with full-grain leather?

Full-grain leather retains all of its original grain and character, including any imperfections. You might see range marks, grain variations, small spots or scratches, folds, or color variation. They're all a beautiful part of the leather's natural character.
More questions? Send us a message and we'll get back to you ASAP!
Want to see this style in more colors?