Sold Out
Scratch-and-Dent Black Kodiak Tote
$220.00
This item is so popular that it's sold out.
Height: 13 inches
Width: 14 inches
Depth: 6 inches
Handle Drop Length: Standard 7-inch drop length (our most popular!) or custom 9, 10, or 11 inches
Black Kodiak leather is:
Pebbled and oil-tanned

Soft and slouchy

Uniform in color, without much pull-up 
Black Kodiak totes come standard with black handles, or you can choose a custom color with the KMM & Co. Secret Menu.
Made in America (in our Atlanta studio!)
Interior pocket
Interior strap for your keys or sunglasses
100% full-grain leather, unlined
This one-of-a-kind Black Kodiak tote -- a KMM & Co. bestseller and the slouchiest tote in our lineup -- is part of the seconds sale we're running to sell a limited number of totes with scratches, scars, range marks, variations in color, insect bites, and other imperfections. (Scratches and scars are the most common on scratch-and-dent Black Kodiak bags.) These imperfections come about either during the life of the cow or during the tanning process. As with all darker oil-tanned leathers, some color transfer may occur with scratch-and-dent Black Kodiak totes, especially onto lighter colored materials. 
Seconds didn't quite make the cut as full-priced totes, but their imperfections are just cosmetic. In other words, they'll last just as many years as our full-priced totes! We have several scratch-and-dent totes available in this color, so yours may have different markings than the one pictured. Please note that all one-of-a-kind totes are final sale, and ineligible for return, exchange, or alterations. 
While we don't stamp names or initials on our leather totes, we do make a range of leather tags that can be embossed with your name, initials, motto, or favorite short quote.
It takes a lot of steps to make a leather tote by hand, whether that tote is a first-quality tote or a scratch-and-dent bag. When we receive a shipment of leather, we inspect each side and designate it a first or second. When you order a scratch-and-dent bag, we pull a few seconds sides and choose the perfect one for your bag.
Next, we cut the handles and crossbody strap out of belting-weight leather, which will break in beautifully (and stand up to years and years of use). Like the body of the bag, the handles may have cosmetic imperfections. 
Next, we sew the side seams of the tote on an industrial machine, backstitching carefully for extra reinforcement. (We always avoid a seam along the bottom of the tote for structural integrity.) Then, we add the interior pocket, handles, and interior strap with copper rivets, hand-set to withstand decades of use. 
Your KMM & Co. leather tote bag will become what you make it. If you want a bag that will look exactly the same after a year of heavy use, then this isn't the tote for you. But if you want a tote that looks and feels (and is!) heirloom-quality, and will acquire a patina unique to you, this may be the one.
KMM & Co.'s leather tote bags are made by hand and made to order, and they can take up to three weeks to ship. Need yours faster? Email hello@kmmco.com and we'll see what we can do!
All orders over $50 ship free within the continental United States. We can ship to other locations, too! Just let us know what you have in mind!
One-of-a-kind totes are final sale and ineligible for returns or exchanges, so please make your selection carefully! We are able to offer scratch-and-dent totes at a discount because they are final sale and ineligible for return or exchange. (Please be sure that you want a scratch-and-dent tote with visible imperfections when you place your order!) Check out our return policy for more details, or email us at hello@kmmco.com if you have questions!
We want your tote to be perfect for you, so we offer a variety of ways to customize it! Custom options include:
Longer handles, which we'll custom-cut just for you
Handles in a custom color, which you can select via the Secret Menu
A detachable crossbody strap, which has brass hardware and adjusts between 44 inches and 51 inches
A brass snap closure (the same brass snap closure on the mini totes)
Or, you can keep things simple and order your tote exactly as-is. It's up to you! Please note that scratch-and-dent totes are final-sale and ineligible for return or exchange. Select your drop length carefully, as we are unable to make alterations to final-sale items, as per our alterations policy. Reach out to hello@kmmco.com if you have any questions!
Customer Reviews
Write a Review
Ask a Question
07/03/2021
Patricia P.

United States
Great purchase
I love this bag!!! It is super comfortable and fits everything in need. Packaging was great.
06/30/2021
Jamie A.

United States
Great toss and go bag
I love the scratch and dent bags , when I get a scratch on it it just makes it that much better. I'm rough on my bags and I don't worry even a little about this bag. It will hold up for years to come. Buy it you will love it!!!
05/11/2021
Kathryn P.

United States
Scratch and Dent Black Kodiak Tote
Just exactly what I needed and wanted! Cannot even see the imperfections!
03/03/2021
Vionette B.

United States
1st KMM Bag
I am so happy with this bag. This is the 1st KMM&Co bag I've bought. This was a gift to myself, I never splurge on purses. It was from the Scratch and Dent Sale, but I don't see anything that would qualify! I have seen purses in retail stores that look worse than this at full price! I would recommend anyone who's looking for a great deal to buy scratch and dent. Very pleased and satisfied with my purchase. Thank you!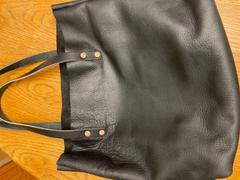 02/09/2021
Christine L.

United States
I love this bag!!!
I purchased this bag because I love my Tan Kodiak tote so much that I had to have it in black too. I ordered it with the 9" drop straps and it flings over my shoulder perfectly. I love how the bag holds everything I need without feeling heavy or hard to carry. I've ordered one more in grey and I can't wait for it to arrive. I finally found the perfect bag!