Sold Out
Scratch-and-Dent Palm Green Tote
$220.00
This item is so popular that it's sold out.
Height: 13 inches
Width: 14 inches
Depth: 6 inches
Handle Drop Length: Standard 7-inch drop length (our most popular!) or custom 9, 10, or 11 inches
Palm Green leather is:
Smooth-grained with lots of character

Lightweight and slouchy

Dimensional, with beautiful pull-up
Palm Green totes come standard with tan handles, or you can choose a custom color with the KMM & Co. Secret Menu.
Made in America (in our Atlanta studio!)
Interior pocket
Interior strap for your keys or sunglasses
100% full-grain leather, unlined
The scratch-and-dent Palm Green tote – a lightweight and slouchy tote – is part of our one-of-a-kind collection. Scratch-and-dent totes have scratches, scars, range marks, variations in color, insect bites, and other imperfections, either from the life of the cow or from the tanning process. The most common imperfections on scratch-and-dent Palm Green totes are range marks and scars, which can be prominent given the light color of the leather.
We have a number of scratch-and-dent Palm Green totes in stock, so your bag may have different markings than the one pictured. Seconds didn't quite make the cut as full-priced totes, but their imperfections are just cosmetic. In other words, they'll last just as many years as our full-priced totes! Please note that all one-of-a-kind totes are final sale, and ineligible for return, exchange, or alterations.
While we don't stamp names or initials on our leather totes, we do make a range of leather tags that can be embossed with your name, initials, motto, or favorite short quote.
It takes a lot of steps to make a leather tote by hand, whether that tote is a first-quality tote or a scratch-and-dent bag. When we receive a shipment of leather, we inspect each side and designate it a first or second. When you order a scratch-and-dent bag, we pull a few seconds sides and choose the perfect one for your bag.
Next, we cut the handles and crossbody strap out of belting-weight leather, which will break in beautifully (and stand up to years and years of use). Like the body of the bag, the handles may have cosmetic imperfections. 
Next, we sew the side seams of the tote on an industrial machine, backstitching carefully for extra reinforcement. (We always avoid a seam along the bottom of the tote for structural integrity.) Then, we add the interior pocket, handles, and interior strap with copper rivets, hand-set to withstand decades of use. 
Your KMM & Co. leather tote bag will become what you make it. If you want a bag that will look exactly the same after a year of heavy use, then this isn't the tote for you. But if you want a tote that looks and feels (and is!) heirloom-quality, and will acquire a patina unique to you, this may be the one.
KMM & Co.'s leather tote bags are made by hand and made to order, and they can take up to three weeks to ship. Need yours faster? Email hello@kmmco.com and we'll see what we can do!
All orders over $50 ship free within the continental United States. We can ship to other locations, too! Just let us know what you have in mind!
One-of-a-kind totes are final sale and ineligible for returns or exchanges, so please make your selection carefully! We are able to offer scratch-and-dent totes at a discount because they are final sale and ineligible for return or exchange. (Please be sure that you want a scratch-and-dent tote with visible imperfections when you place your order!) Check out our return policy for more details, or email us at hello@kmmco.com if you have questions!
We want your tote to be perfect for you, so we offer a variety of ways to customize it! Custom options include:
Longer handles, which we'll custom-cut just for you
Handles in a custom color, which you can select via the Secret Menu
A detachable crossbody strap, which has brass hardware and adjusts between 44 inches and 51 inches
A brass snap closure (the same brass snap closure on the mini totes)
Or, you can keep things simple and order your tote exactly as-is. It's up to you! Please note that scratch-and-dent totes are final sale and ineligible for return or exchange. Select your drop length carefully, as we are unable to make alterations to final-sale items, as per our alterations policy. Reach out to hello@kmmco.com if you have any questions!
Customer Reviews
Write a Review
Ask a Question
06/22/2022
Maryellen C.

United States
Fabulous color!
This color is vibrant and goes with absolutely anything!
05/26/2022
Christiane B.

United States
Beautiful color and quality
I ordered this tote from the scratch and dent line because I fell in love with the Palm color and it wasn't available as a premium. I absolutely love this tote! It definitely has some character marks but I knew to expect those and I don't feel like they detract from the beauty of the bag at all. I'm highly impressed with the quality of construction and attention to detail. Plus their customer service was great when I sent them an email asking to make a slight revision to my order. I couldn't be happier with my first KMM tote and look forward to purchasing another soon!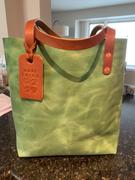 07/24/2021
Theresa M.

United States
Kermit Tote
Love my new green tote. Green is very vibrant. 11 inch handles are the best, thanks for adding! I cannot see any defects or flaws. I will order again!
07/22/2021
Trista S.

United States
Palm is A beauty!
This bag is amazing!! I cannot believe I waited this long to get this color, it's just a cheerful, happy green color. I know it says S&D but I do not seem anything wrong. Highly recommend this color!
07/06/2021
Angie C.

United States