Medium Brown Billfold
The billfold is the quintessential leather wallet, and ours is entirely cut and stitched by hand. It's made of full-grain leather, and has four card slots that each hold multiple cards, as well as space for cash. It can be embossed with your initials at no additional charge. It measures 4.5 inches by 3.25 inches.
Regular price

Sale price

$100.00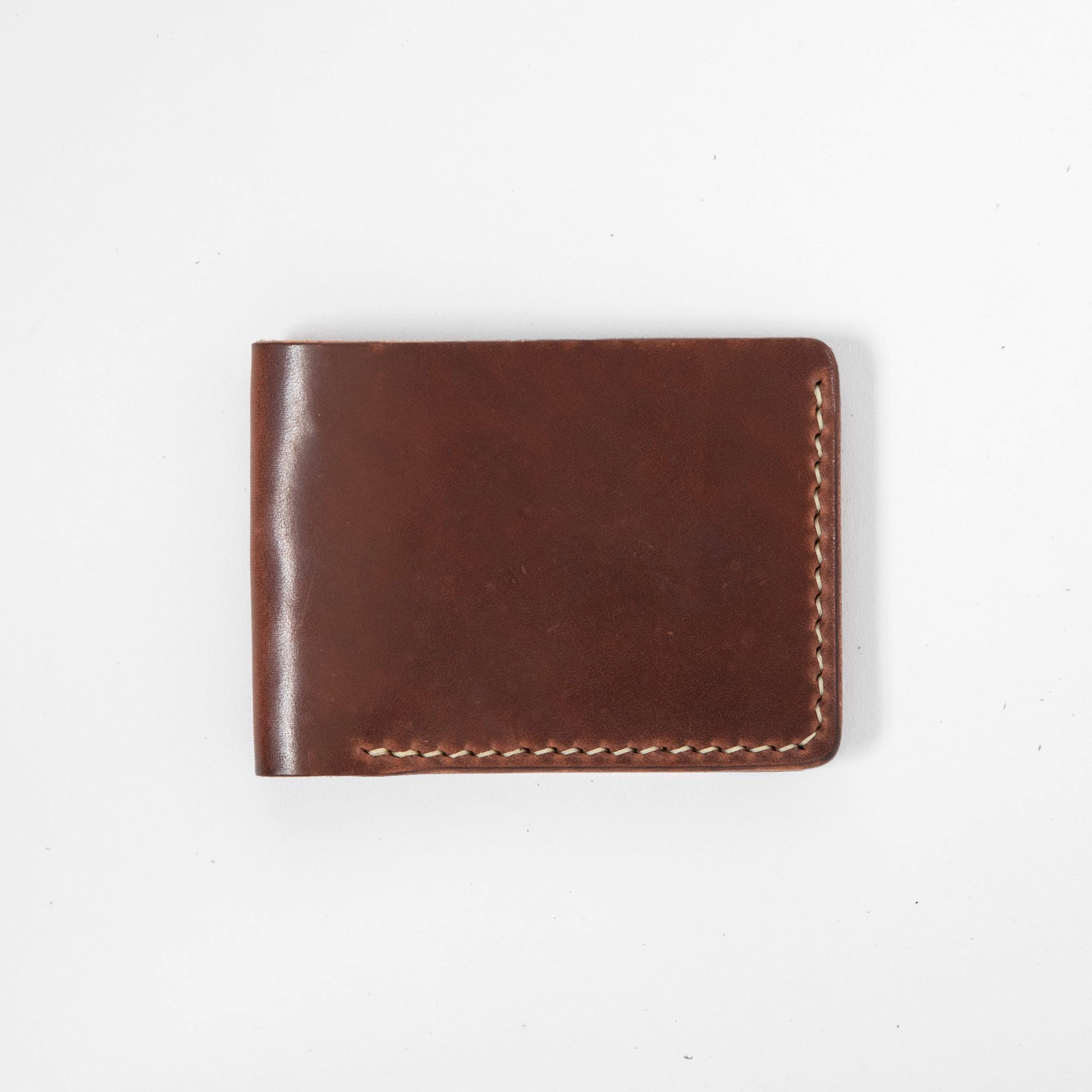 What makes KMM & Co. special?
Handmade in the USA

Leather goods made by skilled hands in our Atlanta, Georgia studio.

Heirloom quality

Full-grain leather and traditional craftsmanship to last a lifetime.

Free shipping & returns

Free shipping on U.S. orders of $50 or more (and free returns, too)!

Responsibly sourced

Full-grain leather that's sourced as a byproduct of the meat industry.
Things customers love about wallets by KMM & Co.:
1. Gorgeous full-grain leather

Every wallet is made of a beautiful full-grain leather. That's the highest quality leather made, with all the natural grain and character of the leather intact.
2. Embossed by hand, just for you

We're happy to offer complimentary embossing for every wallet. We recommend getting it stamped with your initials. Up to 4 characters (letters or numbers) will fit on each wallet.
3. Made to last a lifetime

Each wallet is made the old-fashioned way, with heriloom-quality craftsmanship and meticulously stitched seams. Your wallet will last through a lifetime of use – and we'll always repair it in the unlikely event that materials or craftsmanship fail.
A handmade wallet is a timeless gift, for you or for someone else you love. Each of ours is made the old-fashioned way: no stitches skipped, and no shortcuts taken. If you're carrying it everyday, it needs to be both beautiful and indestructible!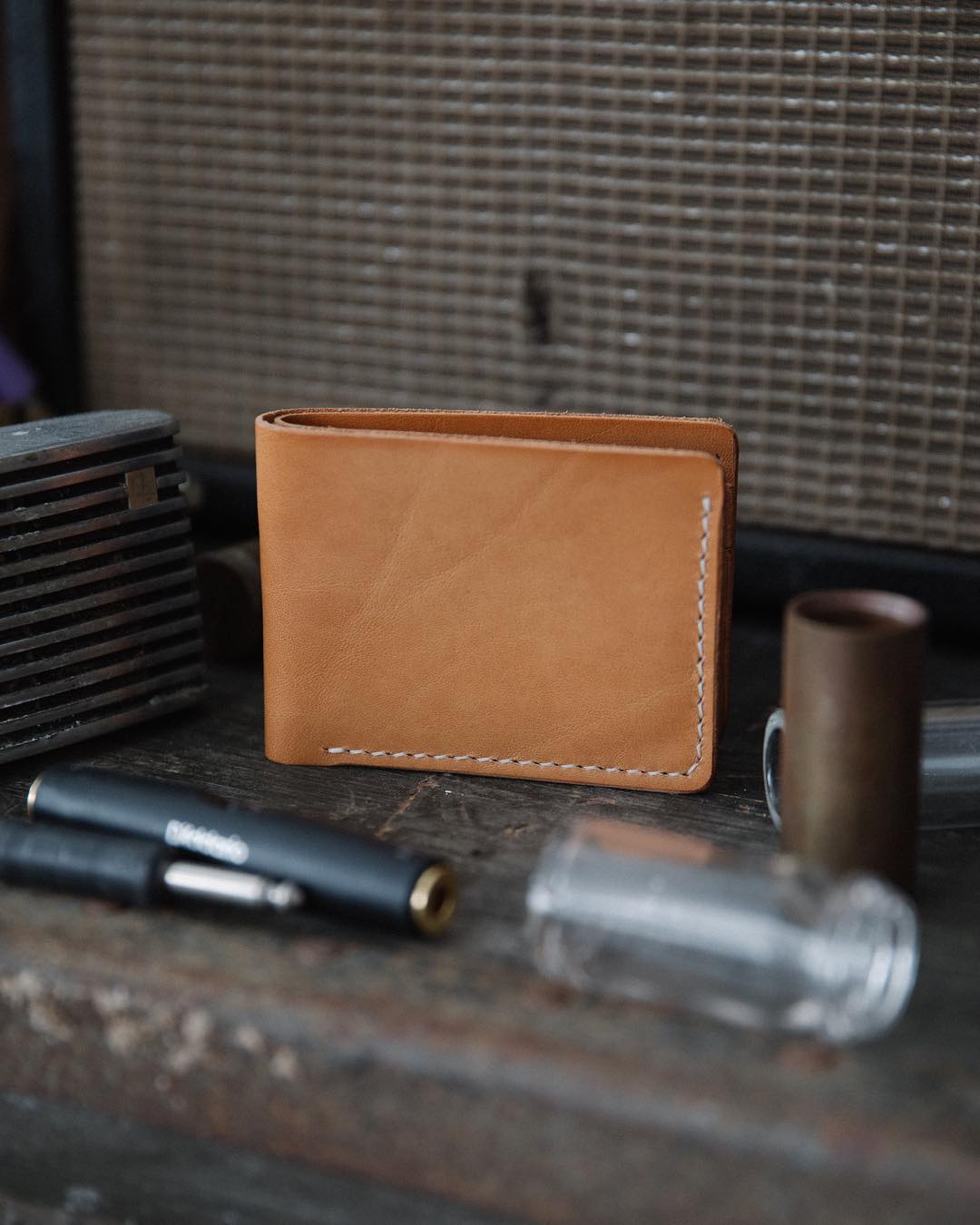 Russet Billfold
Regular price

Sale price

$100.00
How our leather wallets measure up:
There are seven different leather wallets in the KMM & Co. collection. Each one is thoughtfully designed to be carried everyday for a lifetime.
• Card case: 4.25 inches by 3 inches
• Card envelope: 4 inches by 3 inches
• Slim card wallet: 4 inches by 3.25 inches
• Flap wallet: 4.5 inches by 3 inches
• Billfold: 4.5 inches by 3.25 inches
• Notebook wallet: 4.25 inches by 6.5 inches
• Passport wallet: 4.25 inches by 6.5 inches
Each wallet is stitched entirely by hand with the sole execption of the passport wallet, which is made on an industrial sewing machine as a budget-friendly alternative to the notebook wallet.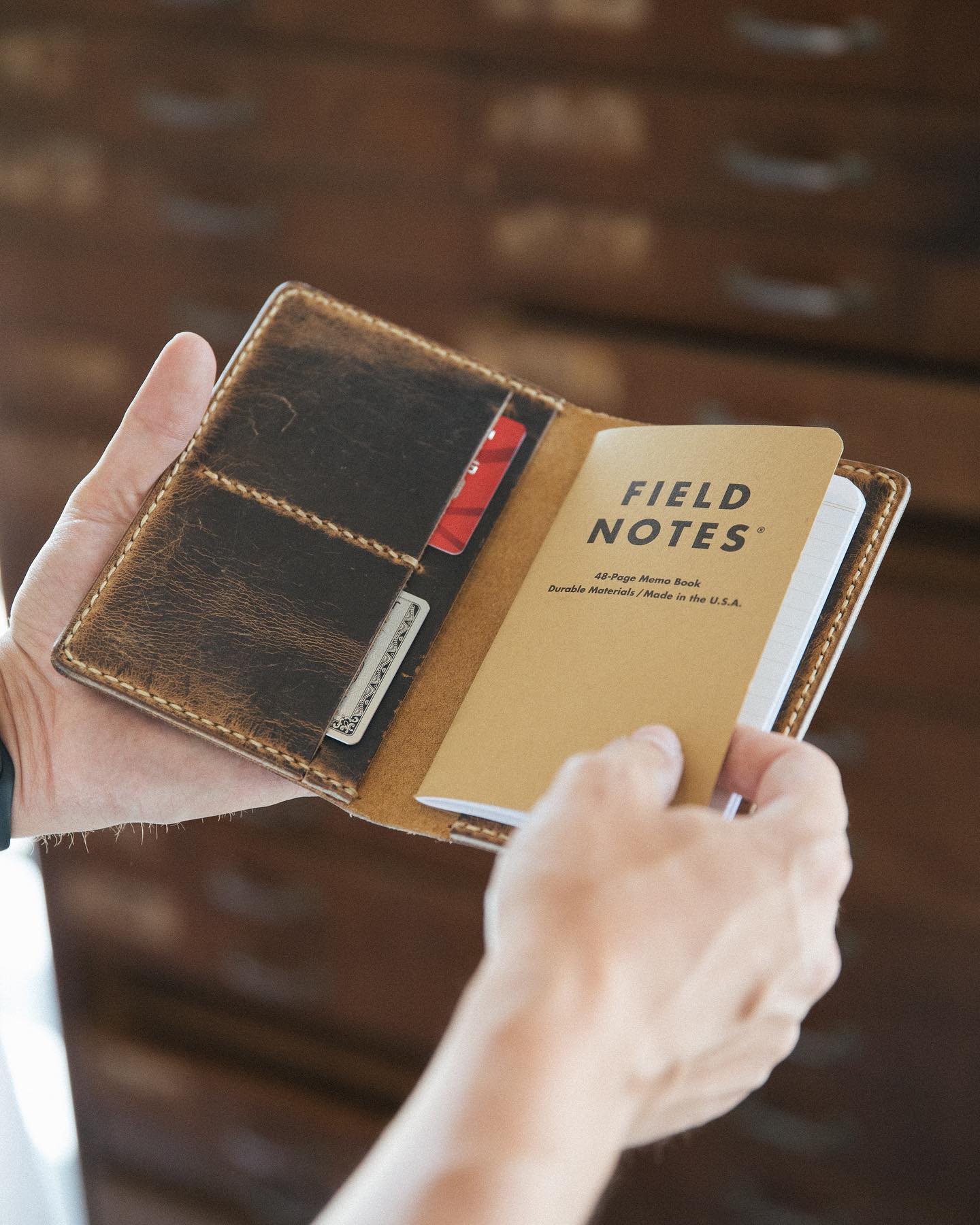 "I manage a butcher shop and one of my regular customers pulled out her wallet one day. It caught my eye and I fell in love! So, I bought my own KMM&CO and I couldn't be happier! Love the color. The leather. The quality. The customer service. I'm sold on this wallet and look forward to future purchases. Don't hesitate any longer!"
– BETHANY M., VERIFIED BUYER
Handmade and made to order
Made to order, just for you

Like every KMM & Co. accessory, each leather wallet is handmade and made to order. (No warehouses, no factories, just a small studio in downtown Atlanta!) Each wallet takes up to 1 week for us to make and ship – but it's worth the wait, we promise!
Free shpping on U.S. orders $50+

All orders totaling $50 or more ship free within the United States! We also ship overseas, and to APO/ FPO addresses, too. All packages ship via USPS and go to our local Atlanta post office within 24 hours of your shipping confirmation email.
Easy returns within 30 days

If you aren't happy with your order, you can return or exchange it for free within 30 days of receipt. The only items ineligible for return or exchange are final-sale items and items customized for you. Check out our full returns policy for more details.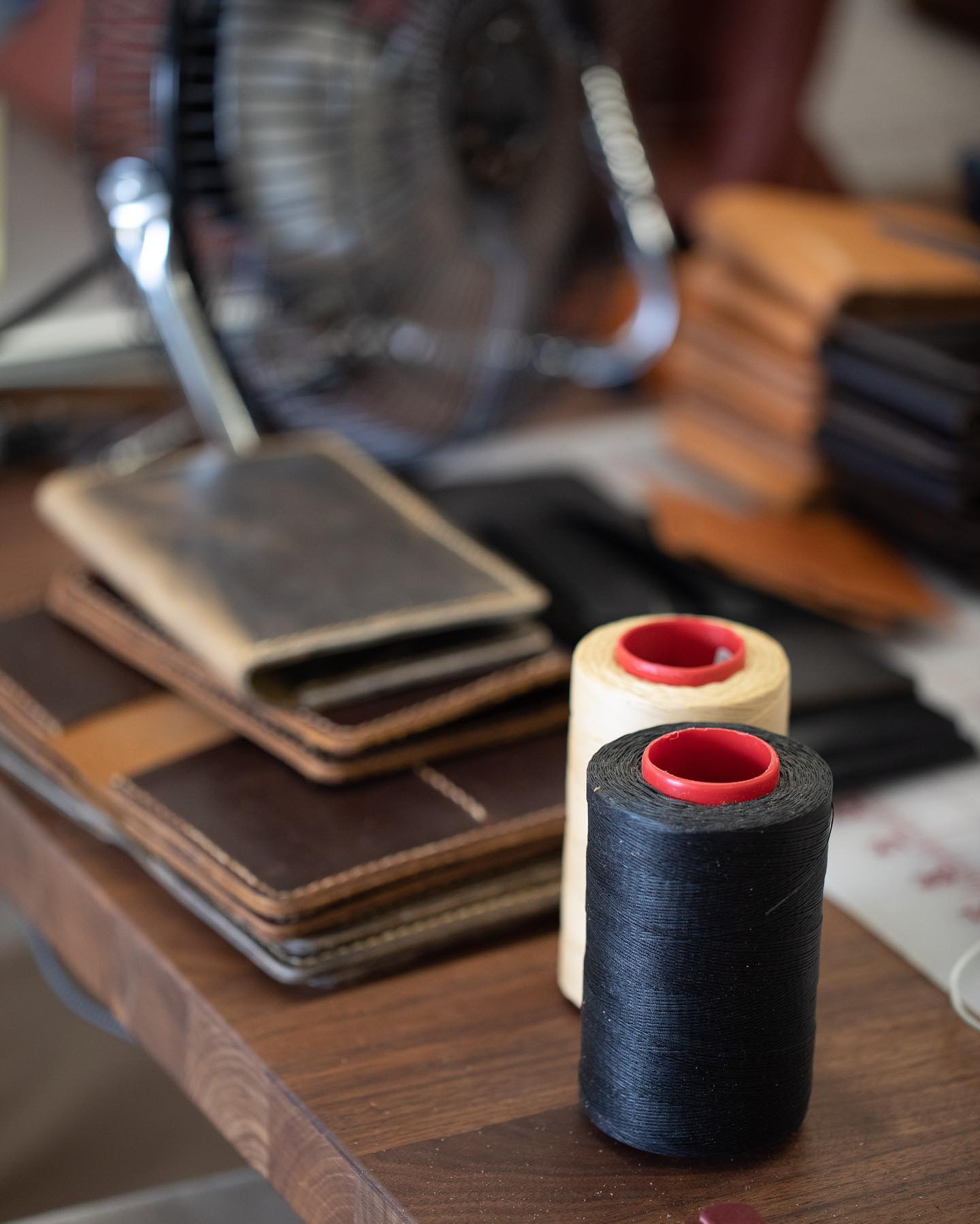 How a leather wallet gets made
Though design and details vary across KMM & Co.'s wallet collection, each wallet gets it start at the cutting table. That's where we choose the perfect side of full-grain leather and carefully cut each piece of the wallet, considering the grain and color.
Next, we prepare the wallet for stitching. For our handstitched wallets, that means painstakingly punching dozens of holes where the seam will be placed. Then, we thread our needles and get to work on a traditional saddle stitch, which requires two needles, premium thread, and a steady hand.
Finally, we can double-check the seams and finish the edges of the wallet, burnishing them for a smooth finish. Then it's ready for embossing: You can have your wallet hand-stamped with up to four characters, perfect for your initials.
See more in Medium Brown, a traditionally-made harness leather in a classic brown color.
Ask away! FAQs about leather wallets
Which wallet will work best for me?

If you like lots of space to stay organized, consider the billfold. If you prefer a more streamlined style, look at a card case or slim card wallet. If you're a true minimalist, the card envelope might be perfect. If you carry a passport or notebook, go with the passport wallet or notebook wallet. And if you want a KMM & Co. classic, pick the flap wallet.
How many characters will fit on my wallet?

Each wallet can be stamped with up to 4 characters. That includes letters or numbers, though most people go with their initials. (We recommend first-middle-last order, because all of our letter stamps are the same size.)
Can I have an emoji stamped on my wallet?

We aren't able to use emojis or other symbol stamps on wallets. Those work best on heavyweight leathers, like the ones we use to make our leather tags and key fobs.
Which wallets are for men and which are for women?

We think that thoughtfully designed, beautifully made wallets are for everybody! We recommend picking the wallet with the silhouette that works best for you and the details you love the most.
What kinds of markings can I expect with full-grain leather?

Full-grain leather retains all of its original grain and character, including any imperfections. You might see range marks, grain variations, small spots or scratches, folds, or color variation. They're all a beautiful part of the leather's natural character.
More questions? Send us a message and we'll get back to you ASAP!
Want to see the whole collection?