Grey Sky Chain Link Strap
The chain link strap is a full-grain leather bag strap made in all of your favorite colors. Constructed of interlocking leather links, each strap is endlessly adjustable and easily customizable. You can order your strap assembled, or put it together yourself with our simple
instructions
.
Regular price

Sale price

$50.00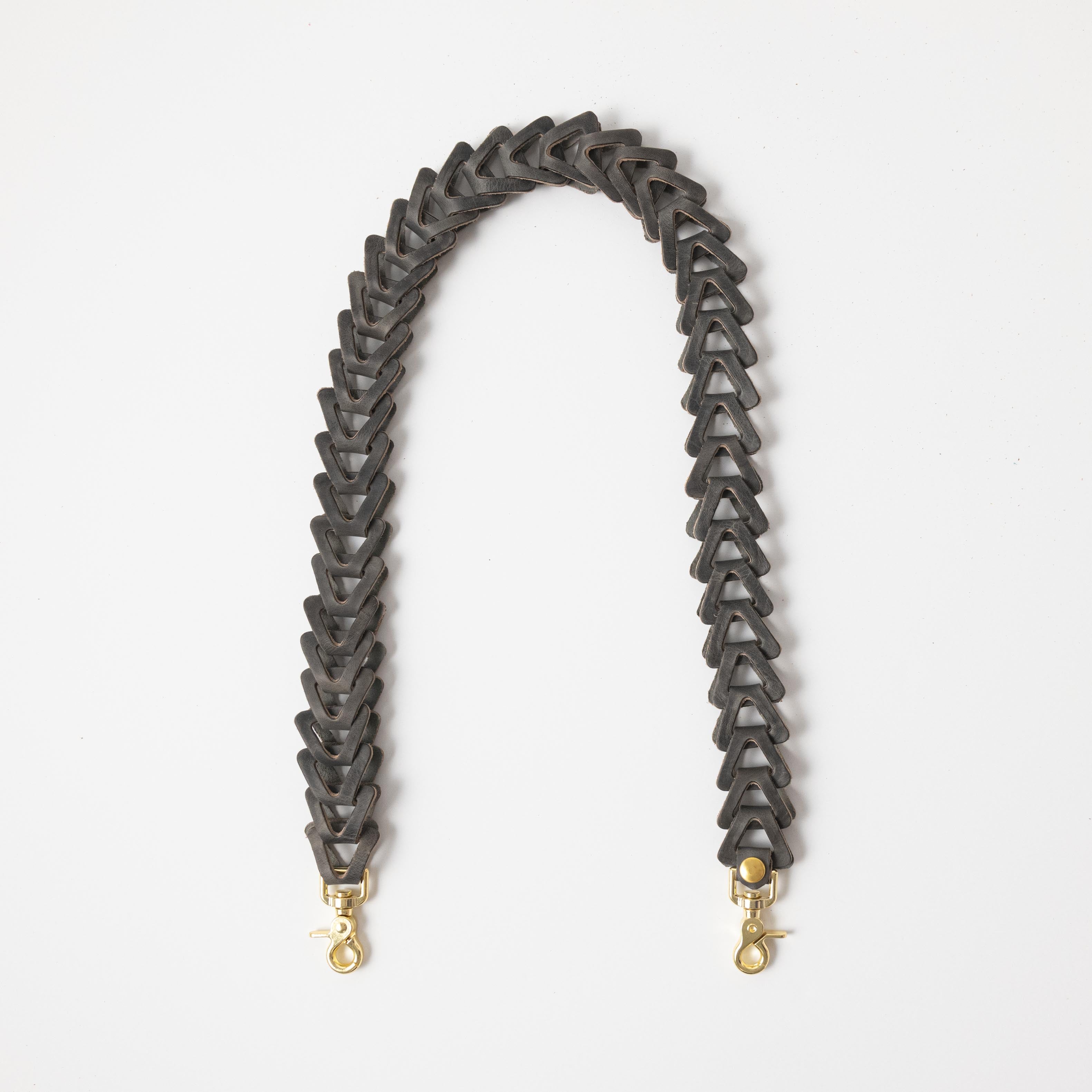 What makes KMM & Co. special?
Handmade in the USA

Leather goods made by skilled hands in our Atlanta, Georgia studio.

Heirloom quality

Full-grain leather and traditional craftsmanship to last a lifetime.

Free shipping & returns

Free shipping on U.S. orders of $50 or more (and free returns, too)!

Responsibly sourced

Full-grain leather that's sourced as a byproduct of the meat industry.
Things customers love about the KMM & Co. chain link strap:
1. Gorgeous full-grain leather

Each chain link strap is cut from beautiful full-grain leather. That's the highest quality leather made, with all its natural grain and character intact.
2. Endlessly adjustable, link by link

A strap is constructed of individual leather links, which loop through one another. That means it's endlessly adjustable and easily customizable. Add or remove links to get a long crossbody strap, a short shoulder strap, or anything in between!
3. Versatile brass trigger snaps

With brass trigger snaps at each end, a chain link strap can attach to any KMM & Co. bag fitted with grommets or D-rings. Anywhere a classic crossbody strap works, the chain link strap works, too!
4. Fully assembled or DIY options

If you're short on time or DIY-averse, you can order your chain link strap already assembled. If you want to do it yourself, you'll just need a few minutes and our easy-to-follow instructions. (It's very fun!)
5. Solid, striped, and more

With our 10-packs of leather chain links, you can combine multiple colors into a single strap. Pair your most-loved colors, put together a striped or gradient pattern, or make anything else you can imagine!
How the chain link strap measures up:
The chain link strap is constructed of individual leather links, which loop through one another to make a strap that's adjustable and customizable.
• Link length: 1.5 inches when folded
• Link width: 1.75 inches at its widest point
• Strap length with 40 links: 44 to 50 inches, depending on leather
After fit-testing with models of many different heights and body types, we settled on 40 links as the "standard" number of links included in a strap set. But 40 links is just a suggestion: You can add or subtract links to make it the exact length you want.
P.S. If you're ordering 10-packs of links to DIY a strap, make sure to buy one pack that includes "hardware." That means the trigger snaps and leather loop that you'll need for the ends of your strap!
"The chain link strap is my new favorite thing! The links are super soft and comfortable, and it was fun to put together. The only caveat is that they're addictive: I've already made two straps and am back to order links to make another!"
– EMMA C., VERIFIED BUYER
Handmade and made to order
Made to order, just for you

Like every KMM & Co. accessory, each chain link is handmade and made to order. (No warehouses, no factories, just a small studio in downtown Atlanta!) Each strap takes up to 1 week for us to make and ship – but it's worth the wait, we promise!
Free shpping on U.S. orders $50+

All orders totaling $50 or more ship free within the United States! We also ship overseas, and to APO/ FPO addresses, too. All packages ship via USPS and go to our local Atlanta post office within 24 hours of your shipping confirmation email.
Easy returns within 30 days

If you aren't happy with your order, you can return or exchange it for free within 30 days of receipt. The only items ineligible for return or exchange are final-sale items and items customized for you. Check out our full returns policy for more details.
How the chain link strap gets made
Our leather chain link straps are made by hand and made to order. First, we cut each of the links from a beautiful piece of full-grain leather. The links are cut using a die, so that they're perfectly uniform and cut cleanly every single time. 
Next, we prepare the hardware and cut the small loop of leather that will form the ends of the strap. If you've opted to assemble your strap yourself, then our job is done! We package up your chain links and hardware, and get your order on its way.
If you prefer to have us assemble your chain link strap for you, a member of the KMM & Co. team interlocks each link, one by one. It takes just a few minutes, and is the perfect option if you're DIY-averse (no judgment!) or short on time. 
Whether you assemble it yourself or have us do it for you, the leather chain link strap is adjustable and customizable even after it's finished. You can always open the snap closure and take off the trigger snap to add links, subtract links, or take it all apart and start over.  
See more in Grey Sky, a smooth-grained leather with a waxed finish and high-contrast pull-up.
Ask away! FAQs about the chain link strap
How many links are included in a strap? How many are in a pack?

After fit-testing with models of many different heights and body types, we settled on 40 links as the "standard" number of links included in a strap. If you're ordering individual packs to put together your own strap, there are 10 links in a pack.
How many links are recommended for someone my height?

These are only guidelines, but here's what we found out during our extensive fit-testing for this design: If you're of an average height and build – the average American woman is 5'4", for reference – a strap made of 35 links is a great starting point, so you may want to take off a few when your strap arrives. If you're closer to 6 feet tall, you may want to use all 40 links. And if you're closer to 5 feet tall, you'll almost definitely want to take off a few links. 
What's the overall length of a complete strap?

The total length of a 40-link strap varies slightly depending on the leather you choose, with an end-to-end length between 44 and 50 inches. Straps made of softer leathers – like Kodiak and Cypress – will be the longest, since the leather can fold and flex more readily. Straps made of more structured leathers – like Crazy Horse or Autumn Harvest – will be the shortest, with a bit less play between links.
What else should I know to pick the right number of links?

Keep in mind that the length that's perfect for you will be determined not only by your height and body type, but also by preferences like whether you want to wear your bag on one shoulder or crossbody, and whether you prefer your bag to sit at your waist or your hip (or somewhere in between).
What kinds of markings can I expect with full-grain leather?

Full-grain leather retains all of its original grain and character, including any imperfections. You might see range marks, grain variations, small spots or scratches, folds, or color variation. They're all a beautiful part of the leather's natural character.
More questions? Send us a message and we'll get back to you ASAP!
Want to see all complete straps?
Want to look at individual links?