LGBTQ Pride Rainbow Heart Charms
Our leather bag charms go perfectly with your favorite tote, mini tote, or handbag. Each set is cut of beautiful full-grain leather and threaded onto a brass ball chain. The LGBTQ Pride rainbow heart charms set includes Red Bison, Orange Bison, Yellow Bison, Green Bison, Petrol Blue Bison, and Purple Bison.
The proceeds of these rainbow-colored heart charms, which we've made in the colors of the LGBTQ pride flag, will go to The Trevor Project. Your donation will help fund suicide prevention and crisis intervention services for LGBTQ (lesbian, gay, bisexual, transgender, queer, and questioning) young people. The Trevor Project estimates that more than 1.8 million LGBTQ young people seriously consider suicide each year in the U.S. and could benefit from Trevor's support. Trained counselors connect with youth via phone, text, and chat 24/7, 365 days a year, and have handled more than 200,000 calls, chats, and texts in the past year. 
Regular price

Sale price

$35.00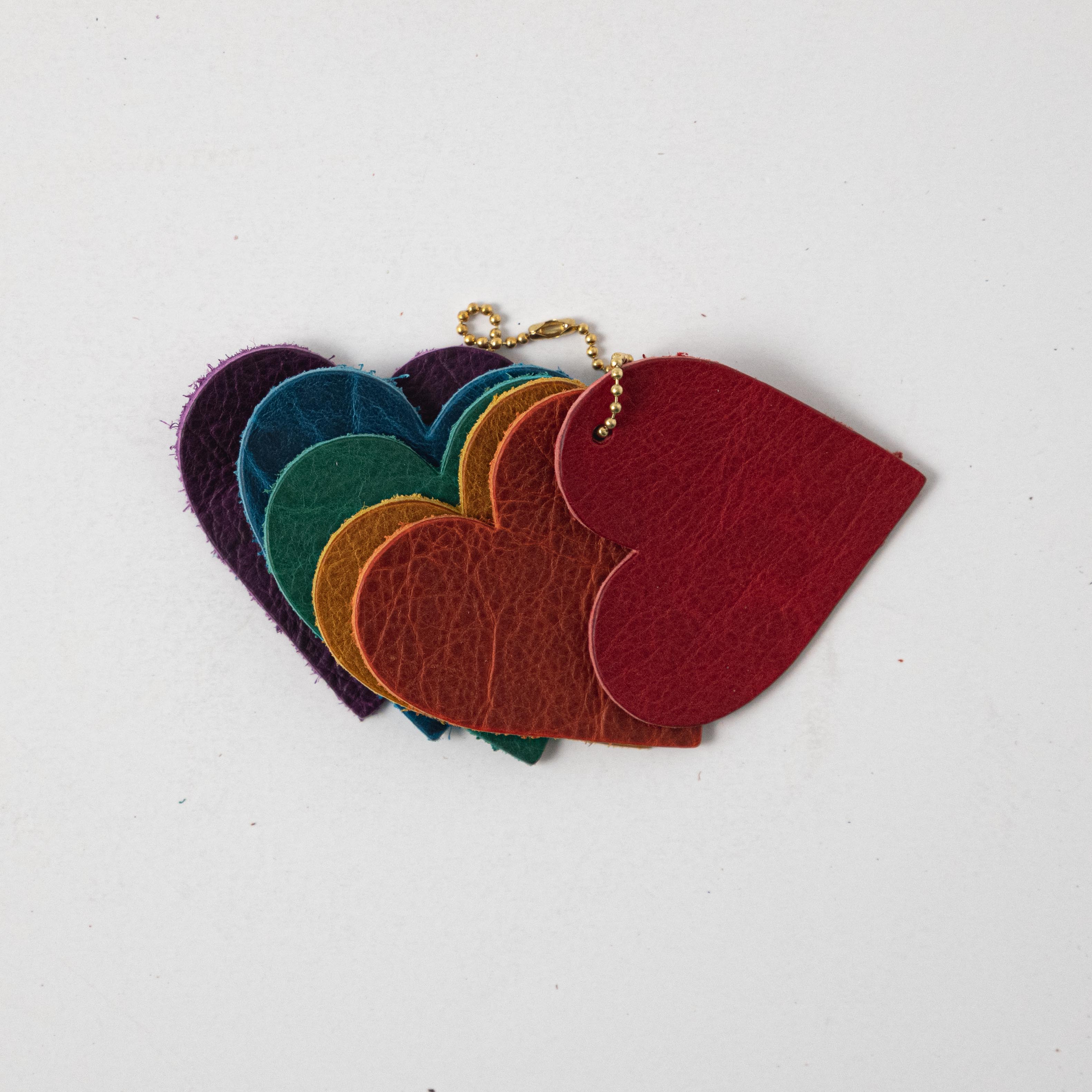 What makes KMM & Co. special?
Handmade in the USA

Leather goods made by skilled hands in our Atlanta, Georgia studio.

Heirloom quality

Full-grain leather and traditional craftsmanship to last a lifetime.

Free shipping & returns

Free shipping on U.S. orders of $50 or more (and free returns, too)!

Responsibly sourced

Full-grain leather that's sourced as a byproduct of the meat industry.
Things customers love about KMM & Co. bag charms:
1. Gorgeous full-grain leather

Every set of bag charms is cut from beautiful full-grain leather. That's the highest quality leather made, with all its natural grain and character intact. (Even the smallest accessories call for the best!)
2. Bold, beautiful colors

It's not easy sourcing full-grain leather in bold, bright colors. But great colors are something of a specialty for the KMM & Co. studio – so our bag charms come in all your favorite colors!
3. Simple brass ball chain

Each set of bag charms is easy to attach to the handle of your tote or handbag thanks to the classic brass ball chain. Just clip it on to add a touch of color and personality to your bag!
How the bag charms measure up:
We've designed a few styles of leather bag charms, and each one is perfectly proportioned to look great on a mini tote, a tote, a carryall, or anything in between.
• Heart charm: 3 inches by 3 inches
• Leaf charm: 3.25 inches by 3 inches
• Tree charm: 3 inches by 2.25 inches
• Tiny tote: 3 inches by 3 inches with a 1.75-inch drop length
"The leaf charm is so pretty! I love all the colors together. It looks like an oak leaf to me. Goes great with both my tan kodiak mini tote and my cypress market tote. I will definitely get them in more colors!"
– JOAN M., VERIFIED BUYER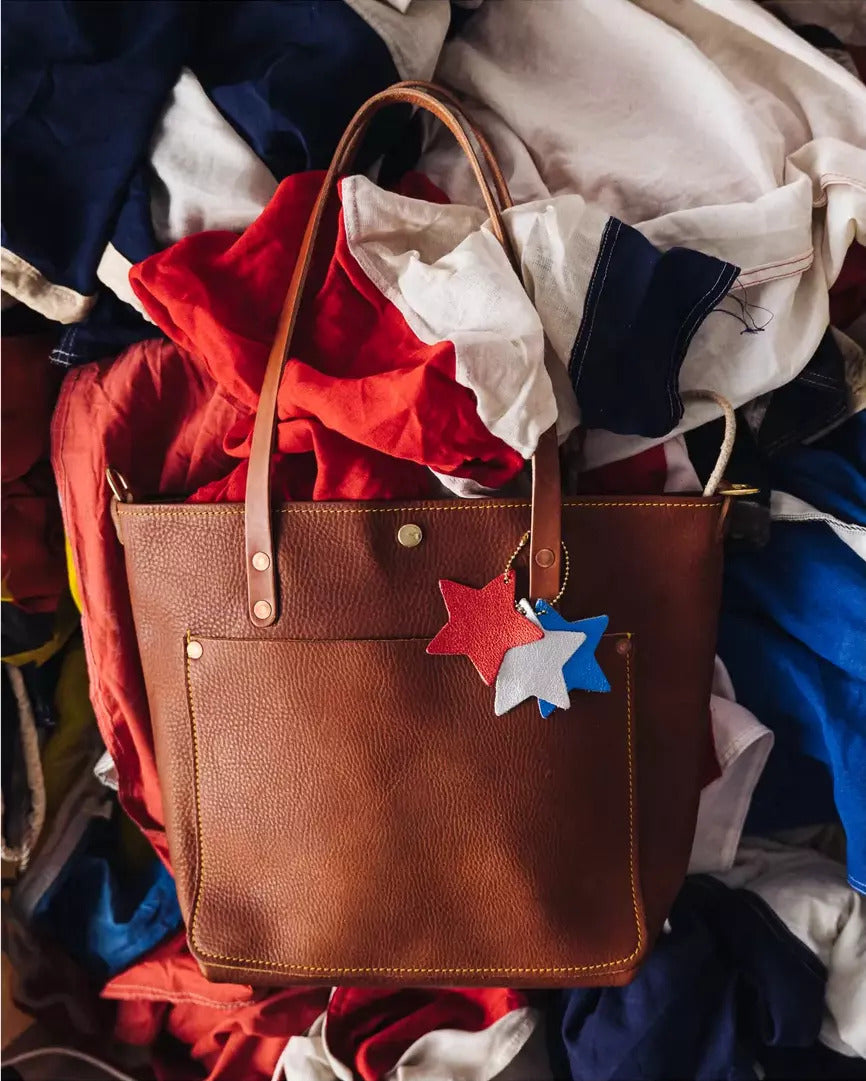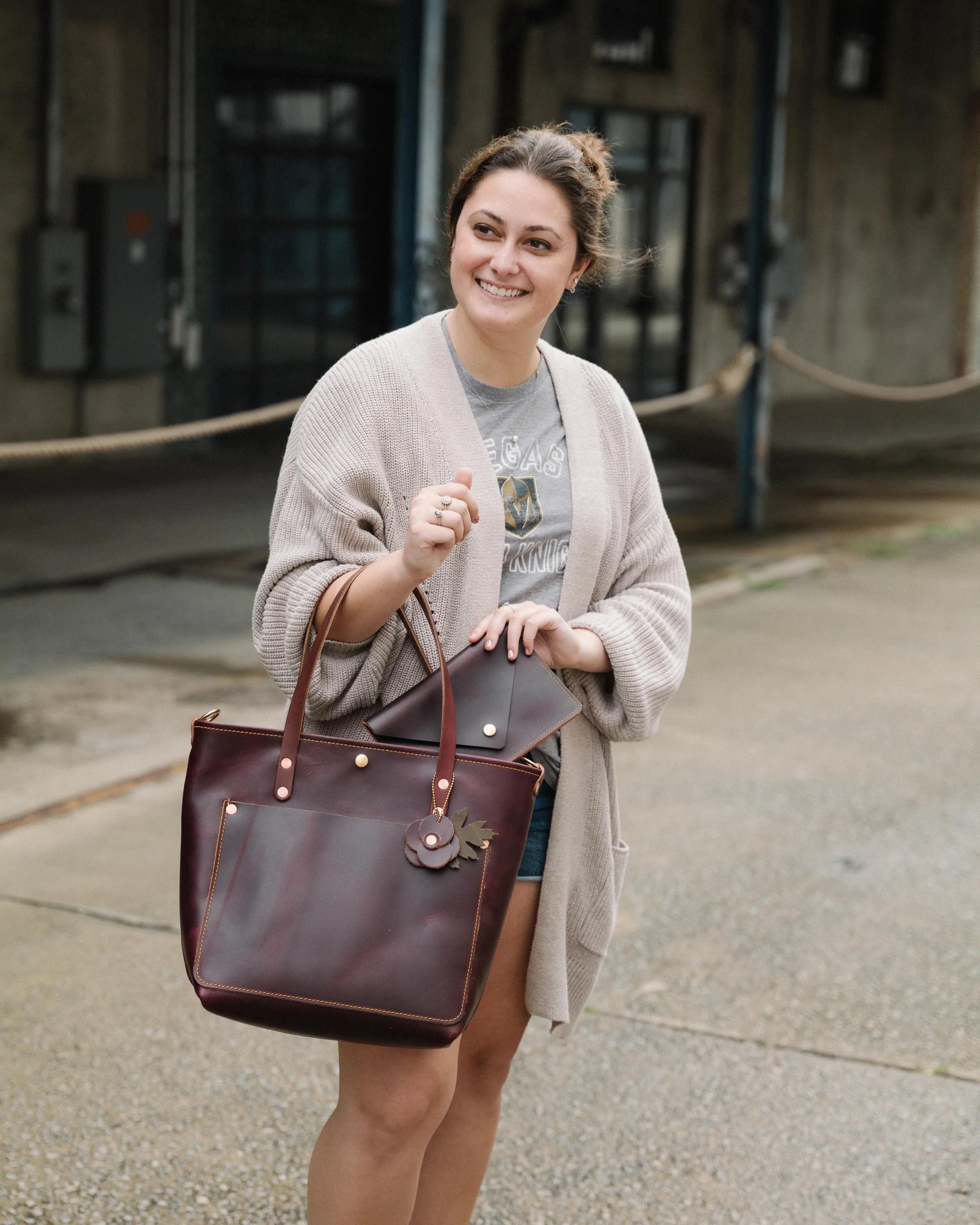 Handmade and made to order
Made to order, just for you

Like every KMM & Co. accessory, each bag charm is handmade and made to order. (No warehouses, no factories, just a small studio in downtown Atlanta!) Each tag takes up to 1 week for us to make and ship – but it's worth the wait, we promise!
Free shpping on U.S. orders $50+

All orders totaling $50 or more ship free within the United States! We also ship overseas, and to APO/ FPO addresses, too. All packages ship via USPS and go to our local Atlanta post office within 24 hours of your shipping confirmation email.
Easy returns within 30 days

If you aren't happy with your order, you can return or exchange it for free within 30 days of receipt. The only items ineligible for return or exchange are final-sale items and items customized for you. Check out our full returns policy for more details.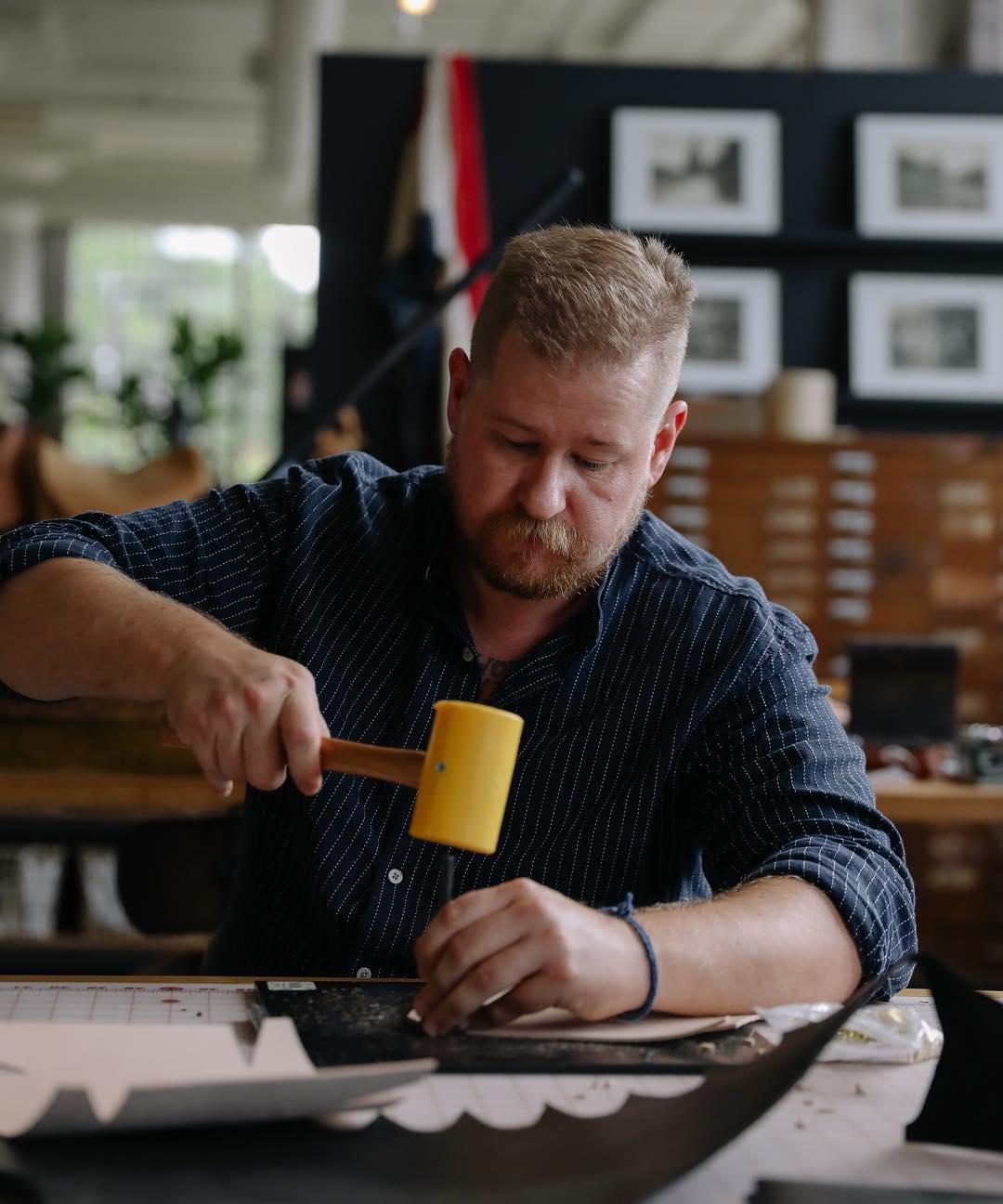 How bag charms get made
Just like every KMM & Co. accessory, our leather bag charms are handmade and made to order from beautiful full-grain leather. They get started on the cutting table, where we choose the perfect piece of leather for each charm.
When you order a set of bag charms, we consider the shade and texture of each piece of leather. That way, they all coordinate and look beautiful together. We cut carefully, with grain and color in mind.
Once the charms are cut, we make sure that the edges look perfect and the holes are punched cleanly. Then, we thread the charm onto its brass ball chain, and it's ready to go!
See more in Causes We Believe In collection, a range of leather goods that raise funds for organizations that are working to make the world a better place for everyone. When you purchase an item from this collection, the proceeds go to the organization named on the product page.
Ask away! FAQs about bag charms
Which charms will coordinate best with my bag?

We love to see how customers mix and match their KMM & Co. accessories! Many people pick a charm set that includes the same leather that was used to make their bag. (That's a tried-and-true way to find a coordinating set!) Others prefer something in the same color family, and still others prefer a lot of contrast. There are no wrong answers!
Can I order a set of charms in a custom assortment of colors?

We can't make color substitutions in our curated charm trios or sets. But if you'd like to put a custom set together and aren't seeing what you're looking for, just send us a message!
Will my charms be an exact match for my tote?

Every side of leather is unique, and both color and grain vary widely across even a single hide. A charm that features the same leather as your bag will look great, but it won't always be an exact match.
Can I have my bag charms embossed or monogrammed?

We're not able to emboss bag charms. But if you'd like a bag accessory that can be stamped with your name or initials, you might love our leather tags, which are made of belting-weight bridle leather that embosses beautifully.
What kinds of markings can I expect with full-grain leather?

Full-grain leather retains all of its original grain and character, including any imperfections. You might see range marks, grain variations, small spots or scratches, folds, or color variation. They're all a beautiful part of the leather's natural character.
More questions? Send us a message and we'll get back to you ASAP!
Want to see the whole collection?